I was just thinking about all the things I plan to do differently with my second child (when I have him/her). Among the changes I am thinking about making, replacing preschool with homeschooling is one of them. I really don't want to commit to anything right now since I am nowhere near being pregnant with my second child, plus I have always said that I am not sure I have the patience to home-school.
So why am I event considering it? Well, I've started meeting a lot of other moms who home-school, and I'm starting to see some of its benefits. At the same time, the primary reason why we started sending my first son to preschool at a young age was because he's an only child, and we were worried that he didn't really know how to interact with other kids. I'm pretty sure that this is something I now know how to address, plus, my second kid obviously won't be an only child, so there!
Coincidentally, just when my interest in homeschooling sparked, I learned about this upcoming workshop by The Learning Basket. I feel that this will be a great learning opportunity for parents like me who are even the least bit interested in learning more about homeschooling.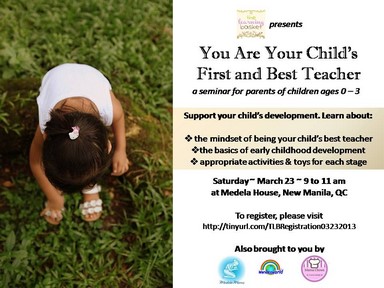 [Read more…] about You Are Your Child's First and Best Teacher: A Seminar for Parents by The Learning Basket