Cue Beatles music! Let me take you down coz we're going to… Yes, I know, I'm corny.
The boys and I visited the Strawberry Fields at La Trinidad, Beguet on the second day of our Baguio weekend escape. We went while the rest of Baguio City was still at Session Road for the float parade, and so there weren't that many people during our visit. I read that it can get really crowded so we planned our schedule well, and I am really happy we did that.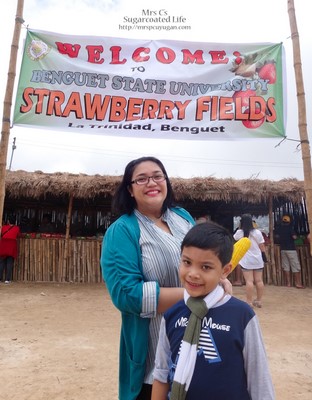 When we got there, the first thing I noticed as soon as I got out of the car was that I could smell the strawberries from the parking lot. I kid you not. When we approached the closest stall, I wasn't surprised at how yummy the whole place smelled. The strawberries were super red, super big and super ripe. Just thinking about them now makes my mouth water.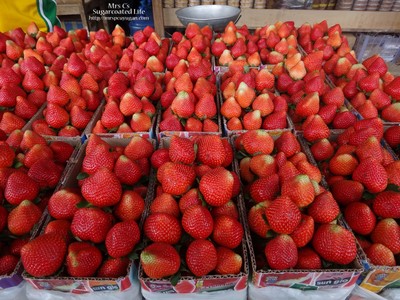 After seeing those boxes of strawberries, we got even more excited about picking our own. And so, we were realy disappointed when the first person we asked informed us that strawberry picking would cost us Php400 per person. That's Php1,200 for the three of us. That included only a kilo of strawberries in our baskets, and we'd have to pay extra if we get more than one kilo's worth. Ouch right? So we backed away from this stall and started to walk around.
My biggest concern was how I would explain to Little Mr C that we could only walk in the fields and not pick our own berries. He was super excited, and I knew that he would be disappointed for sure. It's a good thing Mr C thought to ask someone else for the strawberry picking rates. The second person told us that the group rate Php350, and that included a kilo of strawberries. So yay, off we went to the middle of the field with our little baskets!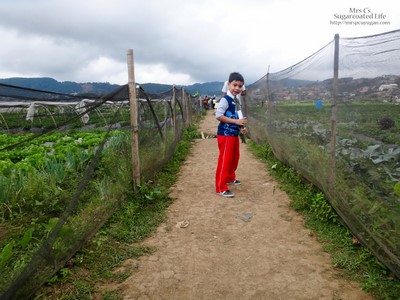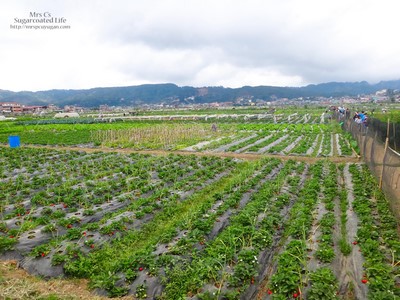 When we finally arrived at our little patch of strawberries, our guide explained how to properly pick them. You apparently should twist the stem and not pull. If the stem breaks off easily then they are sure to be nice and sweet. Of course, the little guy asked if he could taste one as soon as he successfully plucked one out of the ground. Our guide explained to him that the berries needed to be washed first before they can be eaten because they've been exposed to dirt and bugs.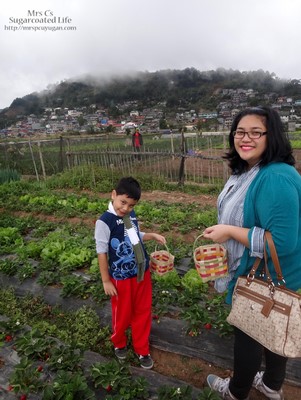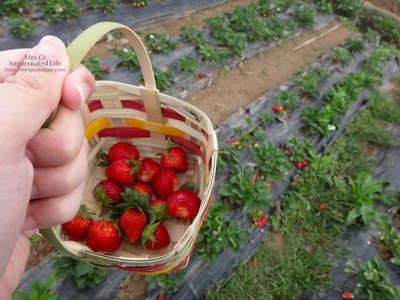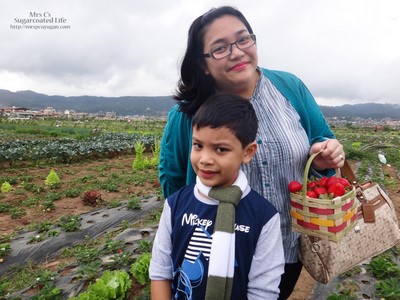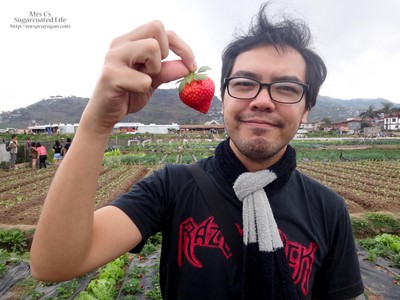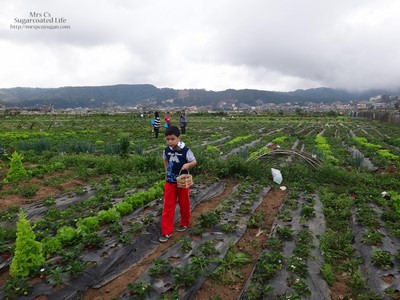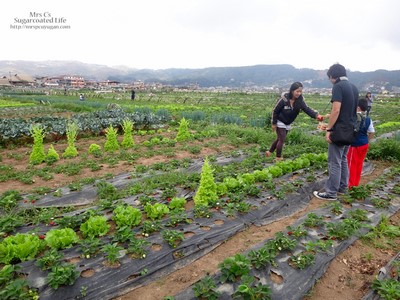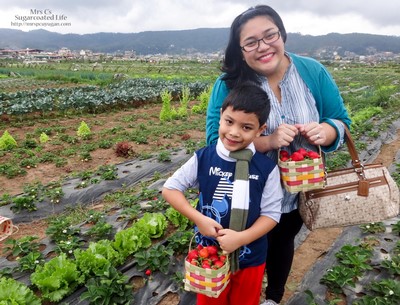 On our way back to the selling area, I noticed that you can also pick lettuce. Our guide told us that we could even pick flowers if we wanted to, but we decided we'd try doing that another time. It was close to noon and we were starting to get hungry.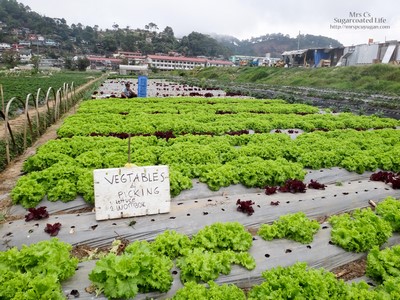 We ended up paying a little over Php600 for our 2++ kilos of strawberries and that super fun experience. Super worth it, if you ask me. After we paid, we checked out the stalls around the area. They were selling basically the same things you would find in Minesview and in the market – brooms, knitted and crocheted stuff, and those icky frog wallets, among other things.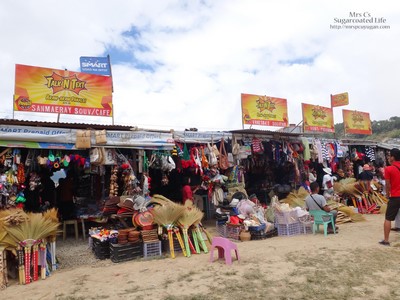 I wanted to make the most out of our experience, and that included trying all the strawberry flavored stuff they were selling. It was quite uncharacteristic of me to have my kid eat taho (super sort tofu with syrup and tapioca pearls) and sorbetes (ice cream, usually sold on the street and also known as dirty ice cream) because he and I have sensitive stomachs. The yummy experience is usually not worth the risk. Maybe it was the fog, but somehow my usual precautions were thrown to the wind that day, and the three of us happily enjoyed strawberry flavored taho and ice cream. Of course, when my dad saw our photos afterwards, he just had to point out that we didn't get sick from the unknown/possibly unfiltered/unfamiliar Baguio water that they used.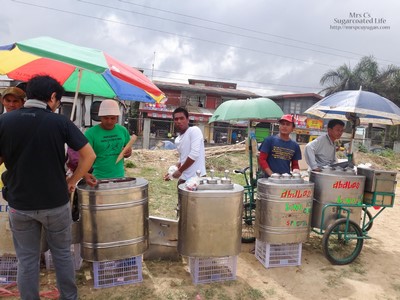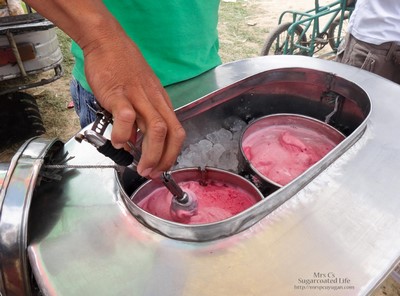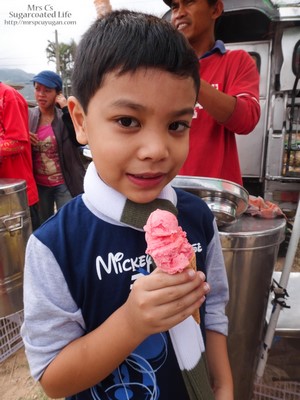 We made one last round of the fruit and vegetable stalls after our snack. I really wanted to buy veggies to bring home, but since we would be staying in Baguio for another full day, I was worried that they might wilt. We did buy a couple of bags of oranges from one stall. We just couldn't say no because they were so sweet and juicy!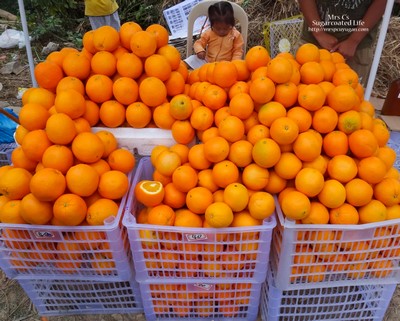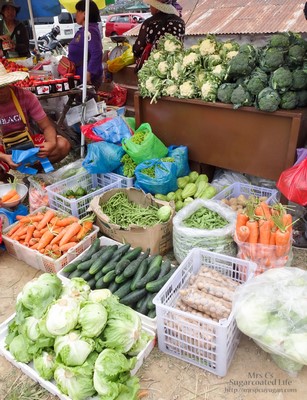 There was one last thing I just had to do in La Trinidad, something I did during my last visit, and that I had been dreaming about since then. Take note that my last visit was in 2005. Lol. I just had to have some sweet corn! It's still the best sweet corn I've ever had, but honestly, I don't know if it really is that good, or if it just tastes extra yummy bundled with our great La Trinidad experience.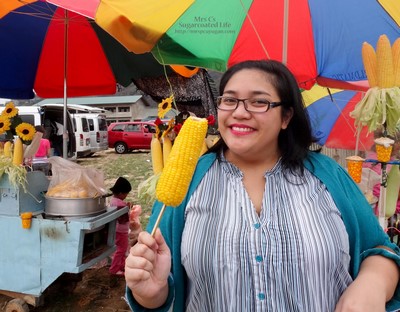 If you find yourself visiting Baguio anytime soon, do plan a trip to La Trinidad. It's only a few minutes away from the city by car, and you're guaranteed a really fun time, specially if you're headed there with kids.