Mr C and I have been house hunting all over BF Homes over the past few months. During one of our afternoon visits, we found ourselves tired and hungry, and we ended up taking a break at Sensei Sushi. We had the place all to ourselves that afternoon, which was great because it gave Mr C and I the opportunity to talk about our prospects. Sensei Sushi is owned by Chef Bruce Ricketts, who happens to be an alumnus of my high school alma mater, and apparently is the cousin of a friend of mine.
The menu items are listed on a big blackboard on one wall of the restaurant. Mr C pointed out that there were also more choices written on a mirror on the wall opposite the blackboard. At first I didn't notice what was written the mirror because I was distracted by the pretty art on the walls.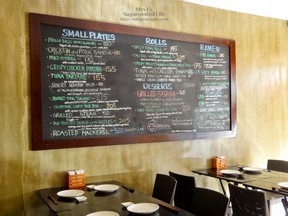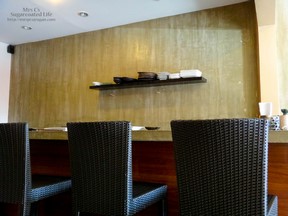 Another of my go-to Japanese places is John and Yoko.
It was pretty late in the afternoon and I didn't want us spoiling our appetites for dinner, so we only ordered a few dishes. Mr C, or course, chose a bowl of ramen. Meanwhile, I asked the server what their best selling rolls were, and ordered both of his recommendations.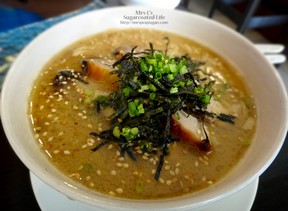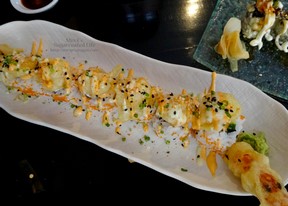 Another place to go for great ramen is Yushoken in Molito.
I love that the place is small and quaint. It's easy to find along Aguirre Ave in BF Homes, and there are lots of spaces to park in front. I find everything in the restaurant pretty too, from the wall paintings to their plates.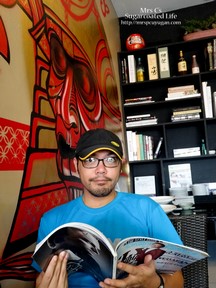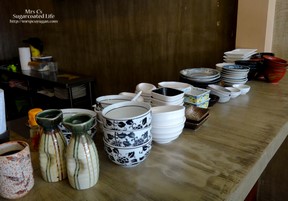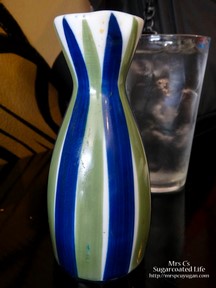 When in BF, stop by Dong Juan to try their Baby Back Ribs.
I'd love for us to come back to Sensei Sushi to have a proper meal there. I love Japanese food, and theirs is a unique take on this. I hear the desserts are good too, and I'll definitely be back, if only to try them.
Sensei Sushi
268 Aguirre St.,
BF Homes, Parañaque
+63919-3772966
Tweet @Sensei_PH
Open Mon – Sun: 11:00 am – 10:30 pm