Fact: MrC and I are very particular when it comes to our coffee.
We prefer to drink Arabica, and absolutely love how it tastes chocolatey, nutty, and fruity all at the same time. We also enjoy brewing our own coffee at home. We only use an ordinary coffee maker because it's the simplest option, but whenever MrC has time, he likes to play around with his Aeropress.
Our everyday coffee of choice is That Coffee Cult's Sagada Dark Roast, because #SupportLocal! Lately, though, we've been indulging in organic Arabica from Costa Rica, since we have a fairly large (but quickly diminishing huhuhu) stash, all thanks to my sister's boyfriend.
We like coffee a lot, so it's easy to see why I would get excited about spending time at a coffee shop. With free coffee. Free coffee is the key to getting me to say yes, my friends. Lol, just kidding. But it does help. Ask my friend, Millie. I said yes to her right away when she asked me to come check out a new coffee shop in our neighborhood, Bowen 24 Cafe.
Bowen 24 Cafe is super easy to find. It's just along President's Avenue in BF Homes, right across Puregold, where (the very forgettable) Paume's Pastryhouse used to be.
I love the glass windows and doors that line the front of this cafe, letting a lot of natural light in. It adds so much charm to the beautiful interiors of the place. And oh, how beautiful it really is inside.
The cafe is mostly clean and white, with wood-finished floors, and wooden tabletops paired with pasted blue chairs. There's a gorgeous accent wall with a really nice honeycomb design, painted in lovely shades of grey.
Small potted plants add a hint of nature to the space. Little details like framed photos and hand-lettered quotes, pretty throw pillows, and super chic light fixtures tie everything together perfectly. Bowen 24 Cafe is both chic and homey, and 100% Instagrammable.
I learned a few things about the cafe when I was there for their pre-opening Coffee Appreciation Day.
Roxie, one of the owners, shared that the name Bowen 24 comes from her apartment address as a student in Australia, #24 Bowen Street. Millie told me that the idea to have a kiddie corner springs from the fact that all the business partners are parents, and that they want Bowen 24 to be a place where moms can come to work, hang out with friends, or just quietly relax, and not have to worry about how to keep the kids occupied for a few hours.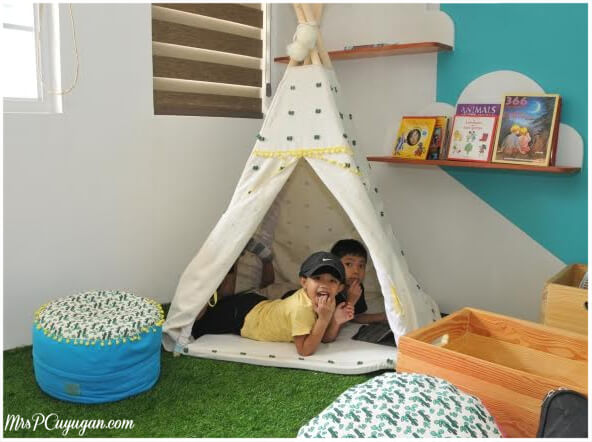 I'm excited over the fact that they also plan to build a small library in the cafe because for me, settling in with a good book and a hot cappuccino is one of the best things to do in a coffee shop. More than anything, though, I'm happy that there's another place nearby that takes pride in serving really, really good coffee.
Bowen 24 Cafe serves a signature blend called The Brunswick Blend, which is specially made for them by the excellent roasters of Toby's Estate. The blend highlights the coffee's chocolatey and nutty notes, which is exactly the kind of coffee that we love.
During the exclusive Coffee Appreciation Day, we were given a crash course on proper coffee extraction by one of Toby's Estate's award-winning baristas, Andy. He made us sample several cups of espresso, allowing us to experience what over-extraction and under-extraction does to the taste of coffee. At the end of the experience, I feel like we all went up a notch on the coffee snob scale. In a good way, of course.
As if the tasting experience didn't give us enough of a caffeine boost already, afterwards we were treated to a few specialty drinks and coffee pairings, also prepared by Andy. First, a long black paired with dark chocolate. Then we had cappuccinos paired with roasted cashew nuts. Finally, Andy made us some naturally-sweet iced coffee – So good, and something I'd totally go back for. No sugar added, which means it has only about 2 calories and no fat. Ang galing guys.
They serve yummy cakes, too, made lovingly by Roxie. Not gluten-free, but certainly cheat day worthy. So even if I do save calories and fat grams by choosing the naturally-sweet iced coffee, nabawi naman lahat and more sa cake. Oh well. At least I know for sure that I'll be one happy customer.
So, will I be coming back to Bowen 24 Cafe? Yes, absolutely. I love it there already.
Thank you, Roxie and Millie for having us. See you guys again soon!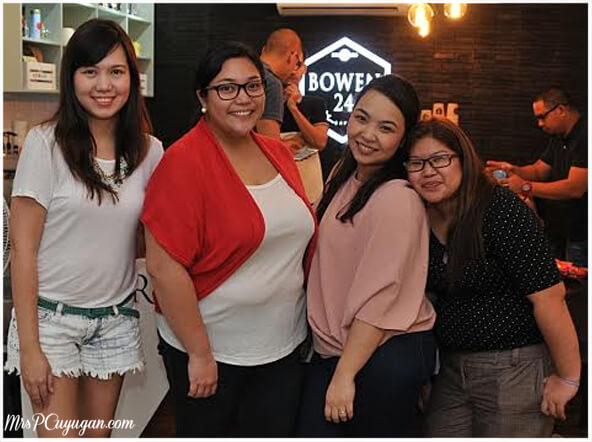 Bowen 24 Café
#29 Presidents Avenue, BF Homes Paranaque
FB: #/bowen24cafe
IG: @bowen24cafe