I was just thinking about all the things I plan to do differently with my second child (when I have him/her). Among the changes I am thinking about making, replacing preschool with homeschooling is one of them. I really don't want to commit to anything right now since I am nowhere near being pregnant with my second child, plus I have always said that I am not sure I have the patience to home-school.
So why am I event considering it? Well, I've started meeting a lot of other moms who home-school, and I'm starting to see some of its benefits. At the same time, the primary reason why we started sending my first son to preschool at a young age was because he's an only child, and we were worried that he didn't really know how to interact with other kids. I'm pretty sure that this is something I now know how to address, plus, my second kid obviously won't be an only child, so there!
Coincidentally, just when my interest in homeschooling sparked, I learned about this upcoming workshop by The Learning Basket. I feel that this will be a great learning opportunity for parents like me who are even the least bit interested in learning more about homeschooling.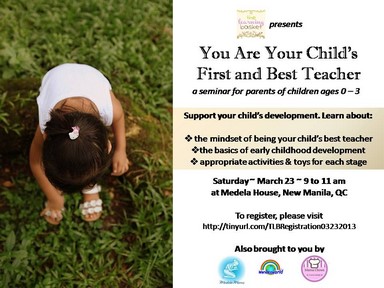 Here's a little bit about the talk, for those who are interested to attend:
"You Are Your Child's First and Best Teacher" is for parents of children ages 0 to 3. It's perfect for first time parents who may not yet be confident in their parenting skills and who want to connect with other parents.  It aims to help parents support their children's development by exploring the mindset of being the first and best teacher, discussing the basics of child development, and providing examples and ideas of appropriate activities for each developmental level. It would be a good venue to share experiences and connect with other parents.
This event is sponsored by:
Wonderworld, who will be holding a special raffle for the participants
Mama Chows, who will be providing free snacks
And Medela Moms who is the venue sponsor
The speaker on that day is Mariel Uyquiengco, mother of two "littles", a Kindermusik educator, children's books lover, and an advocate of the idea that parents are their children's first and best teacher.
Mariel shares:
I started  The Learning Basket  in 2011 to document the magical moments I've been having at home with my kids as we homeschool preschool. Encouraged by the response and inquiries from readers, I opened an online bookshop in 2012 together with my longtime friend Sanne Unson. I started giving free parent-education seminars too, to further my cause.

The Learning Basket is more than a blog. Through the books and toys available at the shop and by partnering with local establishments in parenting events, I bring my message of intentional and involved parenting.
Here's how to register:
Registration is P250 but will be waived if parents buy a minimum of P500 worth of books or toys from The Learning Basket's booth during the event. This is a great way to encourage participants to add to their children's library! Ours is humongous!
If you are interested to attend the event, click on this link to fill out the registration form. I hope that my schedule allows me to go. I'd love to meet you all there if ever! 🙂