A dear friend of mine celebrated her birthday yesterday, and I suddenly remembered that I had a post waiting to be written about a recent lunch date we had at Dong Juan in BF Homes, Paranaque. This was a couple of weeks ago before I went on no-meat-for-lent mode. Jonnah, who is a friend of mine from my Smart days, is a new wife and soon to be mom. She lives and works in the south too.
Their family business is called Ace Print Master, which in my opinion is the most reliable print shop in BF Homes. I've been going to them for all my printing needs since college, way before Jonnah and I even learned about each others' existence. They printed my college thesis (which was a children's book), countless tarpaulins, a life-sized standee of my grandmother for her 80th birthday, and even our wedding invitations! If you ever need to have things printed, whether they are simple documents or large-scale stuff, go and visit Ace. They are located near Ruins/Tropical.
Anyway, so Jonnah and I finally pushed through with our plans to get together after more than a year of scheduling conflicts. She suggested Dong Juan for our date. I'd been reading mixed reviews about Dong Juan. A friend and super certified lover of food, Joei, wasn't too happy with her experience. Meanwhile, MrsMommyHolic seemed pretty satisfied with her visit. Opinions really varied. I wanted to check the place out myself, and so I immediately said yes to eating there.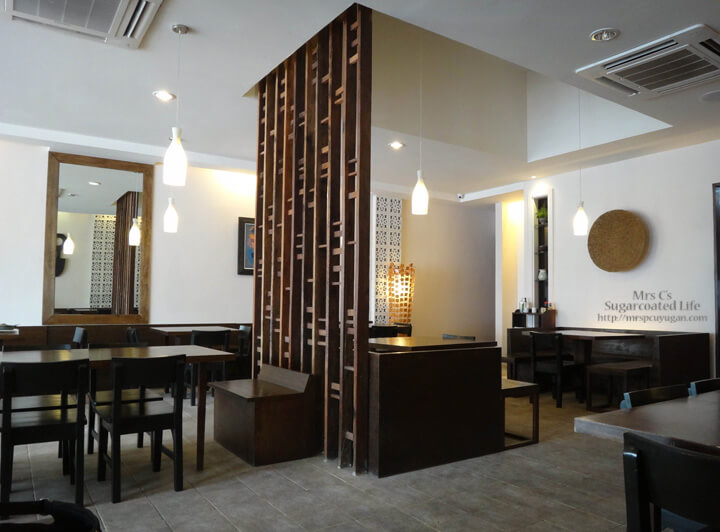 Craving for Pinoy cuisine, but prefer seafood over meat? Eat at Aling Tonya's!
I wasn't able to take a photo of the restaurant's facade because the parking lot was full when we arrived, and I didn't think it was safe to stand on President's Ave just to take a photo. By the time we left, I was too full to function. So there. You can check out the photos of the restaurant's exteriors in my friends' blog posts (the links are up there at the beginning of this post).
Lunch was Jonnah's treat, so I let her do the ordering. We started with drinks and some appetizers, then two meaty main courses. I was preparing for a meatless 40-days, so beef was definitely in order. And of course, the little boy opted for his usual pizza.
We had the Kalamansi Blush, which was calamansi juice with strawberries in syrup mixed in. This was pretty good, but I'm quite sure I've seen something like this somewhere else before. I just can't place it. I only wish they gave us spoons when these were served so that we could fish out the strawberries which had sunk to the bottom of the glass. Sorry but the wide straw doesn't really do much.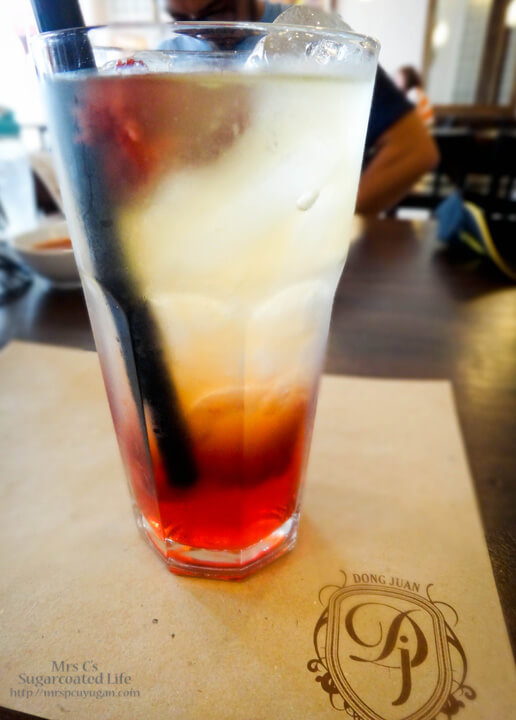 We ordered Mozzarella Sticks as appetizers. These were good, and the marinara sauce was nice too. My favorite cheese stick are still the ones from Friday's though.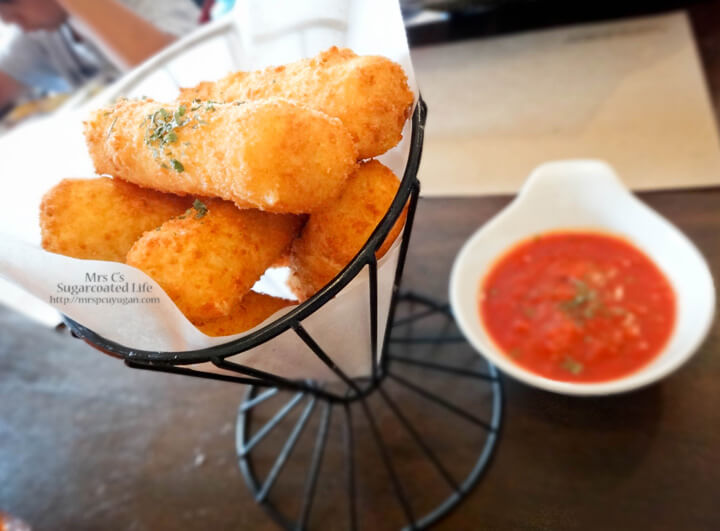 The Baby Back Ribs was the best part of our meal. The meat was super tender, fall-off-the-bone and melt-in-your-mouth. The sauce was garlicky, tangy and sweet at the same time, very Pinoy. This dish is worth coming back for.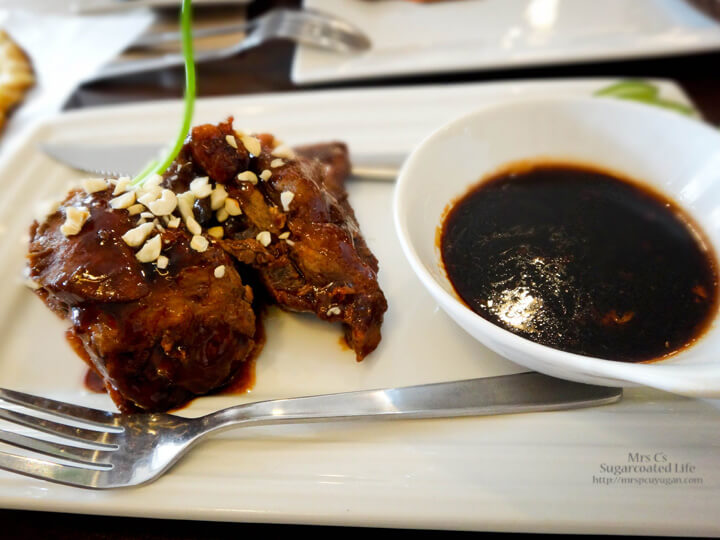 For great Filipino food, try Cafe Juanita in Molito!
As for the Angus beef tips, all I can say is don't expect too much. These were tough and obviously overcooked. We cook steak a lot at home and one thing I do know is if you are going to cut the meat into cubes or strips then serve them on a sizzling plate, only sear them a little before you send them out. Otherwise they end up tough and leathery like these beef strips here. Too bad though because I thought the flavor was quite nice.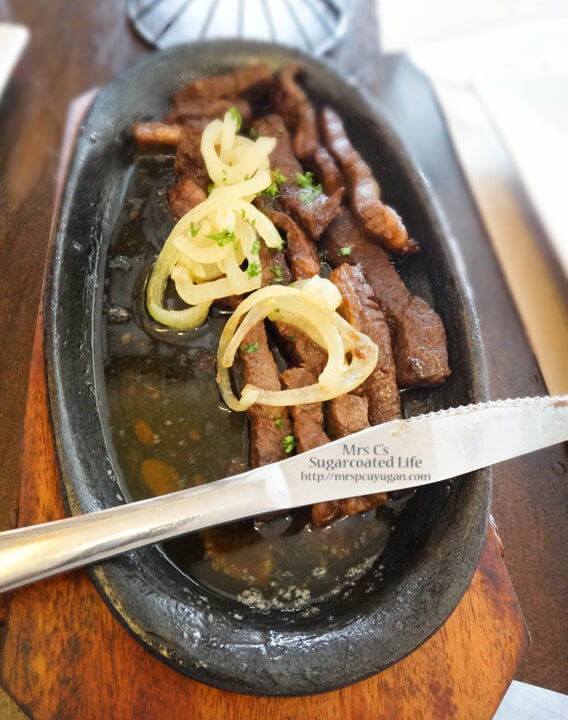 If you're planning to visit Dong Juan to try the pizza, don't do it. Sorry, but this was not so good. My little boy didn't even eat much of it, and he is really easy to please in the pizza department. The cheese was not good cheese, there didn't seem to be any sauce, the crust had no taste and was slightly burnt. So maybe the other flavors are better, but I don't think I need to find out. I think my Dong Juan pizza experience ended there.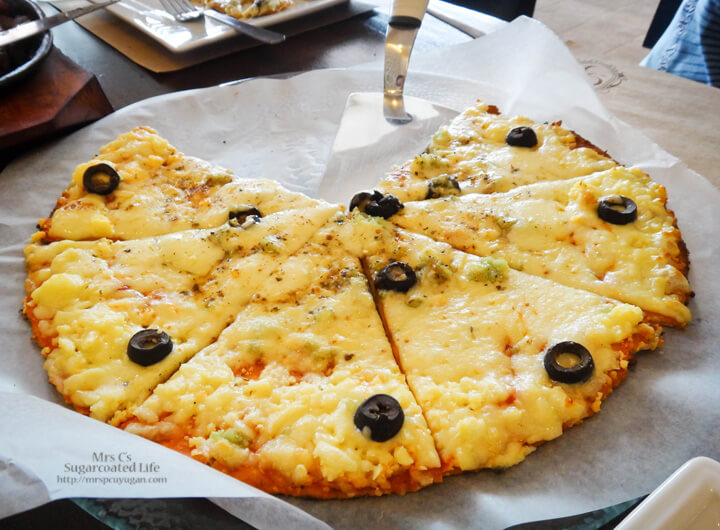 For much better pizza, eat at Aria Cucina Italiana!
We also ordered dessert. I think it was the Warm Brownie Melt (Php 99.00). I wasn't able to take a photo though. But I remember that it was good. Not spectacular, but good.
+Points
+ The Baby Back Ribs. Yum!
+ Fun 80's and 90's music playing in the restaurant
+ Lots of parking + Food is cheap
-Points
– The pizza, the pizza, the pizza.
– Food was so-so
– It was kinda hard to get the attention of the waiters. And to think, we were the only ones there!
If you ask me if I'll be coming back to Dong Juan, my answer is maybe. Maybe if someone asks to eat there, maybe if I'm in the area and can't think of anywhere else to eat. Maybe eventually, but not anytime soon. Unless someone can tell me that their burgers are good.
Have you tried the food at Dong Juan? Tell me about your experience. Did you love it? Maybe you could change my mind and make me want to come back?
Dong Juan
#4 President's Ave.
Tahanan Village
BF Homes Parañaque
(+632) 823 8495
dongjuansucat@yahoo.com
Mon – Fri: 11:00 am – 11:00 pm
Sat – Sun: 10:00 am – 11:00 pm