My little boy has just concluded his last few days of Senior Prep. Just like last year, our whole family came to his moving up day. He is, after all, the one and only kid in our home, and so everyone gets excited whenever he has activities in school. The Senior Prep Moving Up Day theme this year was "Kids Premier", and the children performed song and dance numbers from popular movie musicals.
Our class got Wizard of Oz as a them, and the boys and girls were all supposed to dress like Munchkins. One girl was also chosen to be Dorothy, and three other boys were the Tin Man, the Scarecrow and the Lion. I was actually happy that the little boy's costume was simple enough to DIY. Some of the other parents from other classes had to have costumes made, like those with The King and I and Cats as their assigned movies.
Here's our DIY Munchkin costume. My mom and I worked on it together. What do you guys think?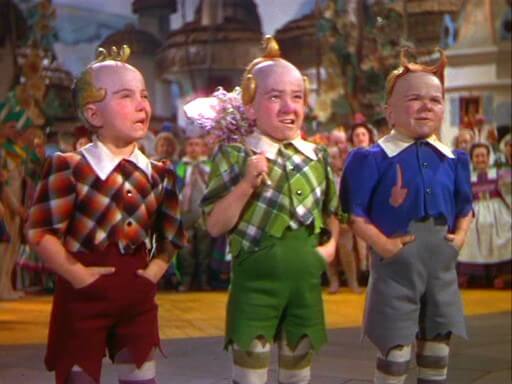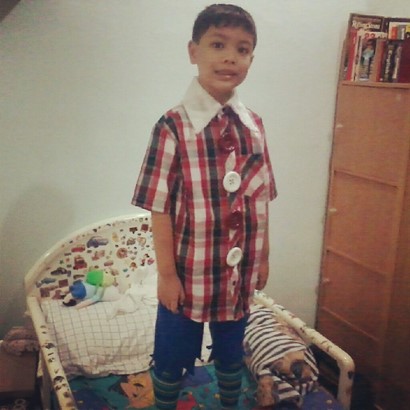 This costume wasn't just easy to make, it also didn't cost much to put together. Almost everything we used were already stuff we had at home, except for the big buttons and the striped socks. We spent less than Php 200 on those items in SM Department Store. The red plaid shirt was a gift from relatives and the blue shorts were actually old blue jogging pants that we cut up. Those were already a few inches too short for the little boy so it really wasn't an issue letting go of them.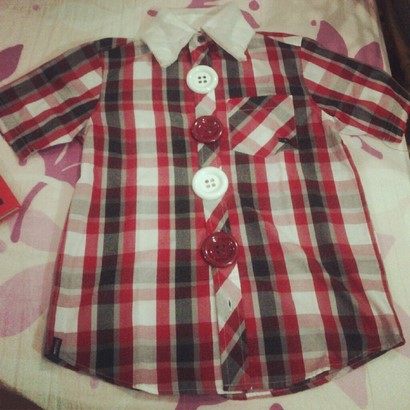 The only sewing we had to do was for the collar and the big buttons. For the collar, we shaped and stitched a cloth laundry bag into an oversized collar and sewed it onto the existing one. The buttons were stitched near existing the button holes to cover up the shirt's original buttons when closed. That's it! Everything was completed in one afternoon.
I really wanted the costume to look nice because apart form performing with his class, the little guy was also selected as one of the students who would speak during the program. I wasn't surprised, since he was a "Most Articulate" awardee this year, and since he was also asked to speak during his moving up day last school year. I'm so proud! There's definitely no trace of stage fright in this one.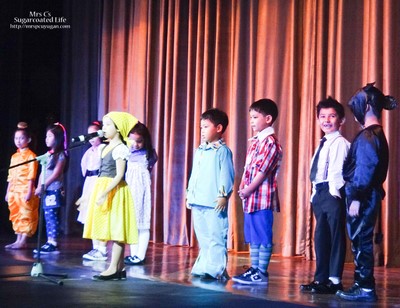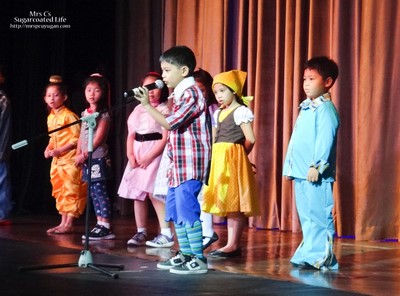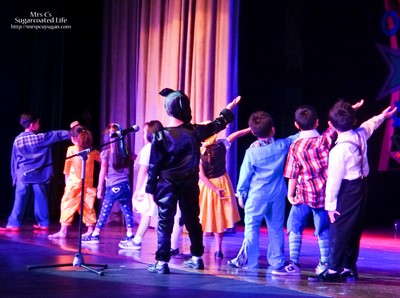 I was pleasantly surprised when I saw the Moving Up Day souvenir program a few days prior and learned that Little MrC was an Exemplary Conduct Awardee. His cousin, Joaquin, who is in the same batch, got one too! My cousin and I joked that if these two little boys showed exemplary behavior, imagine just how kulit the other kids in their batch are. But on a serious note, I'm proud of my little one because he knows how to follow instructions, and is able to behave himself accordingly in social settings.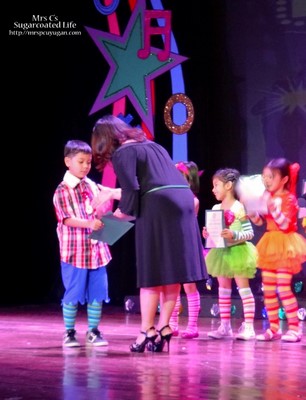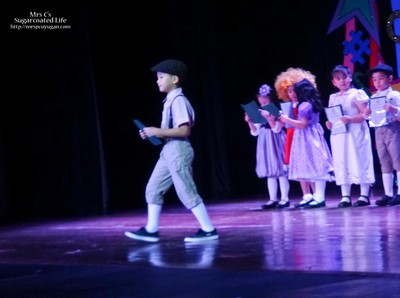 Sharing a few more photos from their class performance. Aren't the costumes of the girls so cute? And look at the boys too! Some of the parents had costumes made, as you can see. I'm proud of myself for going the DIY way, but I know that this is something I'm only getting to do now because I'm already a WAHM. I would not have time to do this at all if I was still working in an office everyday.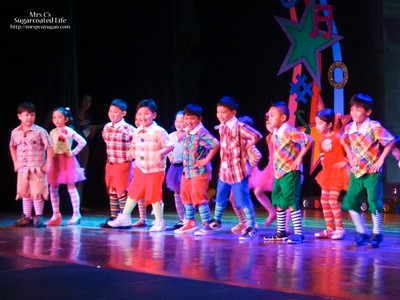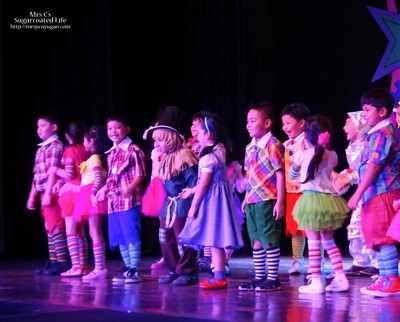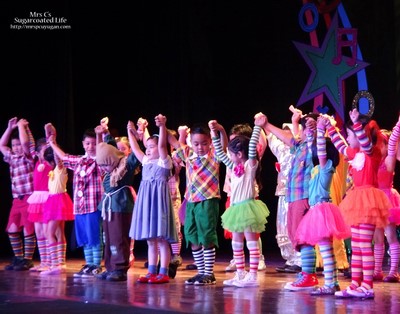 Senior Prep was a fun year for this little guy and his friends. The jump to Grade Two next year because of the K-12 adjustments is going to be major. We're all looking forward to it.