Luca Brasi isn't the only one who sleeps with the fishes. We've (literally) done that too, twice! Actually, the first time it was with fish, and the second time we were surrounded by jellyfish. Both were really fun staycation experiences we've had at Hotel H2O in the Manila Ocean Park complex.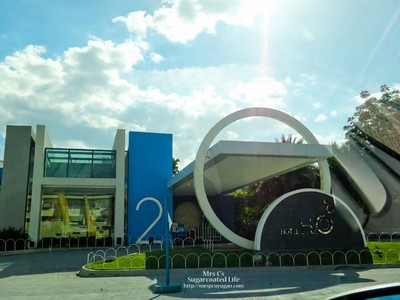 We first visited Hotel H2O last year to celebrate the little boy's 6th birthday. We were able to score a great deal for an Aqua Room on Ensogo for that first trip. The Aqua Room is one of their smaller room types, with a big aquarium wall on one side of the room. Here are a couple of the photos I have inside our room from last year.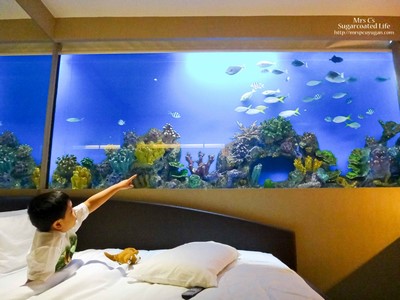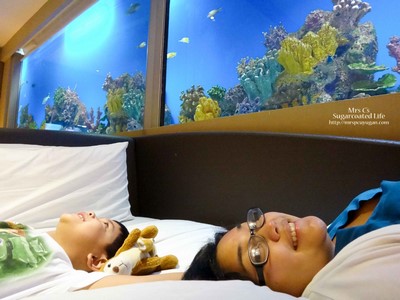 This year, we were lucky to have been booked in a Club Aqua room, right next to the Club H2O Lounge. The hotel staff informed us that they only have a few of those types of rooms, and I was surprised to learn that the published rate on their website for an overnight stay in a Club Aqua room was Php 14,700! My sister-in-law booked this staycation as a 30th birthday gift to me last February. She and her fiancee booked a room right next to ours, and in a way it was a fun Valentine's celebration for all of us too.
Before Hotel H2O, we were at  a birthday party in Sta Elena Fun Farm.
A unique experience, indeed. This 39- to 43-square-metre room comes with all the standard amenities, including queen-size bed with plush linens, LCD television, work area with high-speed Internet access, and marble bath area with bath tub.

-As seen on the Hotel H2O Website
In the Room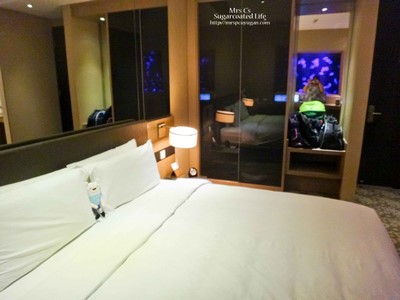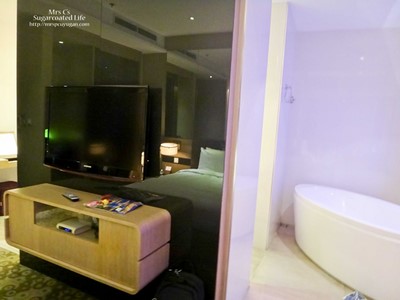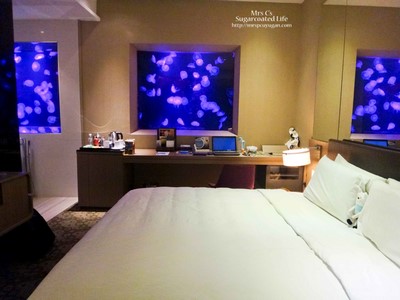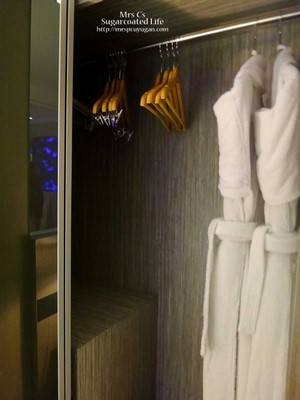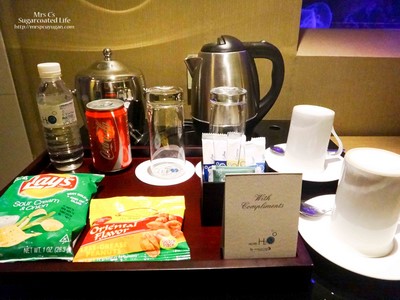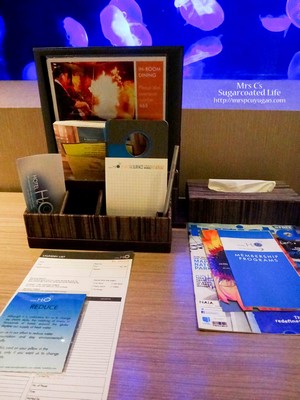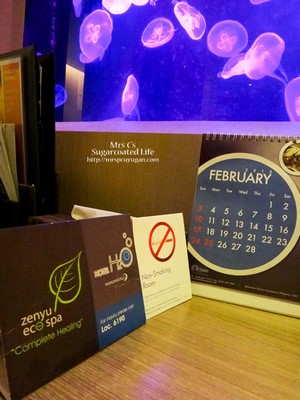 We checked out the Trick Art Museum as soon as we arrived!
In the bathroom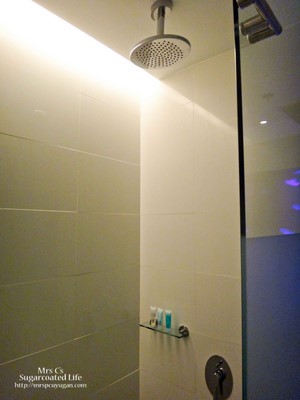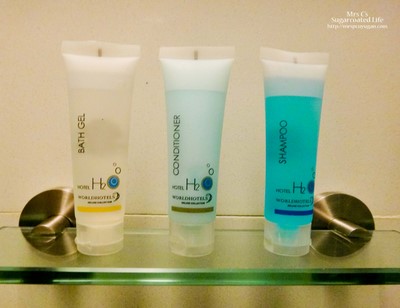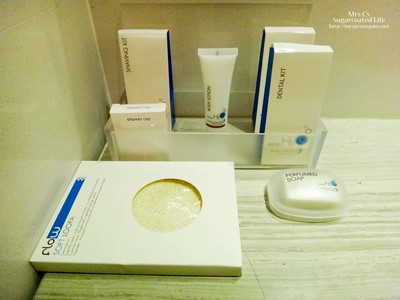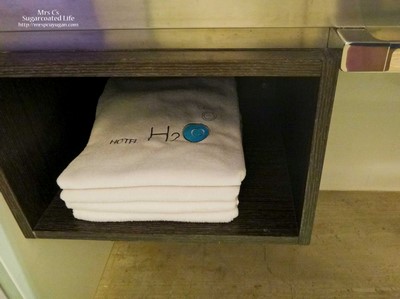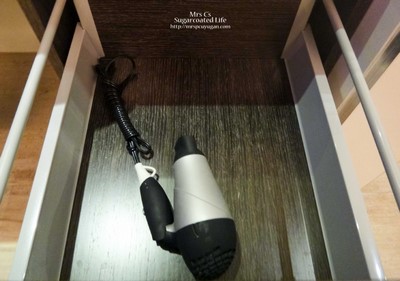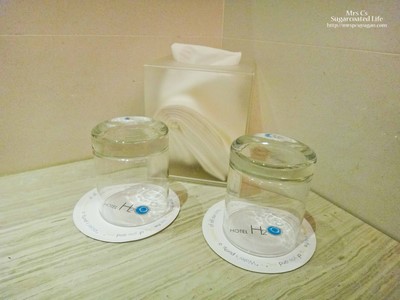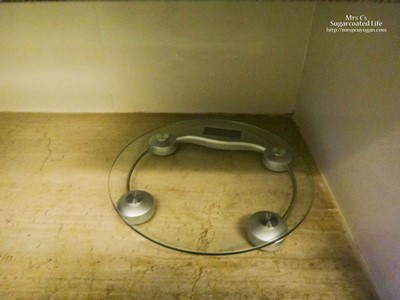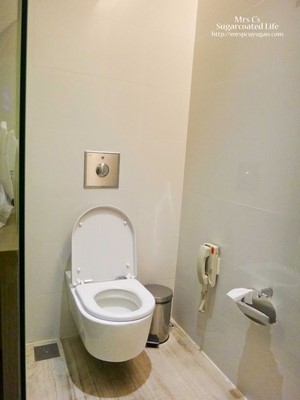 Both visits to Hotel H2O were relaxing and fun for us. It's a great place to bring kids because there's a lot to do within the complex, and the sea creatures in the aquarium walls really keep the little ones quietly entertained. The Club Aqua room is more spacious overall than the Aqua Room. I have to say though that the fish aquarium wall is a lot more fun to watch than the jellies.
The rooms come with breakfast buffet at Makan Makan. While dinner and lunch options there are really good, the breakfast buffet is not note-worthy. One thing I noticed when we ate at Makan Makan was that the place looked really run-down. We actually sat at the same table we did a year ago, and the upholstery chairs were ripped, the menus were dirty, ripped and folded in some parts, the place was quite grimy, and overall, it didn't look well-maintained. Too bad because like I said, the food there is actually pretty good.
We had dinner at Makan Makan Asian Food Village during our 2012 stay.
+Points
+ Cold, cold, cold aircon in the room.
+ Super comfy bed and pillows.
+ Complete amenities in the room and bathroom.
+ Complimentary snacks and soda!
+ Lots and lots of places to eat within the Ocean Park Complex
-Points
– I wouldn't advise swimming because the pool can be seen from the stadium where the sea lion show is held. You actually have to go outside the hotel, out to the main entrance of Manila Ocean Park near the ticket booths and enter the swimming pool area. Not much privacy.
– If there's a fun run happening along Roxas Boulevard, you can totally hear the fireworks/gun start. We experienced that sort of rude awakening by extremely loud fireworks during our visit last February.
I'd definitely consider staying at Hotel H2O again, but only if it's for free, or if I'm able to get a special rate. For the price I have to pay to book a room there, I think I'd much rather stay at Sofitel or Shangri-La. Of course, I'm sure the little boy would disagree with that choice completely. He loves Hotel H2O.
Hotel H20
Luneta, Manila, Philippines 1000
(Behind the Quirino Grandstand)
Phone: +63 2 238 6100
Fax: +63 2 238 6188
Reservation : reservation@hotelh2o.com
Hotel Inquiry : inquiry@hotelh2o.com
Guest Feedback : feedback@hotelh2o.com
Web: https://www.hotelh2o.com
Tweet: @hotelh2o