A week after our Hotel H2O staycation, the boys and I headed up north to spend my birthday weekend in Baguio. Coincidentally, our trip also fell on the parade weekend of Baguio's Panagbenga Festival, the annual fiesta of the city. I was excited to be in the City of Pines during their most festive season because I really had a great time at Panagbenga years ago, and also because the strawberries in Baguio are the plumpest, juiciest, and sweetest during this season.
We left for Baguio bright and early on a fine Saturday morning!
We had lunch as soon as we got to Bagiuo, and right after we proceeded to our hotel. We arrived a little after 2PM, just in time to check in. Unfortunately, we were advised by the front desk that the room we were supposed to stay in hadn't been cleaned yet because the previous occupants were stuck in traffic and still weren't able to check out. They apologized and served us coffee and juice at Cafe Flora, the hotel restaurant, while we waited. Luckily, since we were there during Panagbenga season, there was a lot going on at the hotel lobby and so we didn't really mind waiting. They were showing movies on a wide screen at Cafe Flora, there was a cultural presentation at the lobby, and a design your own cupcake activity for the kids.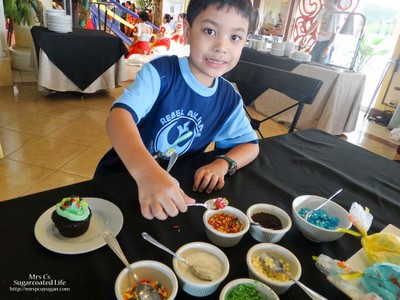 We finally got to check into our room at a little past 3PM. We booked a Deluxe Single Room through Agoda, and it was the perfect size for our small family. The room was fairly simple, but was really clean and smelled nice. Being that we were in Baguio, there was no airconditioning in the room, and instead we had a nice big window and a ceiling fan to keep us cool. I love that the three of us can still fit into one big bed. At the rate that our little MrC is growing though, it won't be long until we'll be forced to spend on an extra bed for him.
The Deluxe Single Room comes with the following basic amenities:
Queen-sized bed
21″ Cable television
Telephone
Ceiling Fan
Electronic safety deposit box
Vingcard/Electronic door locking system
Mini-bar refrigerator
Imported sheets
Covered duvet/comforter
Private toilet and bath with hot and cold shower
Hair dryer
Coffee / Tea maker
In the room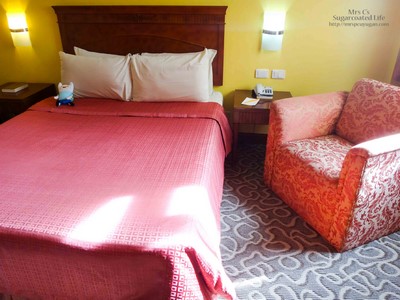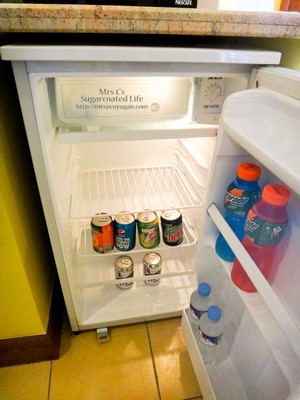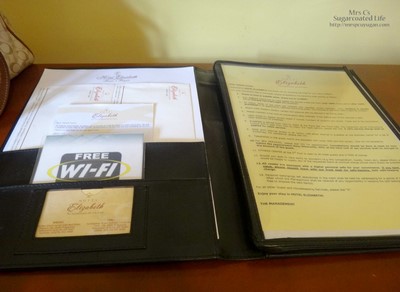 Before heading to the hotel, we had lunch at Cafe by the Ruins.
In the bathroom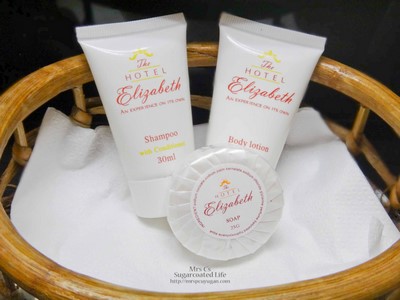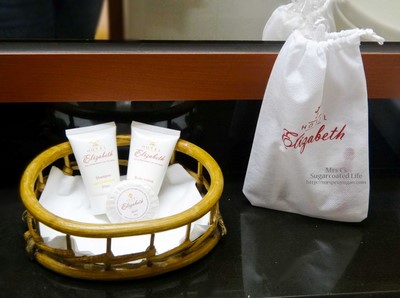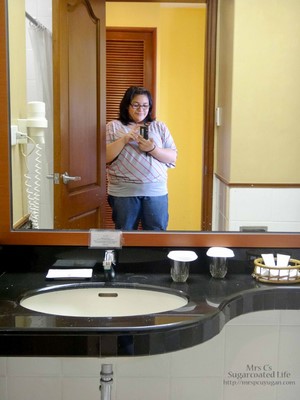 Our room came with buffet breakfast for two at Cafe Flora on both days. We didn't mind paying for an extra buffet coupon for the little boy since the price was super reasonable. They have a pretty good spread with rice and several viands, bread, pancakes, soup, salad, fresh fruits and cereal. They also offer juice and coffee with your meal. I wasn't able to take photos of the buffet because there were a lot of people dining on both mornings and I didn't want to be a bother.
Our first morning in Baguio was the day of the float parade along Session Road. I had absolutely no plans of braving the crowd at Session, and so I was really happy that the hotel was projecting a live feed of the parade on their big screen during breakfast.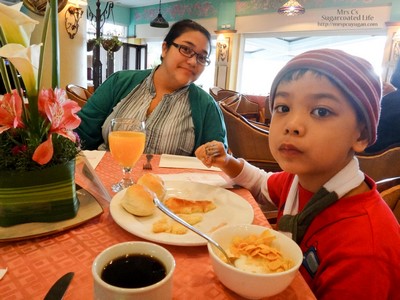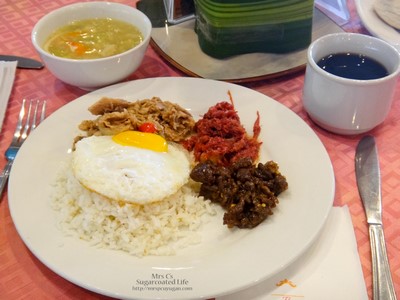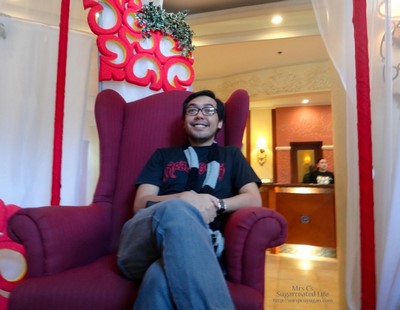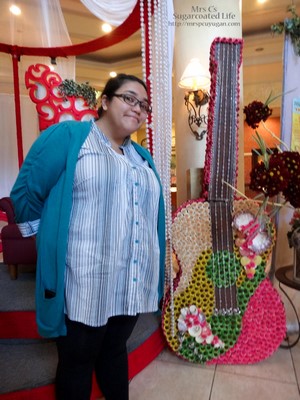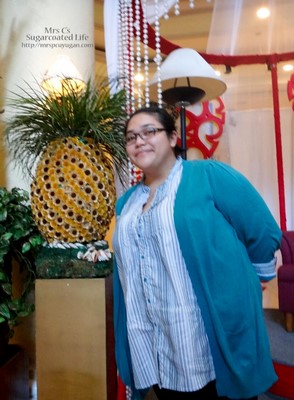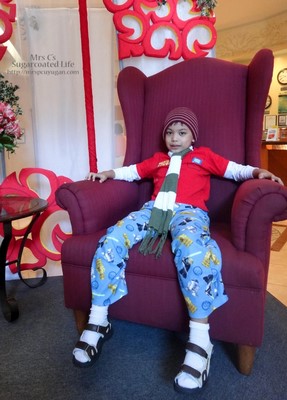 We took a few more photos of ourselves goofing around in the room before we head out to do what we planned that morning.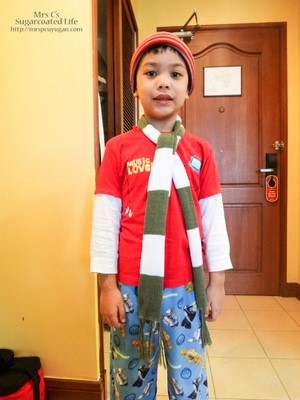 A week before our Baguio trip, we stayed overnight at Hotel H2O.
I think that the prettiest part of Hotel Elizabeth is the garden in front of the hotel. That and the small cluster of gazebos located out front as well. Everything looked so picturesque from the street that we had to take photos there after we checked out, before we set off on our long journey home.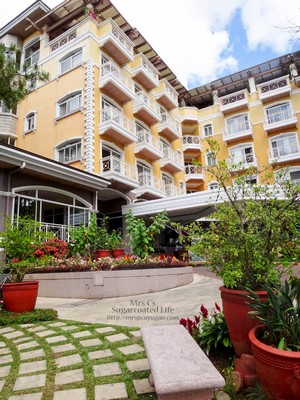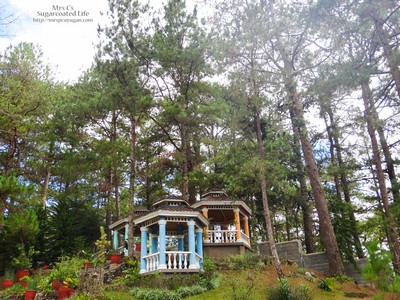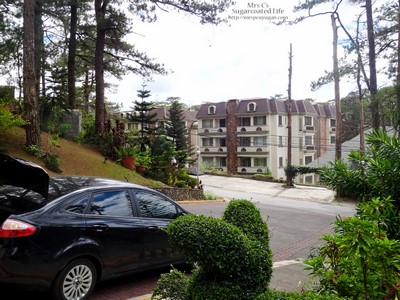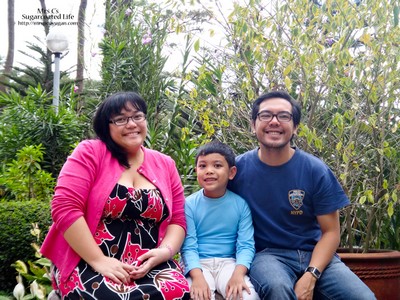 +Points
+ Super helpful staff. They even gave me a map when I asked for directions.
+ Clean and comfortable room.
+ Good selection of breakfast items in the buffet.
+ Secure basement parking.
+ It's on the quiet side of the city, so you really get to rest.
-Points
– I can't think of any! I really enjoyed staying at this hotel. We'll be back for sure.
Hotel Elizabeth Baguio
# 1 J. Felipe Street corner Gibraltar Road,
Baguio City
Phone: (074) 619-0367
Fax: (074) 442-3940
Central Reservation: (632) 912-2691 & 912-8000
Email: reservations@hotelelizabeth.com.ph
Tweet: @hotelelizabeth
www.hotelelizabeth.com.ph