The Bellevue Manila has always been one of my favorites. I have a lot of fond and fun memories in that hotel. It was the venue of the first ever corporate event that I helped organize, and their kitchen catered my first big social event in Alabang several years ago. Little MrC attended his first Halloween event at the Laguna Room, and MrC and I once celebrated my birthday at Cafe d'Asie. I chose The Bellevue as the official residence (naks) of my wedding party, and because my friends know that I love the sweet treats there so much, they gifted us with a basket from the Pastry Corner during our wedding. Yep, The Bellevue and I go a long way back.
I had just realized that I hadn't been back there in a long time, when my friend Jane invited MrC and I for a quadruple dinner date. It would be MrC and I, Jeff and Jane (or sugar and spice, as he told me hehe), Nino and Mish , and Kaye and her kiddos. I immediately blocked my schedule off for that evening, and prepared my tummy for the feast that was to come.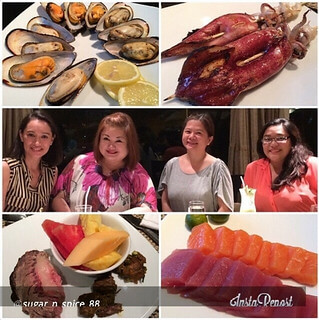 MrC and I actually arrived a little late, so everyone was already there. I came from a bento workshop that afternoon and I really wanted to shower before dinner. It was good, though, that Jane decided to schedule this dinner on the same day as the workshop, otherwise Kaye might not have been able to join us. Blogging about that Bento #Crafternoon session with The Bento Mommas soon, by the way!
Of course I was already hungry when we arrived, so MrC and I hit the buffet right away. Even though it had been years since my last meal at Cafe d'Asie, everything still looked, smelled and felt the same. It felt like home and I was so very happy to be there.
Like I always do at hotel buffets, I went for the sushi, cold cuts and cheeses first. MrC started with his usual bowl of soup, a plate of sushi, andsome cold cuts.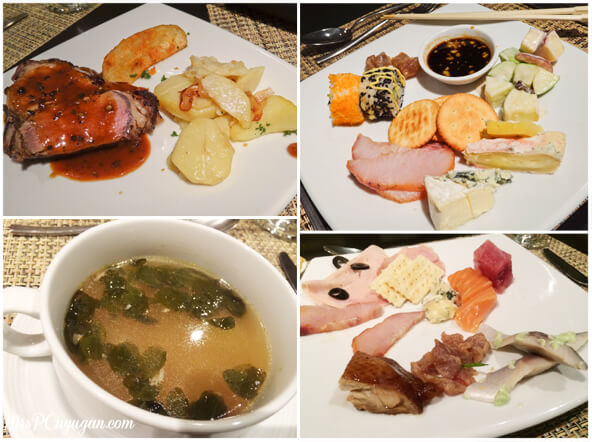 The highlight of my night was the roast beef (see top left photo in the collage above!), which was nice and pink and pretty bloody when it was sliced. I actually contemplated having it seared a bit on the grill, but I'm glad I decided not to because it was just perfect the way it was already. I chose a peppercorn gravy to drizzle over it, and picked up some potatoes to eat it with. Drool.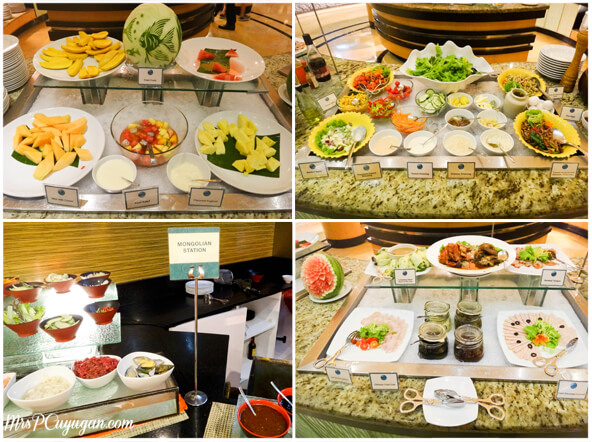 After that first batch of food, MrC had a plate of rice and assorted viands. I thought about maybe having a salad or some fruit, but I could feel myself getting full already. I opted to head over to the dessert station instead. Like I said, I love the sweet treats at The Bellevue oh so very much, so there was no way I was gonna miss out. I also saw something new, something that wasn't there yet during our last visit – ice cream. Lots and lots of it!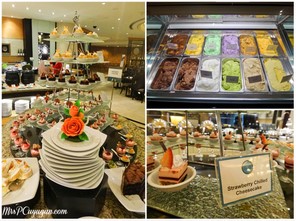 If I could try every flavor of ice cream in that freezer I would, but I don't think that my stomach would be able to handle more than one scoop. So, as recommended by Jane, I tried the avocado flavor. It was so yummy and really creamy. I actually had quite a bit of sweets that night. I don't regret it.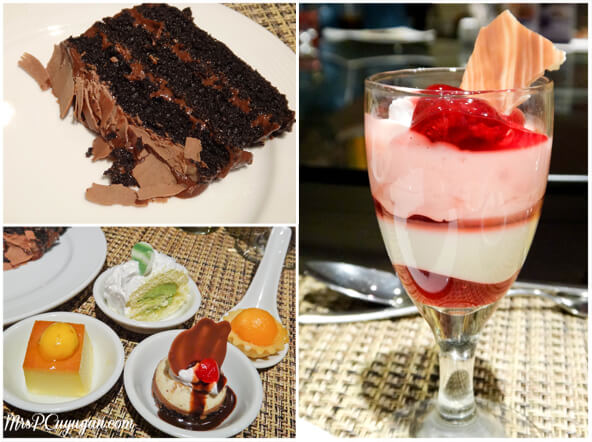 After dinner, we went up to The Vue Bar, supposedly to have some drinks. The boys shared a few drinks but none of us girls had any. The others were too full from dinner, while I was too sleepy to function. Lol, me and my 9pm bedtime! We stayed and chatted for a bit, and the other ladies even danced a little. I didn't coz I'm KJ like that. I only dance when I have alcohol in my system. But I already promised them that I would give it a go the next time we go out. Yes, alcohol or no alcohol, I will dance.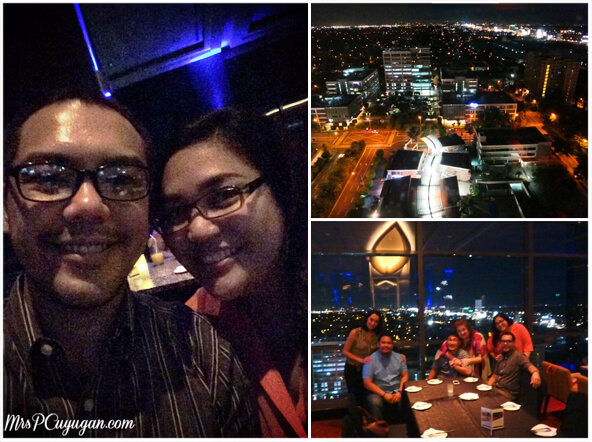 Thank you, thank you, thank you, Jane, for the invite, and thank you to The Bellevue Manila for having us. It was a much-needed, long overdue date night for MrC and I, and we're both so glad that we got to spend it with our amazeballs friends at one of our favorite date places in the south. Can't wait to be back, and next time we'll take the kiddo with us. Come to think of it, the next time we're at The Bellevue Manila, I think I want it to be for a staycation!
Café d'Asie and The Vue Bar
The Bellevue Manila
North Bridgeway, Filinvest City
Alabang, Muntinlupa City
Phone: (632) 771 8181
Fax: (632) 771 8282
Email: tbmnl@thebellevue.com
Website: http://www.thebellevue.com/
Facebook: #/thebellevuemanila
Instagram: https://www.instagram.com/bellevuemanila