Confession: This post is dated Thursday, July 10, but I am writing it on Tuesday, July 15.
July has been good for me so far, where my WAHM Life is concerned. That means though that time management has been a challenge. I've not been able to find time to write, mostly because my days have been full. When I did have a couple of hours or so to spare over the last couple of weeks, I've been either napping or reading because my brain has been too tired to think. Today, though, classes are suspended in the Muntinlupa mountains, and so I basically have no responsibilities – no baon to prepare, no school bus driver duties, and no homework. Yay for me! I just really hope that this typhoon (which has yet to be felt) is not as strong as they say it will be, especially since MrC is off to work today.
I thought I wouldn't have time to write today, but it seems like the kiddo is more excited about the prospect of catching his weekday cartoons over spending extra time with mommy, so while he's glued to the tube, I've decided to blog. Yay for me, and yay for lazy, pajamas-in-bed kinds of days. I'd make hot chocolate but so far it's still too hot and humid for a hot drink.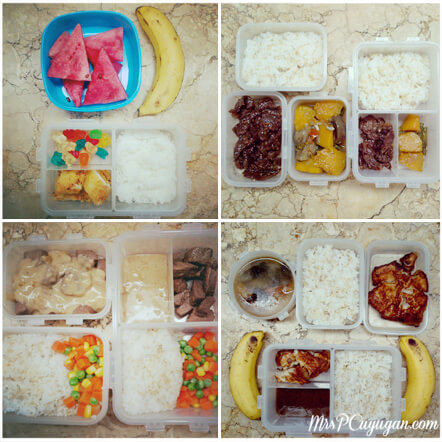 Among all of the things listed on my queue, which sadly has pending posts from February pa (I know, so irresponsible), I've decided to work on my baon plan first. I love that I'm actually able to help out a few moms by posting what I pack each week. I also love that my mom friends and blogger friends recommend my baon plans to other mommies. I must be doing something right, right? 🙂
Okay, moving on.
Last Week's Test Recipes
I didn't get to make Parmesan Chicken Fingers because I forgot to buy breadcrumbs. Instead, I made a quick an easy Chicken Popcorn using Del Monte Quick N Easy Breading Mix. I just cut up some filleted chicken thighs into 1″ cubes, dumped them in a plastic bag with the breading mix, shook it up and fried in a bit of oil. The kiddo really loved this.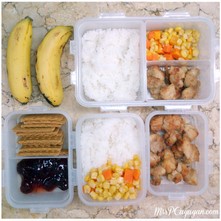 For the Balsamic-Honey Glazed Pork , we used pork chops instead of pork loin medallions. It was actually my mom who prepared this, and we had it for dinner at home instead of baon. I liked it, but the little boy wasn't that happy. I guess this appeals to more mature taste buds.
This Week's Featured Recipes and Baon Plan
This week's baon is based on what I actually packed for the boys over the last two weeks. You can even see some of them in the first photo in this post, and on my Instagram feed. While I still think that planning ahead helps, especially when it's grocery shopping time, I also like to prepare food that I feel like making on that particular day. That explains why I sometimes deviate from my own baon plan. Lol.
Featured recipes from this blog are my ever-so-reliable Breaded Pork Chops and my Chicken Menudo . I also have Bangus Belly ala Pobre on the menu. I used store-bought bangus for this, and the brand that I like is Sea King. But I really want to start marinading my own from scratch. I think I will try this recipe from Casa Veneracion because it looks so simple. I also am sharing with you the easiest steak recipe ever with cheese sauce to match. This is one of Little MrC's favorite dishes. The cheese sauce makes it super kid-friendly.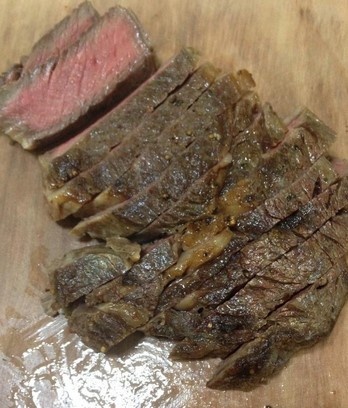 Lola Terry's Steak With Cheese Sauce
2014-07-14 22:51:20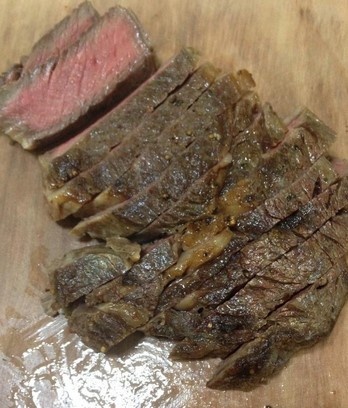 Ingredients
Beef tenderloin
Knorr Seasoning
Salt and Pepper
Oil for frying
For the Cheese Sauce
1 cup Fresh milk
1 small bar Quickmelt cheese, grated
Knorr Seasoning
Pepper
Pan drippings from the steak
Instructions
Rub salt, pepper and Knorr seasoning onto each side of the steak. The amount of seasoning you use will depend entirely on your taste. Let the meat sit for a few minutes to marinade.
Heat oil in a skillet and cook the meat to your desired doneness.
Transfer the meat from the pan to a serving plate, and let it rest for at least 15 minutes before slicing.
Lower the heat on your stove and slowly pour in the fresh milk, stirring as you pour to prevent curdling.
Add the grated cheese. Simmer until melted, stirring occasionally.
Adjust seasoning with Knorr and pepper.
Adapted from Lola Terry's Homecooking
Adapted from Lola Terry's Homecooking
At Home With MrsC https://blissbysam.com/
Click
here
to download this week's baon plan. To check out my past lunchbox plans from Grade 2 and Grade 3, click
here
.
Thanks for stopping by! I'll have another lunchbox menu ready for you in two weeks.