My car is coded on Thursdays, which means I'm stuck in the Republic of Alabang. I've decided, therefore, that Thursdays will be my grocery day. However, this week, I did my shopping on a Wednesday. As in today. Yes, that's how bad I am with schedules. But anyway, the important thing is that I'm all set for another week of lunchbox preps for the boys.
What's new after the hiatus?
I stopped posting my weekly lunchbox menus because they were starting to get boring to write, and I thought they might have become boring to read, too. After thinking about how I could change it up, I've decided to post what's on my food list for the coming week instead of what I prepared for the week that passed. That way, I can share my marinate and freeze recipes, too, or whatever recipe I would like to feature for the week. I like this because it will encourage me to actually get to work in the kitchen and not allow my lazy self to buy pre-marinated or frozen packaged meals. So yes, beginning today, the weekly lunch box menu plans are back!
BONUS: I've also decided to include a grocery list. My, my, I'm being ambitious, aren't I? Well, let's just hope that I keep on keeping on with this, at least until the end of the school year. Then I can tweak things again over the summer, in time for class resumption in June.
And there's one final new thing about this weekly series. All menu plans and grocery lists are now gonna be downloadable in PDF format. Yay!
This week's featured recipes
Yup, recipes. Plural. I really wanted this comeback to be major. And oh my goodness, I really hope I can keep doing this each week. Anyway, all recipes for this week are marinate and freeze ones. I like to prepare ahead in case I wake up late or just won't function so early in the morning. These should all be marinated before they are frozen, as in right after you get home from the supermarket, if possible. Then you just transfer them from the freezer to the refrigerator before you go to bed so that they are nicely (and safely) thawed in the morning.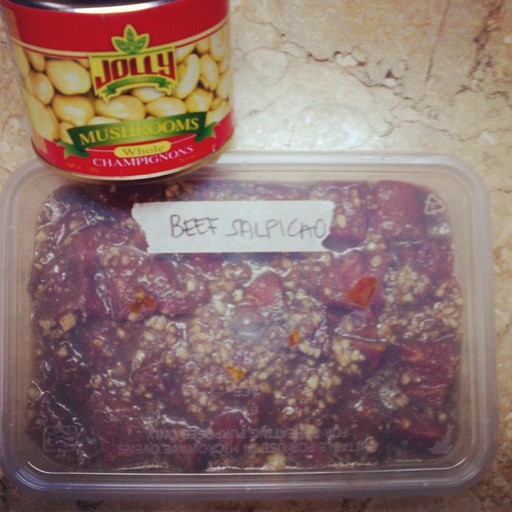 Recipe #1 is a Beef Salpicao dish based on one that I found in one of my many Yummy magazines. You will need:
1/4 kilo Beef tenderloin, cut into cubes
1.5 tbsp Minced garlic
1/2 tsp Salt
1/4 tsp Black pepper
1.5 tbsp Olive oil
2.5 tbsp Worcestershire sauce
1 tbsp Light soy sauce
1 small can Button mushrooms
Salted butter
Toasted garlic to serve
Combine the garlic, salt, pepper, olive oil, Worcestershire sauce and light soy sauce, then pour over the beef tenderloin. Marinate for at least 30 minutes. Then saute the beef in butter, throw in some whole button mushrooms, and top the cooked salpicao with toasted garlic. Best served with steaming hot rice!
Recipe #2 is also based on a Yummy magazine find, and one that I've already written about before. Here's what you need for this Rosemary Garlic Chicken:
1/2 kilo Chicken thigh or breast fillet
1 tbsp Soy sauce
1 tbsp Olive oil
1 tsp Garlic powder
1 tsp Thyme
1 tsp Rosemary
1/4 tsp Black pepper
Mix everything together, pour over the chicken and marinate for at least 30 minutes. Then you simply fry the chicken in a little bit of oil, and you're done! This is good paired with mashed potatoes. I usually add a side of corn and carrots when I pack this for my boys' lunches.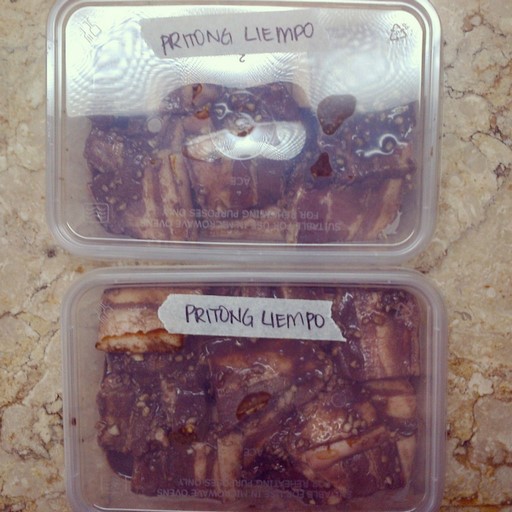 Recipe #3 is a quick and easy Fried Liempo dish. You need:
1/2 kilo Thinly sliced liempo
1/4 cup Soy sauce
1/8 cup Calamansi juice
Salt and pepper to taste
Just like the chicken, you just mix everything together and let it marinate for at least 30 minutes. Fry the pork in oil and serve with rice, ideally garlic rice, and atchara. Yum! For lunchbox purposes, I've paired this dish with sauteed pechay, so that it's a little bit healthier.
Time to download!
You can download the lunchbox plan here and the grocery list here.
I usually split each of these recipes into two separate containers before freezing, since each batch is enough for two separate lunchbox days for the boys, with a little bit left over for my lunch at home. That way, I can opt to thaw only what I need for the day. So in case you aren't feeding that many people, you might want to do the same, too.
Oh, and if you don't pack lunch for anyone, you can actually still use this meal plan at home.
What's cooking in your kitchen?