I don't normally like to leave Alabang, but I consent with no complaints if it's to go to Powerplant Mall. I love it there. It's clean, it's relatively quiet, and I get to buy yummier (albeit more expensive) Dunkin Donuts and The Cake Club's Ube Ensaymada to take home afterwards. The boys and I have been visiting that mall a lot more than usual because we've been buying Anvil Oil for my mom-in-law from G Stuff.
We decided to stay for lunch during our latest visit a few weeks ago. I usually insist that we try a restaurant that we don't have in the south when we go out because I like to make the most out of the opportunity. I had read good things online about Chef Sandy Daza's Wooden Spoon restaurant, and since it's hard to go wrong with Filipino food, we ended up there.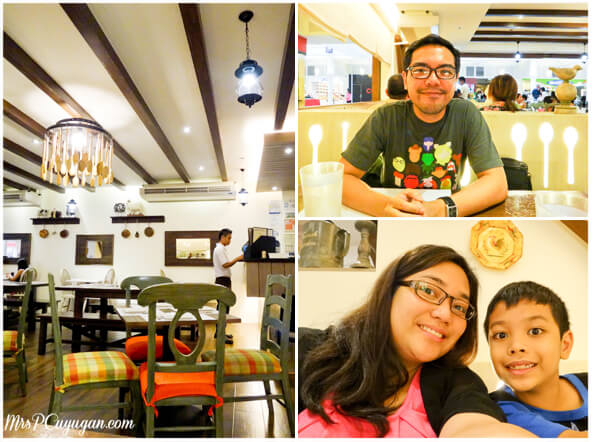 We were all really thirsty since we'd been walking around for a while, so we started by ordering drinks. MrC wanted some coffee but they didn't have that on the menu yet. Our server was nice enough to offer to get a cup of coffee from the restaurant next door, and he even said that it was his job to provide us with what we wanted. Plus points right away!
Wooden spoon uses large sheets of blank white paper for place mats, and, as you can see, the little boy decided that he would doodle on his. He loves to draw, so he is easily entertained with just a pen and paper. His drawings look like a cross between stick figures and Minecraft characters.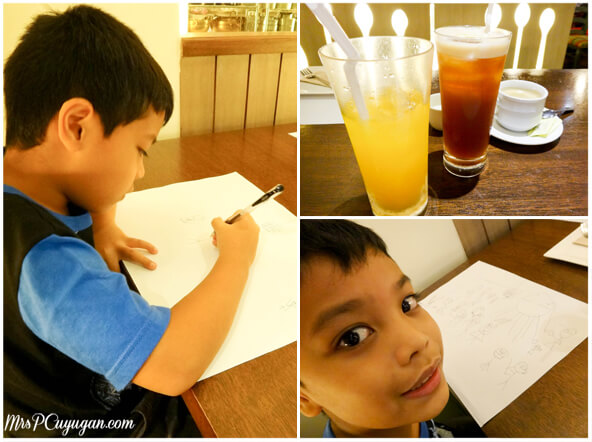 We had lunch pretty late that day, and so didn't have to deal with the weekend lunch crowd. Our food was also served quickly, which was perfect because we were all pretty hungry. The kiddo really wanted fried chicken, so we ordered the Boneless Crispy Chicken for him. This dish is super kid-friendly!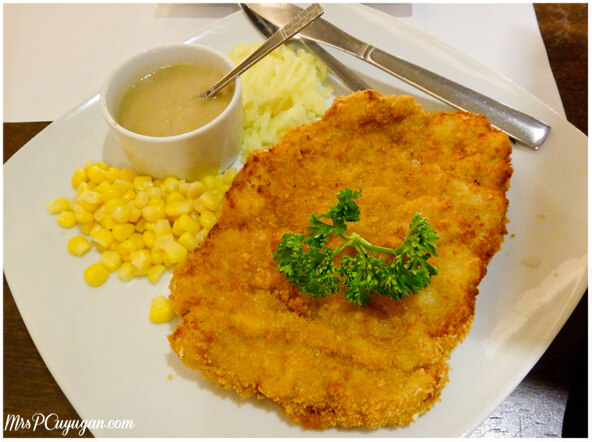 MrC asked the waiter for a recommendation on our main course. We were told that one of their best sellers is the Dinakdakan. It's something that I'd never heard of before, so I was excited to give it a try. This is an Ilocano specialty, and I'm pretty sure my dad-in-law knows how to make it. MrC describes it as having a sort of cooked kinilaw taste. It's definitely interesting, and I'm curious to try other restaurants' version of this dish. Meron ba?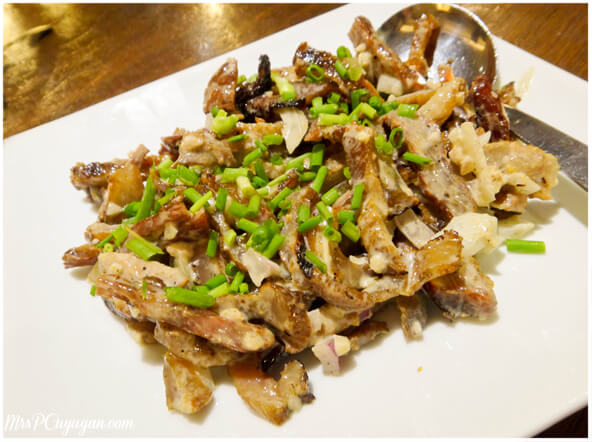 I was in the mood for veggies, so we ordered a bowl of Sitaw Sa Gata to go with our meaty meal. This was my favorite part of the meal. It had everything I loved – sitaw (string beans), kalabasa (squash) and gata, (coconut milk). Plus, instead of the usual chicharon (fried pork skin) on top for that added crunch, they put crispy dilis (teeny tiny fish). I would go back just for this.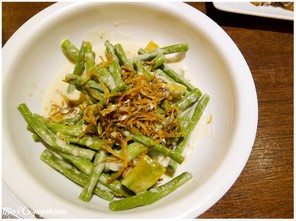 And finally, there must be rice. I have to say that this Tinapa Fried Rice is the reason why I started making mixed fried rice for breakfast on Fridays. It is just so good. I think that maybe it's the crispy dilis of Wooden Spoon that's really a hit for me, because my two favorites from that day have it. I was actually expecting the rice to be topped with flakes of bangus (milked fish), but noooo, it had dilis on top! Happiness!
I thought that he food that we ordered would be more than enough for the three of us, but with two hungry boys, I was wrong. Not saying that I didn't have my fill of everything, too. Our orders were wiped out and we left stuffed and satisfied. I think that my in-laws would totally love the food here, and I really hope that the restaurant stays open for a long time so that we can get the chance to have them try it out.
Have you eaten at Wooden Spoon? What are your favorite dishes from this restaurant?
Wooden Spoon by Chef Sandy Daza
LG/F Powerplant Mall
Rockwell Center, Makati
Facebook: #/WoodenSpoonRestaurant
Twitter/Instagram: @woodenspoonPH