One fine day I received an SMS from my wonderful blogger friend Jane, telling me that she was sending some goodies from Pink Wasabi over to my house. I never say no to dessert and sweet snacks. That message and the surprise delivery super duper made my day. Thanks, Jane and Chef Anna!
Something for chocolate lovers like me!
I instantly fell in love with Pink Wasabi's bite-sized Tableya Brownies (PHP 188.00 per pack, 36 brownies per canister), and so did my dad! I remember that the NBA Finals were on that day, and as soon as I got the package I rushed to my parents' room to share the goodies with them because sweet treats are meant to be shared. Before the game was done, the brownies were all gone. It's a good thing that I secretly set some aside for MrC and the kiddo to try!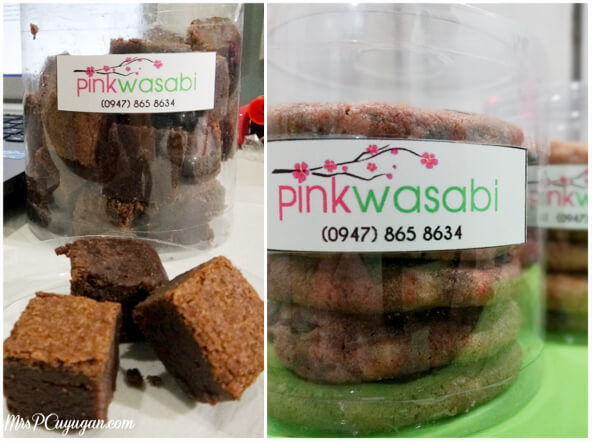 As if I wasn't already in chocoholic heaven with the brownies, there were also two containers of cookies included in the bag. Oh my, happy heart and happy tummy talaga! The cookies came in two flavors, Chocolate Chip swirled with Nutella (PHP 160.00 for a canister of 6) and Cashew Nut Butter with Choco Chunks (PHP 150.00 per canister of 6). My boys really, really, really loved these cookies.
I knew that the closest place I could get these delightful desserts from was in Makati, so I really savored every bite. And then, during one of our brainstorm meetings for our Fringe Salon Blogger's Pampering Day, my friend Michelle said that she was planning to invite Pink Wasabi to cater one of the legs. I'm so happy that Chef Anna said YES! I got to indulge in these yummies again. At the event, they were also joined by Orange Whisk and Simply Pie, who served delicious quiches and other savory snacks.
Super cute, super yummy Reinbo Profiteroles
At the Fringe event, apart from eating my chocolatey favorites, I also got a second taste of Pink Wasabi's Reinbo Profiteroles. I got a small box of these cute and colorful cream puffs from Jane, too, but for some reason I just enjoyed them more the second time around. Of course, my fave was the Green Tea flavor, and the Orange Coffee one come in as a close second. There were also Strawberry and Caramel Pepper flavored profiteroles in the box.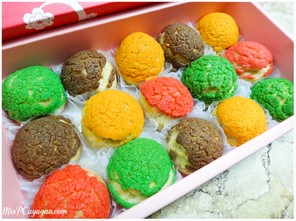 These profiteroles require refrigeration in order to prolong their shelf life. They are best consumed within 3 days, though, which is expected since these pastries are filled with a creamy custard.  In case you plan on ordering, here are the prices:
Box of 4 – PHP 155.00
Box of 6 – PHP 195.00
Box of 12 – PHP 360.00
Box of 15 – PHP 428.00
Unique Kashi Maki cakes
If I thought that the profiteroles were adorbs, I was completely floored when I saw the Kashi Makis. These desserts are works of art! Imagine sweet hand-rolled cakes that look like sushi! Okay wait, no need to imagine. Let me show you.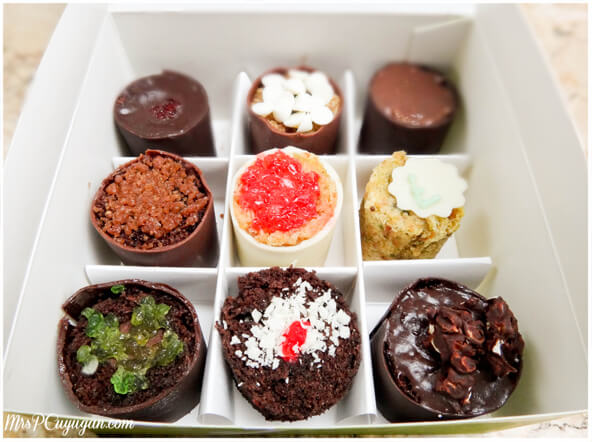 Diba, so nice? These would make really great gifts! My favorites were the White Matcha, Oolong Berry, and the Midnight Mint flavored ones. Basically, I loved all the tea-infused flavors. My mom and MrC on the other hand liked the liquor-infused ones. My kiddo loved the Chocnut and the Choco Caramel Popcorn flavors. No surprise there. You can check out all the available flavors on the Kashi Maki Flavor List.
Like the profiteroles, these are ordered by the box, and you will need to place your orders at least three days in advance. Here are the prices for the Kashi Maki:
Box of 4, chef's choice, assorted – PHP 140.00
Box of 9, chef's choice, assorted – PHP 280.00
Box of 18, chef's choice, assorted – PHP 540.00
When you order a box of 18, you get a pair of steel chopsticks to go with your Kashi Maki. And, in case you plan on giving these as gifts, here is a list of upgrades and add-ons:
White chocolate plaque (choice of Happy Birthday or Happy Anniversary text – PHP 20.00
Customized white chocolate plaque

Small, 2 words max – PHP 20.00
Medium, 4 words max – PHP 25.00
Large, 6 words max – PHP 30.00

Gift Tag – PHP 25.00
Steel Chopsticks – PHP 25.00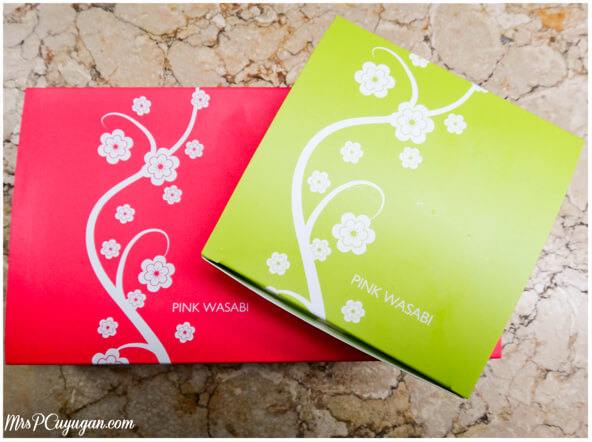 While chatting with Chef Anna, I found out that they also supply desserts for Lasa Restaurant, which means that they can deliver to Alabang. Yay! She made Michelle and I try the Leche Ka!, a leche flan that sits on top of chocolate cake made from Batangas cacao. Oh my golly, so, so, so sinfully good. I hope that the boys and I can go back to Commercenter soon to have some.
To find out more about Pink Wasabi, you can check them out on Facebook or visit their website, www.mypinkwasabi.com.
Thanks again, Chef Anna, for sharing your yummy treats with us! 🙂