MrC and I used to go out to watch bands a lot. Actually, I don't think I've ever written about it here, but my husbandry used to sing in a band called Bobby Parks Movement. I was their manager. And oh my gosh, I just found proof of the band's existence on the interwebs! O diba? This was before we became parents, of course, when it was okay to come home at the crack of dawn and sleep until way past lunch time.
I find it silly whenever I say, "Those were the days," in reference to that time in our lives. I feel that it makes me sound older than I actually am. But that's the truth, those were the days. Nights out have become rare occasions for MrC and me, because we have really grown into homebodies since becoming parents. But because we love Joei and the ABC, we got all dolled up and spent an evening with the group at 12 Monkeys Music Hall & Pub in Century City Mall a few weeks ago.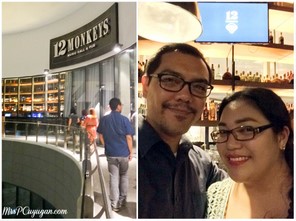 The moment we walked in I thought, wow I wish this place existed already when we were still very much involved in the band scene, aka in my past life working for events like Fete dela Musique and Red Horse Muziklaban. I would have loved to hold an event at this place! It's roomy, simple but aptly decorated, and the sound is AMAZEBALLS. Plus, the food is really good, which isn't something you find at bars very often.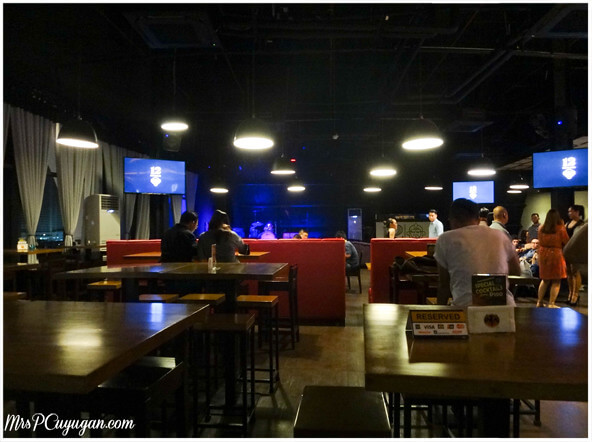 Given the roster of partners who put this place together, though, I'm not surprised at the excellence in detail put into everything from the ambiance, to the equipment, to the menu. Behind the amazing food and ambiance are Raymund Magdaluyo, who owns Red Crab, Sumo Sam and Seafood Island, Neil Arce, an old friend from Zobel, and co-owner of 71 Gramercy and Tipsy Pig, Neil Paras of Big Bad Wolf, Mike Gelacio, who co-owns Publiko and Universe, Prive's JM Rodriguez, club and bar owner, GP Reyes, and one of 19 East's partners, Yuri Allado.
Musical programming is taken care of by Parokya Ni Edgar's frontman, Chito Miranda, and Champ Lui Pio. Marketing and operations is handled by the lone lady in the group, Cesca Rivas. The DJ lineup is carefully put together by DJ Keith Haw. With JB Music's head, Jerico Fernando involved, you know exactly why the sound system at 12 Monkeys is as good as it is. Completing the lineup of partners are Magic 89.9's DJ Tony Toni Bueno and Solar Sports TV's Jinno Rufino. Now that's an all-star cast, if I've ever seen one.
Our visit came after an intimate dinner at Yumi Japanese Restaurant (blogging about this soon!), which was just next door. That didn't stop us from sampling the different dishes that we had heard were to die for at 12 Monkeys. First came drinks. No pub experience is complete without a beer, in my opinion, so it was a rather huge mug of Stella Artois for me, and a Cerveza Negra for MrC. The other girls ordered a pretty cocktail each – a yellow cocktail called Sweet Monkeys (PHP250) for Joei, a very pink Very Berries (PHP250) for Jane, and a kiwi-filled green Ivan's Secret (PHP250) for Mish.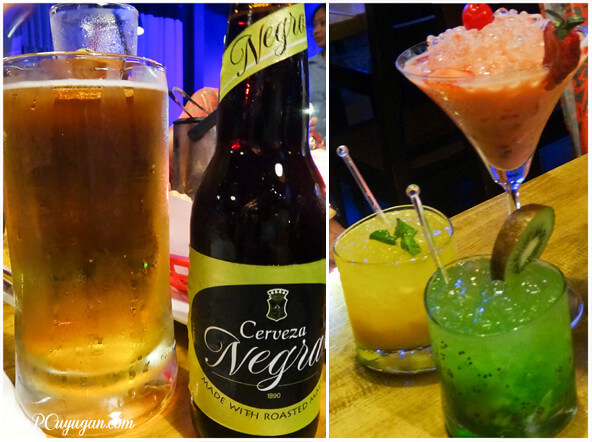 Once we were all settled in with our drinks and the band started to play, the food came in, one exciting plate after another. Chef Pete Ayson developed the menu at 12 Monkeys based on the taste and preference of each of the partners.Our spread started off with Killer Chicharones, a basket filled with crispy hog skin, chicken tail poppers and skin served with spiced vinegar and spiced ketchup. A second basket on our table contained Cesca Pop – golden shrimp popcorn, grilled lemon, crispy fries and cocktail sauce.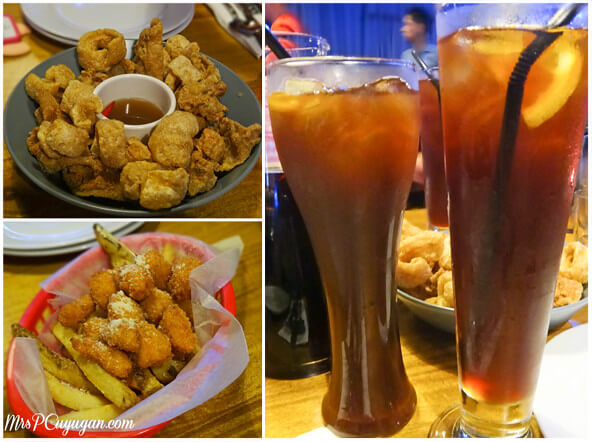 I only tried one piece of chicharon, but the boys ate it happily. I really liked the Cesca Pop, and end up finishing the whole basket, including the fries. So good when you squeeze the grilled lemon over everything! The Spam Fries was something that we all couldn't get enough of! This was tempura style assorted Spam served with honey mustard, cumin ketchup and kimchi mayo. So good, it was gone in 60 seconds! I would love to take Little MrC to try these. I'm sure he will really enjoy.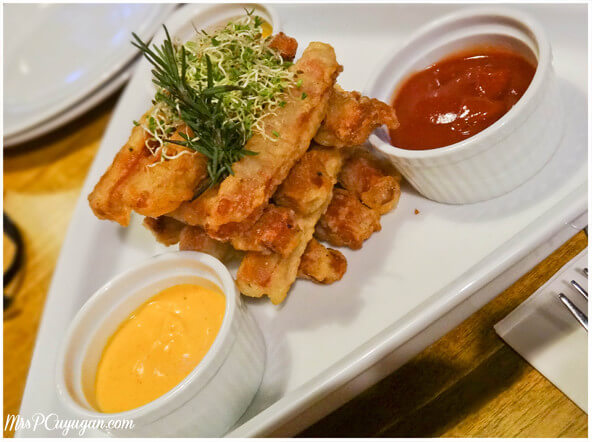 I love that the pizza selections are categorized as Picha Pie, obviously after that Parokya ni Edgar Song. We were served Ivan's Palabok Pizza and The Sisig Tribute. The Palabok Pizza really tasted like palabok! As in, it's even better with calamansi squeezed over it. I never would have imagined this would make a good pizza, but it works. The Sisig Tribute was yummy too, and nice and spicy. This is perfect for my friends who love sisig but don't like eating rice.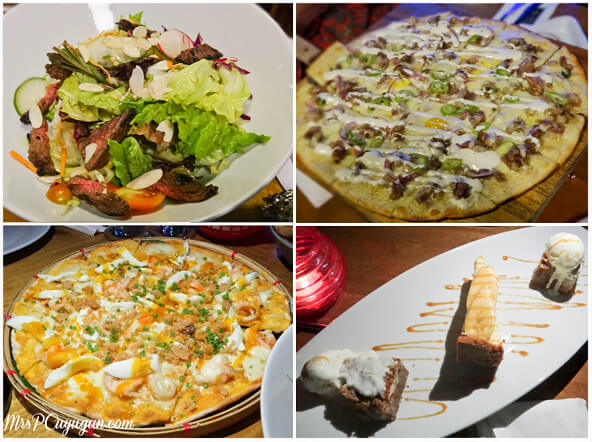 I didn't get to try the salads, but I will next time. Apart from the Thai Beef Salad, which had mixed greens, tamarind beef fillet, cucumber, tomatoes, radish, toasted peanuts and chili lime dressing, we were also given a Fried Chicken Caesar Salad. This I am interested in for next time. A bowl of this salad comes with homemade Caesar dressing tossed into romaine lettuce, and topped with saved Parmesan cheese, smoked bacon bits and a country fried chicken fillet. Sounds like my kind of salad!
I had a few spoons of the After Hours Goto Special because I love goto and just couldn't say no. This bowl was goto perfection! It's Filipino-style congee served with beef tripe, garlic flkes, century egg, pork floss, homemade candied dilis, scallions, tofu and fried crispy pork belly. If you ever come to 12 Monkeys, you MUST try this!
I knew I had to save room for dessert, so I decided to skip the Laksa Lomi, a red curry lomi noodle soup with squid balls, white shrimps and fried pork belly, and the Barbecue Feast. Note to self: Order the barbecue next time because it looked really good. The platter was loaded with chargrilled baby back ribs, barbacua chicken wings, coleslaw, potato salad and Java rice.
The last main dish served to us before we all threw in the towel because we were too full to function was the 12 Treasures Claypot Rice. This was black rice, soy chicken, Chinese sausage, pork ribs, shiitake mushrooms and bok choi cooked in a claypot bowl. I have to try this next time, coz it really sounds yummy, too. Diba, not your usual bar chow!
Dessert was a slice of Chunky Monkey Pie and Sticky Pudding. Both had banana in them, keeping with the whole monkey thing, I guess. The Chunky Monkey Pie is a cream-filled banana cream pie topped with whipped cream, chunky peanut butter and crushed choc nut. The pudding was made of banana walnut bread in butter toffee sauce, topped with vanilla ice cream. Both were yummy! After a spoonful of each, I literally couldn't eat another bite.
THANK YOU so very much to the management and staff at 12 Monkeys for taking care of us and stuffing us silly. I had such a great time that I've already asked MrC to take me back there to see some of my favorite bands play. It'll be great to hang out and pretend we are young and free, even just for a night. Thank you, also, Joei for putting this fun evening together for the ABC.
It's been a while since MrC and I went to a bar hehe. Super enjoyed #GirlsNightOut with my #ABC loves and our husbandries at 12 Monkeys. The food there is amazing! And ang ganda ng sound! Hope to catch one of my favorite bands there soon.
12 Monkeys Music Hall And Pub
5/F Century City Mall
Kalayaan Avenue, Poblacion, Makati
For reservations call (0917) 570-3222
For private event inquiries email 12monkeyspub@gmail.com
Follow @12MonkeysPH on Twitter and Instagram, and like 12MonkeysPH on Facebook
Doors open at 5pm
Entrance fees vary based on the performing band
Table reservations go for 6-8k, consumable
The VIP couch close to the stage costs 15k, consumable, and can seat 10-12 persons