When you are married with children, date night is always something to look forward to. Do you guys agree? I totally do. And so when I was asked to join a few blogger friends in an amazing date night at QiWellness Living Tea House + Bath House in Tagaytay, I was beside myself with excitement.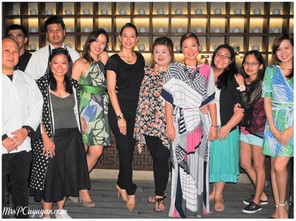 After weeks of planning, MrC and I almost didn't make it to our Tagaytay dinner because the kiddo had a slight fever after football class that day! It's a good thing that after a long nap, a couple of doses of Biogesic and a long bath, Little MrC was feeling better, and was okay to be left at home with my parents. Phew. It would have been really sad missing the QiWellness Living experience. I mean, you get there and you're just completely blown away by how gorgeous the place is.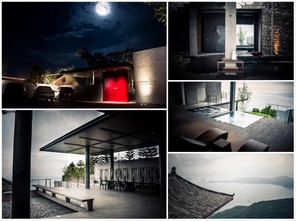 We were greeted by a loud gong right when MrC and I entered the red door. I have to admit, nagulat ako. I actually jumped a little coz I wasn't expecting it. Waiting for us at the receiving area were the the wonderful owners of the place, Ken Tuason and Rita Sanson, who were both so gracious and accommodating the entire evening. Ken explained that QiWellness Living is made up of two main areas – the Bath House and the Tea House.
The Bath House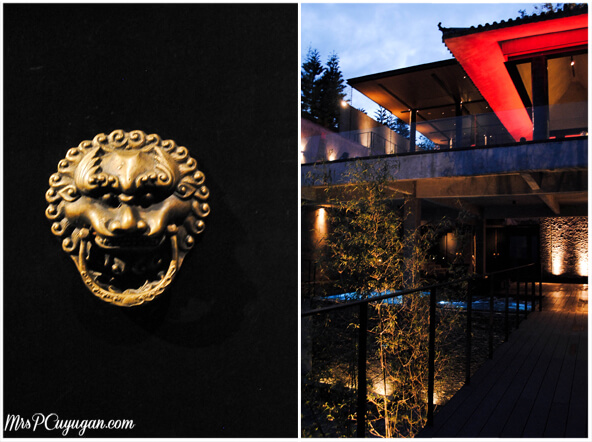 We took a short tour of the bath house while waiting for the other bloggers to arrive. This area is described as a sanctuary of relaxation, rejuvenation and renewal, bringing effective traditional and holistic healing practices in a modern setting through massages and hydrotherapy. If you are a massage-lover in search of a quick escape, I think you ought to try it here. You can check out the list and prices of their massage services and other treatments here.
To be honest, I have never had a massage in my life. I think, though, that this would be a great place for my first time. I would love to relax in the hot and cold yin yan pools afterwards! It seems like a great way to enjoy the beautiful the view of Taal Volcano.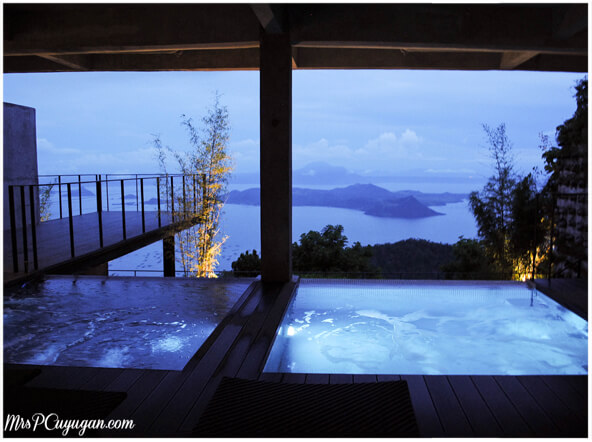 The Tea House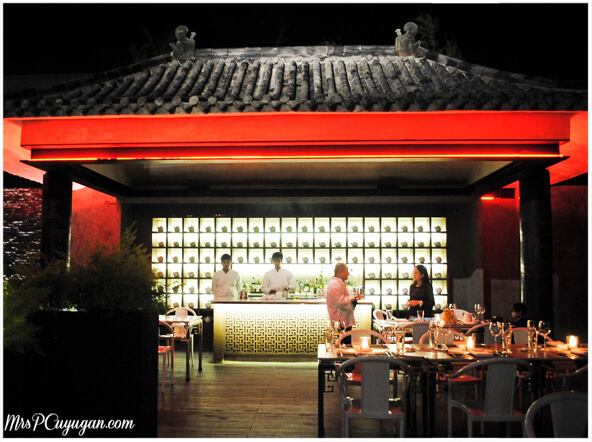 In between the top floor receiving area and the bottom floor bath house, you will find QiWellness Living's Tea House. Here they serve 6-course and 8-course yin yang menus, multi-course degustations that change seasonally over spring, summer, autumn and winter. They also have ala carte items for lunch and dinner, which are served with the soup of the day and a salad. You can also try their dimsum selections in the afternoons. If you wanna check out their menu offerings, click here.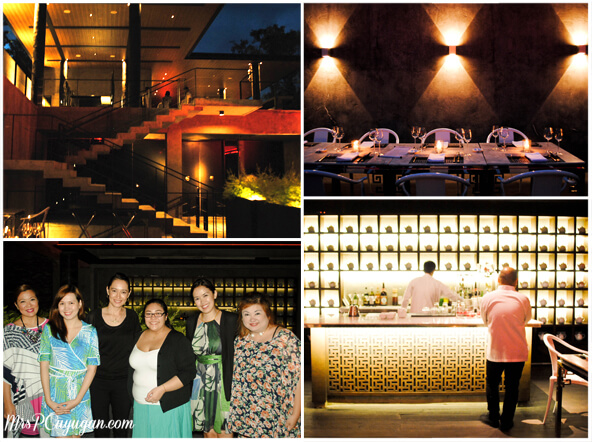 I was (of course) really happy that the ABC girls were complete during our quick Tagaytay escape. I knew that MrC would enjoy himself even more with the other husbands around. I feel so lucky to have met these ladies that I click so well with. Our husbands click, and our kids click, too, so it's always a great time when we're together.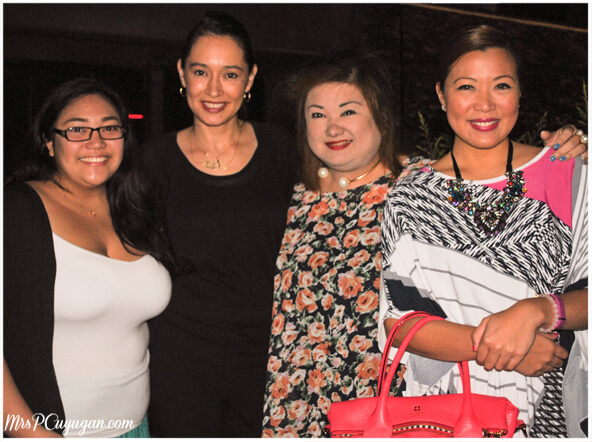 The 8-course Summer Yin Yang Set Menu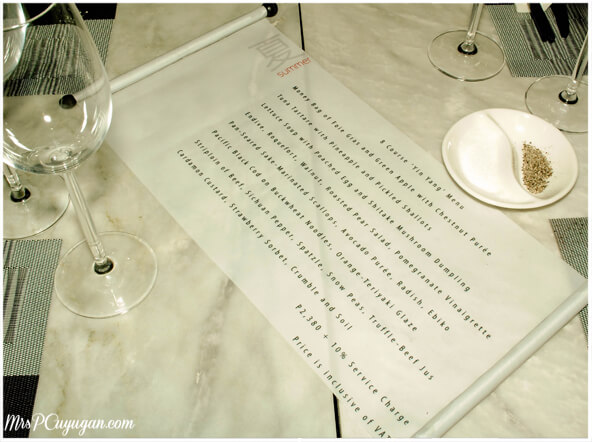 For our dinner date, we were served the 8-course Summer Yin Yang Menu (PHP2,380 + 10% Service Charge, inclusive of VAT) paired with white and red wines. What an absolute treat. Our meal started off with Toasted Mantou. We usually have this with condensed milk on the side for dipping. This time, it came with a pat of butter on the side. I don't like butter, but I gave it a try anyway. I think that the bread is better off on its own, thankyouverymuch. Everyone else happily ate theirs with the butter, though, so maybe it's just me.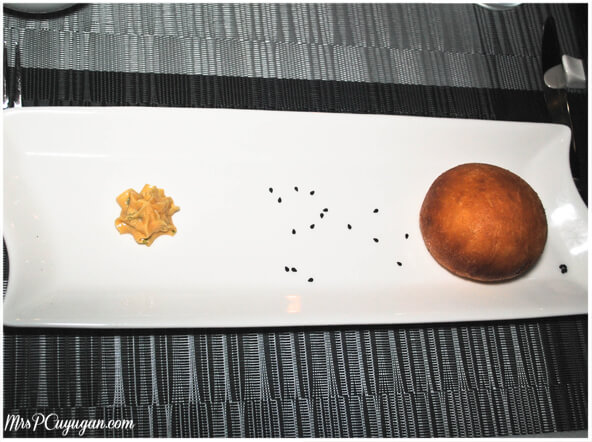 Our first course was Money Bag of Foie Gras and Green Apple with Chestnut Purée. This was one of my favorites. There were big enough pieces of foie gras in the dumpling that you could actually taste them, but they weren't too big to the point of being overwhelming. I liked that the dumpling pastry was thick and chewy.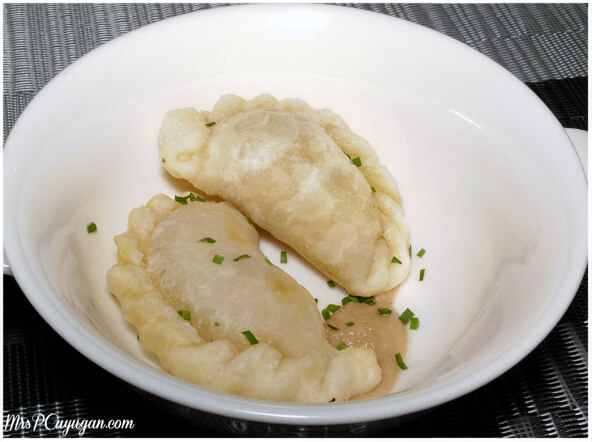 For our second course, we were given Tuna Tartare with Pineapple and Pickled Shallots. I love raw tuna, so of course this was something I enjoyed, too. You get a little bit of sweet and sour when you pop the little ball of tuna into your mouth. And yes, I really popped the entire thing into my mouth. I did chew slowly and savor every flavor in it, though.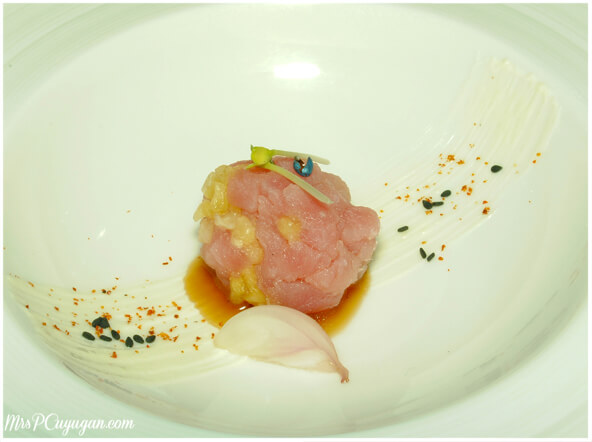 My absolute favorite was the third course, Lettuce Soup with Poached Egg and Shiitake Mushroom Dumpling. At first, I found that the soup was on the acidic side. And then I popped open the poached egg, and once the yolk mixed with the soup, everything became really creamy and velvety and rich. The mushroom dumpling was also really yummy, and went very well with the soup.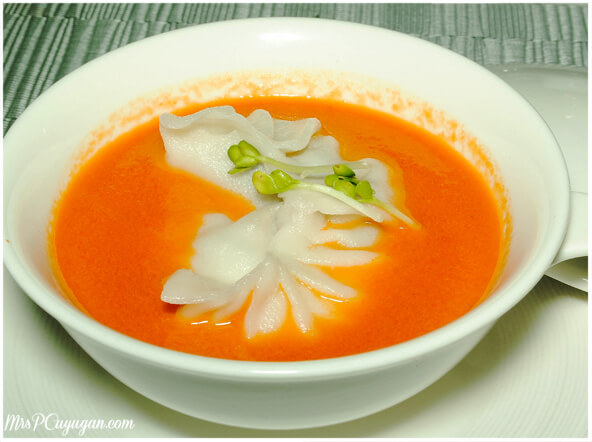 Next we had one of the prettiest salads I've ever had the pleasure of eating. Too bad my photo doesn't do justice to this Endive, Roquefort, Walnut, Roasted Pear Salad with Pomegranate Vinaigrette. The vinaigrette dressing was on the sweet side, and totally complemented the bitter greens mixed in with lettuce leaves and flower petals.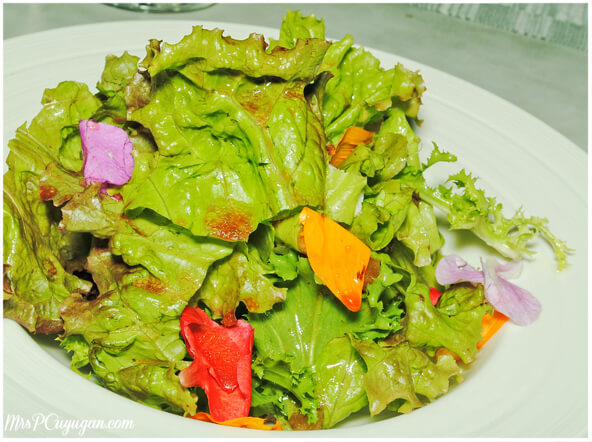 After the salad, the first of the main dishes started arriving. The Pan-Seared Sake-Marinated Scallops with Avocado Purée, Radish and Ebiko was really good, to the point that I wanted more. Ging sat next to me at dinner, and her husband is allergic to shellfish so she got to eat his share. Lucky girl hehe!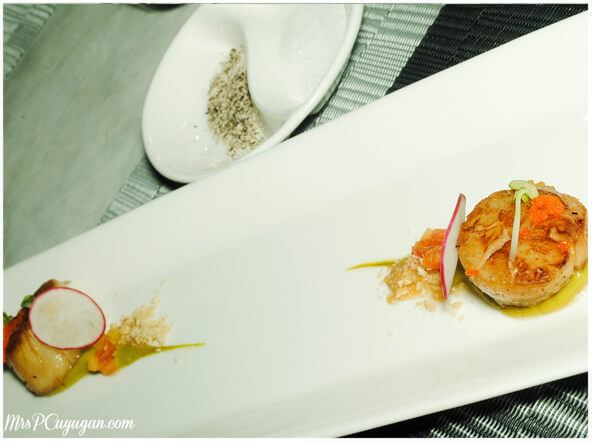 Dish #6 (and yes, we were counting them down as they were being served) was Pacific Black Cod on Buckwheat Noodles with Orange-Teriyaki Glaze. I like fish, so I liked this. The cod was perfectly cooked, flaky not chewy. The noodles were nice, too. This was sort of like a very sophisticated Chinese pancit.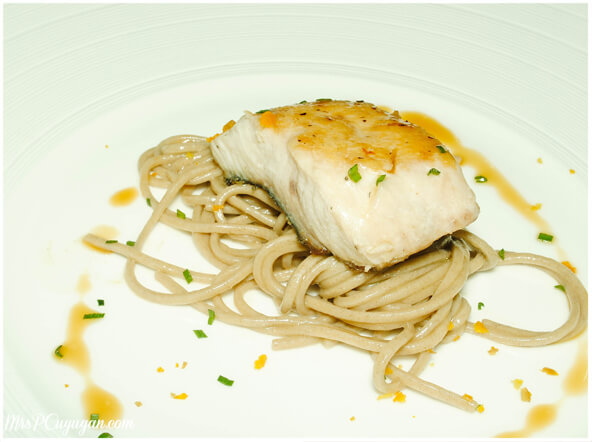 They obviously saved the best for last where the main dishes of this degustation were concerned. Our 7th course was a Striploin of Wagyu with Sichuan Pepper, Spatzle, Snow Peas and Truffle-Beef Jus. Spatzle isn't at all something you would expect to find in a Chinese dish, so this was a pleasant surprise.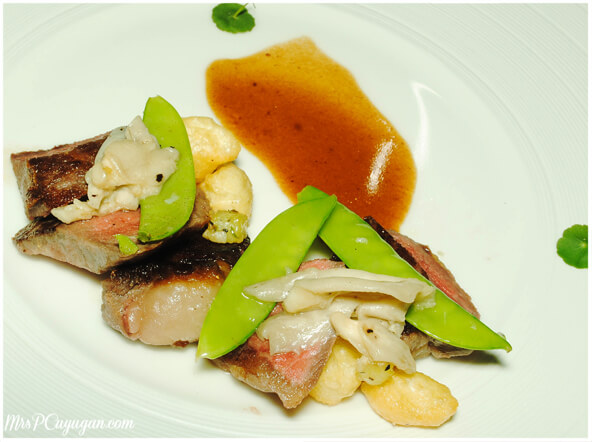 And finally, my favorite part in any meal – dessert. We were served a bow of Cardamon Custard, Strawberry Sorbet, Crumble and Soil. I love how Chef Jeff Ramirez did his fusion of flavors and textures in every dish. Everything's so exciting, and this dessert was no exception. The sorbet was a little tart, the custard a little sweet, and the crumble and soil added a bit of crunch in every bite. It was a great way to end an excellent meal.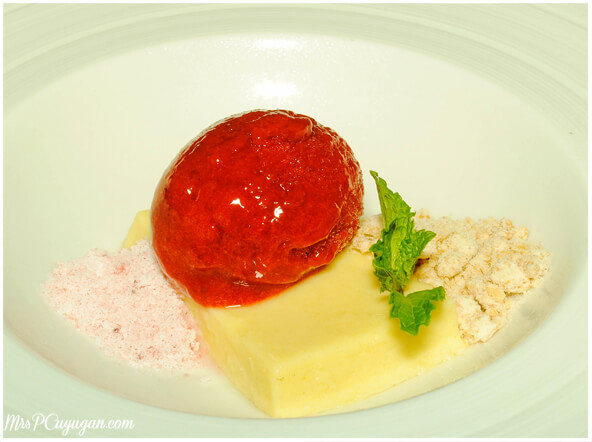 THANK YOU so very much, Ken, Rita and Jeff for inviting us over, and for treating us all to an amazing dinner. QiWellness Living is so beautiful! MrC and I really enjoyed dinner, and we look forward to coming back for our first-ever couples massage and a dimsum-filled afternoon. Thanks also to the amazing staff who took care of us, accommodated all of our requests, and answered of our questions while taking us around the bath house and tea house.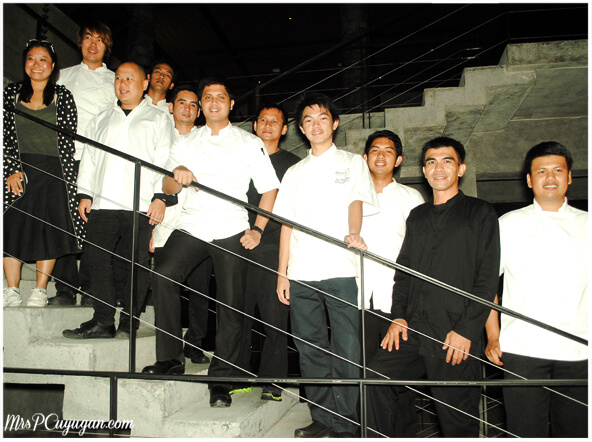 Qiwellness Living
Aguinaldo Highway, Brgy. Maharlika East
Tagaytay City, Philippines
#/pages/Qiwellness-Living/306850776152706
For TEA HOUSE inquiries or reservations call +63917-5226969 or email teahouse@qiwellnessliving.ph. The Tea House is open from Wednesdays to Sundays 11:30AM to 2:30PM for lunch, 2:00PM to 6:00PM for dimsum selections, and 6:30PM to 10:00PM for dinner. Last order for the 6 and 8 course set menu is at 12:30PM for lunch and 8:00PM for dinner. Mondays and Tuesdays are available for group bookings and functions only.
For BATH HOUSE inquiries or reservations call +63917-5226969 or email bathhouse@qiwellnessliving.ph. The Bath House is open from Tuesdays to Sundays. Operating hours are from 1:00PM to 10:00PM. Last call is at 8:30PM. Special bookings for Mondays and Tuesdays, and morning bookings from 10:00AM may be arranged upon special request.
Overnight accommodations may also be arranged at the GUEST HOUSE. The package includes welcome cocktails, use of bathhouse facilities, reflexology for 2, Silk signature massage for 2, and traditional Chinese congee and dimsum breakfast for 2. Check-in time is at 2:00PM, and check-out time is at 12:00NN. The overnight package is for 2 persons only, and costs PHP15,800.