One fine Saturday, the ABC ladies (sans Jane, who was off enjoying a super fun weekend in Bohol) went on a quick lunch trip to Orange Whisk in Better Living. I'm sorry I can't explain how to get there, but I can say that the restaurant is not hard to find, that is if you're familiar with the area. Or if you have Waze.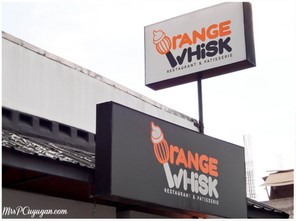 I always knew that there were these really good, homey restaurants and cafes hiding in that area. MrC used to live in Parañaque, and I'd see these establishments all the time when we'd drive around. After all these years, I finally got to try one.
One of MrC's work friends had lots of nice things to say about Orange Whisk. He's from Better Living, and my husbandry asked him for help with directions a few days before our visit. He says that the steak is a must-order. We didn't have that, but we did get to try a version of steak. I'll tell you more about that later.
But first, let me tell you about Orange Whisk
Orange Whisk Restaurant and Patisserie is owned by the award-winning tandem of Chef Isaiah Ortega and Pastry Chef Korinne Lirio (who are engaged in real life, yeehee). Honestly, you feel the chemistry between these two through their food. What stuck with me was how sophisticated yet simple the flavor combinations were. Remember that scene from Ratatouille where Remy was talking about how combining flavors created something new, with matching colorful visions and all? That's what it was like for me at Orange Whisk.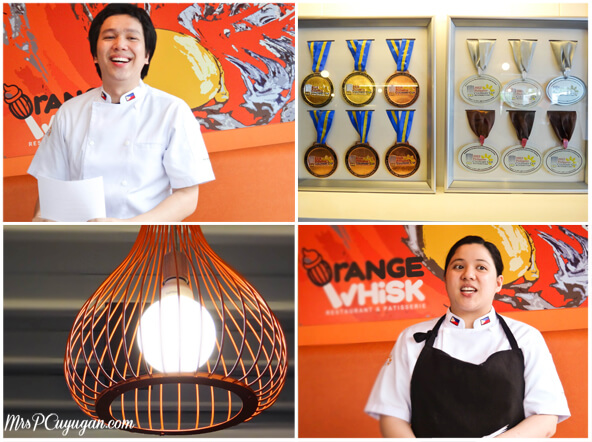 Chef Isaiah whips up Filipino and international dishes at Orange Whisk. Chef Korinne is in charge of pastries and desserts. There are a lot of dishes to choose from, and they can even customize a dish for you, provided that they have the ingredients needed on-hand. Winner, especially for particular, picky eaters. They also recently started carrying Chef Anna Chua's amazeballs Pink Wasabi Kashi Maki as part of their menu. Super yay for that!
Starting off with bread and coffee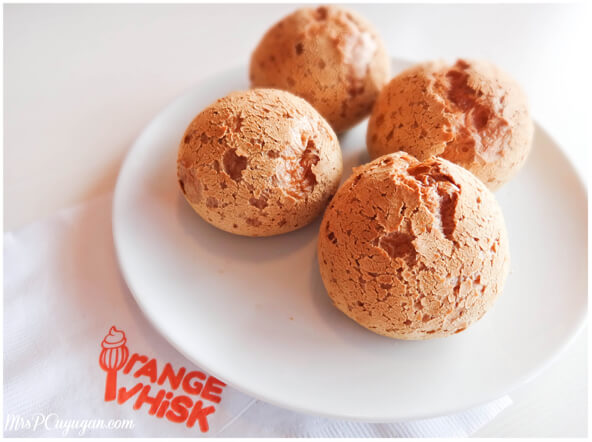 The boys and I had come from football before our Orange Whisk lunch, so we came hungry. While our gracious hosts were busy in the kitchen, we were served some pastries and coffee to start with. Seriously, I am not over these Chewy Buns. They are sorta like a cross between crusty rolls and mochi balls. These were really good while they were warm, and they were perfect with a cup of coffee. I regret not buying a few to take home. I also regret not trying the coffee buns.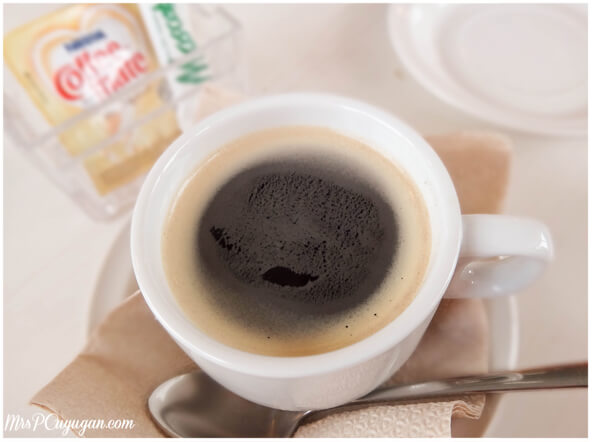 We also shared a plate of Calamansi Chiffon. You know how I love calamansi-flavored pastries. These were the bomb. They were light, fluffy, soft and moist. They were perfectly tart yet perfectly sweet. My matakaw self wishes that they were bigger, but I feel that they really are just the right size. These go great with coffee, too.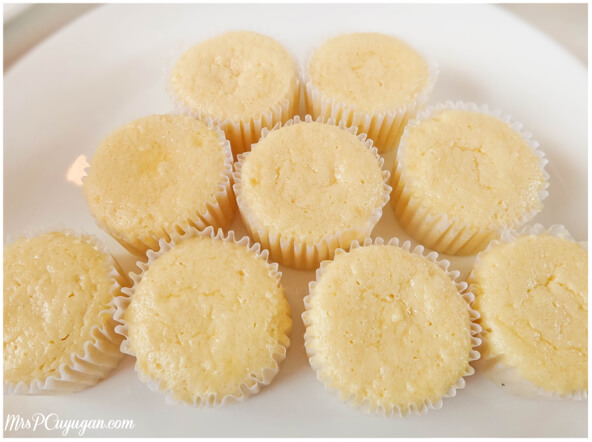 Finally, the kitchen was ready for us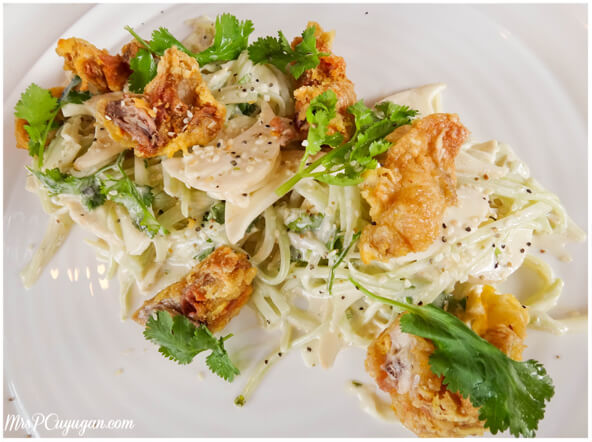 After a few minutes of snacking and chatting, we were told that we were ready to be served. First came the Isol Salad, which Joei and Mish were a little scared of. In case you didn't know, isol is chicken butt. I've had it before, but never in a salad. I have to say, this is not your ordinary isol sa kanto. Chef Isaiah's treatment is a bit more refined. This dish had crispy chicken bottom, heart of palm, cucumber, cilantro, key lime and Japanese mayo. Isn't it so pretty?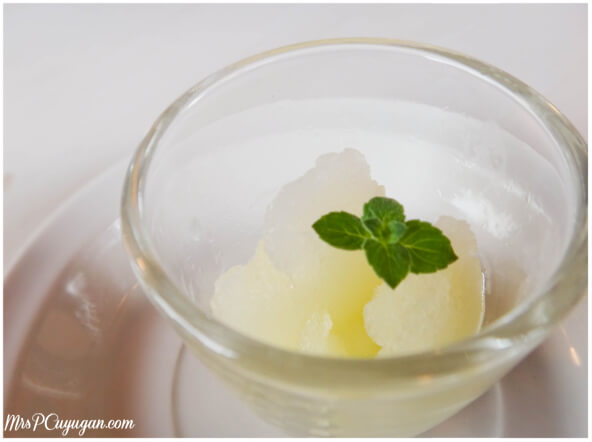 After the salad, we were given small portions of calamansi sherbet to cleanse our palettes. Afterwards, they put big bowls of rice on the table, and there was just no way we could skip rice with the dishes that followed. It was a "Diet? What diet?" kind of day. Here's a rundown of all of the dishes that we got to try.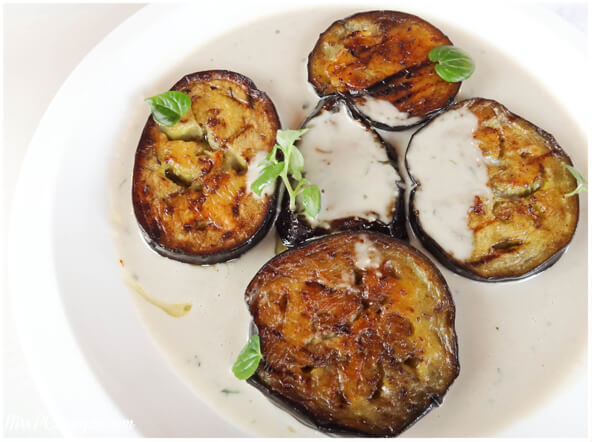 The Aubergines in Char Smoked Coconut Cream Sauce is pan-grilled eggplant slathered in a smokey coconut cream sauce. This cannot and should not be eaten without rice, in my opinion. I like eggplants but only done a certain way because I don't enjoy them when they get soggy. These were cooked perfectly, firm but not tough, and sliced thick. The sauce worked so well with the eggplant! If you like coconut cream, you will enjoy this.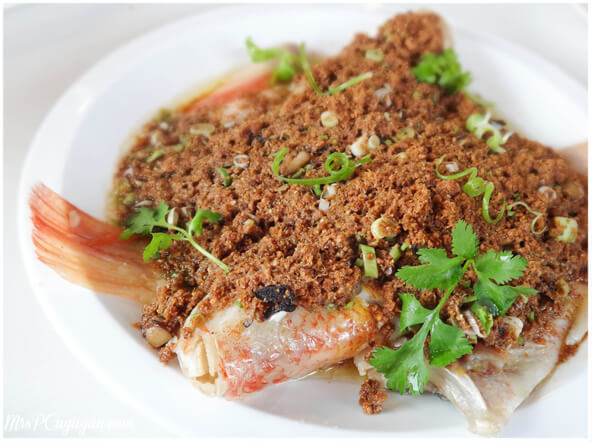 The one problem I had with the Steamed King Fish in Crispy Mashed Soy Bean Sauce was that the fish was bony. A bigger fish would have worked better for this, most likely. Absolutely no complaints as far as flavor goes, though. MrC really loved the crispy crumble on the fish. I'm guessing that's the crispy mashed soybean? He mixed it in with his white rice, and it was just perfect.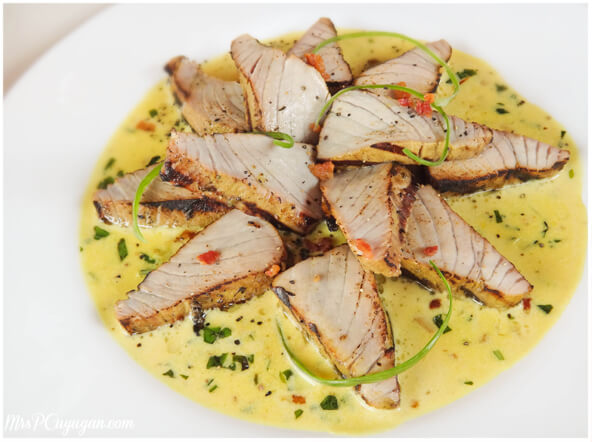 The Grilled Mustard Tuna Loin in Bacon Saffron Cream Sauce was my favorite dish of them all. And no, it's not because it has bacon. I'm not super gaga over bacon ya know. I really love tuna, and the bacon saffron cream sauce made everything so rich and flavorful. I could have finished this entire plate of mustard marinated tuna loin with rendered bacon, saffron and cream, but I had to share it with the rest. I am coming back for this one for sure.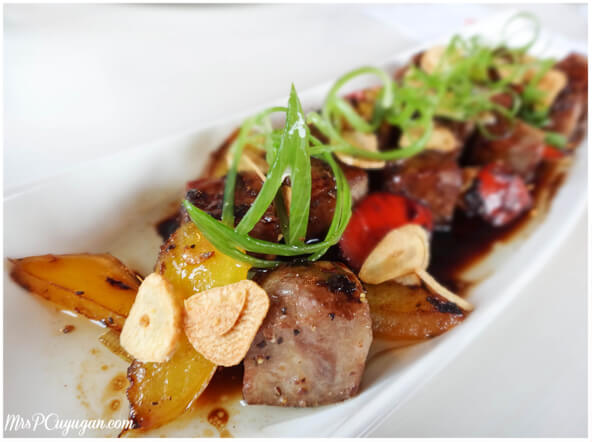 Little MrC happily ate the Wagyu Saikoro Steak in Blue Ginger Sauce. You know how this kid loves his steak. He really has sophisticated taste buds for such a small boy. I'm just happy he loves to eat good food. They used Japanese beef for this dish, and it was melt-in-your-mouth soft. I love that it is lightly seasoned with bell peppers, garlic, blue ginger and soy caramel, so you could really taste the beef.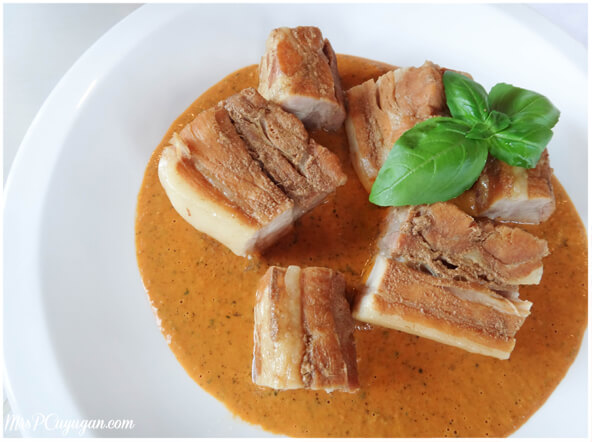 Finally, another dish that must be eaten with rice, Braised Butabara Steak n Blue Cheese Tomato Red Wine Sauce. This was my second favorite, next to the tuna. The skinless prime pork belly was super soft with layers of melty fat in between the meat. So bad, I know. But that does make it yummier, right? I liked the combination of tomato sauce, red wine and blue cheese in the sauce. Though, being a super bleu cheese fan I would have asked for extra cheese in mine. Maybe I'll do that on my next visit.
Of course, there's always room for dessert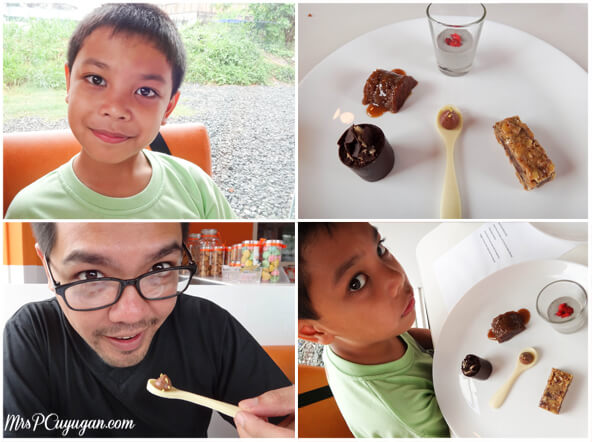 After the amazing chewy buns and calamansi chiffon, I was really looking forward to what Chef Korinne prepared for us for dessert. She surprised us by bringing out not just one or two sweet treats, but a sampler plate of desserts for each of us. Sweet tooth heaven!!!!! We each had a Chewy Choco Walnut Bar, a White Chocolate Spoon with Dark Chocolate Mousse (so cute!), and Sticky Date Pudding.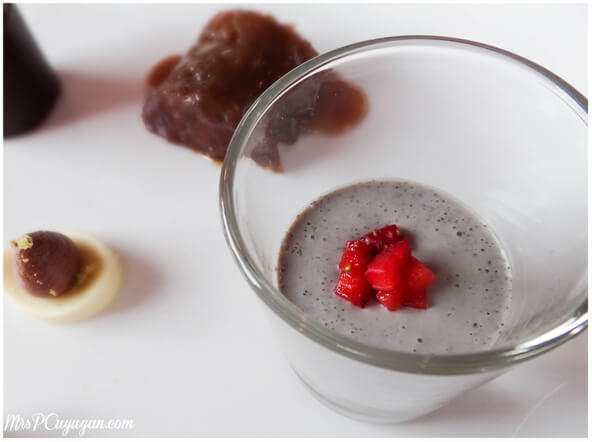 There was also a Black Sesame Panna Cotta with Strawberries, which was my favorite among Chef Korinne's desserts. It was light and delicately flavored. I love that the panna cotta wasn't the Jello-ed out kind. I seriously wanted more.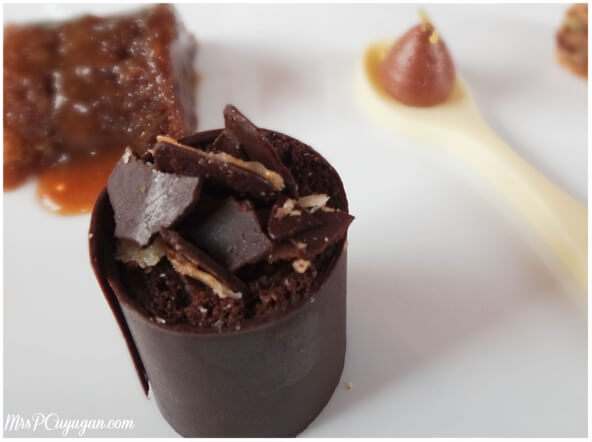 And of course, I saved Reggie's Cheese Kashi Maki from Pink Wasabi for last. I'm biased because I already love them. And really, what could be a better combination than cheese and chocolate to end a meal with such an amazing mix of flavors?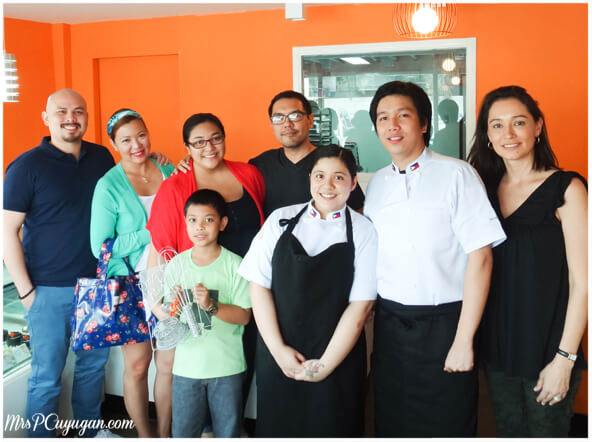 THANK YOU for having us, Chefs Isaiah and Korinne! We really enjoyed Orange Whisk and we can't wait to take the family there. Thanks also Chef Anna and Reggie for the invite, and Michelle for putting all this together for ABC.

Orange Whisk
35 Michael Rua St.,
Betterliving Subdivision, Parañaque
(02) 501 6454
Open on Mondays, and Wednesdays to Sundays 11AM – 11PM
Closed on Tuesdays!