The little boy and I joined a couple other bloggers last week at an intimate lunch mini-event in the newly opened Chairman Wang's Prime Beef Noodle House in Molito. We have been excited about this event since mid-March when we received the invite because we are always in Molito, and we'd really been waiting for this place to open for some months now. Chairman Wang's finally opened it's doors last February, and I hear from their Operations Manager, Blush, that things have been going well for them so far. It's not surprising, really, because, as we discovered, the food there is really yummy.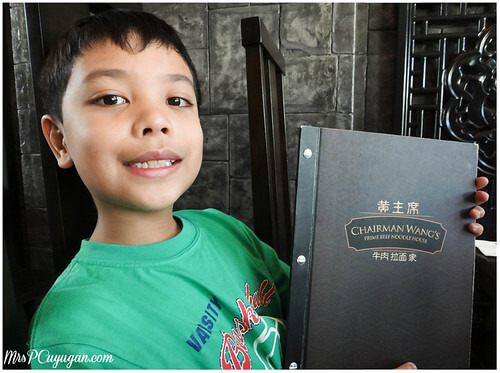 Who is Chairman Wang
This was actually the first question that I asked Blush and the restaurant's Marketing Malanger, Alyz. I had actually expected Chairman Wang to be a fictional character, but apparently he is real! He is a chef, an expert noodle-puller and restaurant owner in China, and he decided to open a noodle house here together with some Filipino partners. We were told that Chairman Wang trained the chefs in noodle-pulling himself, and he was also very hands-on in developing the menu for the restaurant.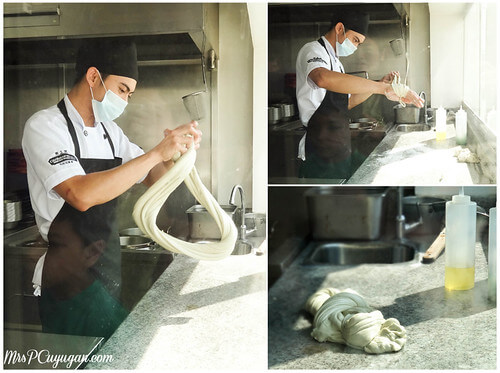 My follow-up question was, "Is he old?" Why did I ask this? Well, it's because I kind of imagined Chairman Wang to look like those old Kung Fu masters I remember seeing on TV when I was little, when Sunday mornings meant that Chinese Drama Theater was on. As in the ones with long hair, either white or black, long mustaches, long beards, and sometimes even long eyebrows. This was pre-cable, so I don't know if any of you younger guys out there know what I'm talking about.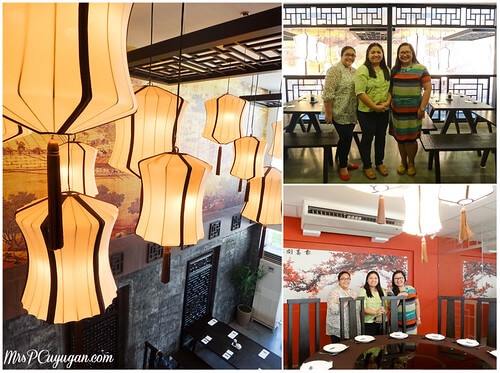 No, Chairman Wang is not old and he does not look like a Shaolin master according to Blush, who had the chance to train under him. The restaurant, though, looks like it came straight out of a Kung Fu movie set, and I think that might be what sparked my inquiry. Lol. A lot of the accents including their wall panel decor, mural and drop lights were actually imported from China for the noodle house. I really wanted to see what Mr Wang looks like, but I guess his face will have to remain a mystery for now.
Hand-pulled noodles and Szechuan-style cooking
Here in the Philippines, Chinese restaurants usually serve Cantonese cuisine. Chairman Wang's features more of a Szechuan-style menu, with bolder spices and stronger flavors. In contrast, the freshly made noodles in their signature dish – the prime Angus beef broth – was mild and delicate, perfectly complementing the other food that was served to us.
Blush and Alyz did most of the ordering. Here's what we had.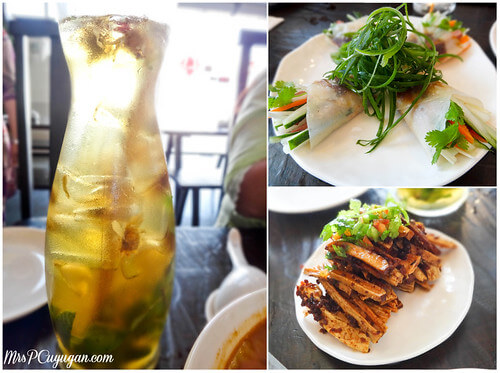 We were served a carafe of Chrysanthemum Iced Tea, which is a mix of chrysanthemum tea, longgan, goji berries, honey and mint leaves. This is super refreshing, and really my kind of iced tea. There was also some Lemon Ginger Ale, which I wasn't able to try. For our appetizers, we tried the Smoked Duck Breast in Hoisin Wrap and the Braised Beancurd Skin with Soy Tofu. I loved the beancurd skin. It was really crispy and tasty. The duck wrap was good also, except that there was cilantro inside, and I really don't like cilantro.
I know that people would usually try new things when in new places, but because I am a creature of habit (and I had a kid with me), I requested for the Sweet and Sour Pork and Olive Fried Rice. Little MrC actually wanted to try a different kind of fried rice, but it was the olive rice that was highly recommended. He wasn't so hot on the idea of this unfamiliar dish so he ended up eating plain rice instead. I thought that the olive rice was really flavorful and went well with the sweet and sour. Instead of the usual pineapple chunks, the pork dish had orange wedges in it. It was good, but definitely not what we're used to.
As for the noodle bowls, we got to try the Chairman's Prime Beef Noodle Soup, which I loved, and the Poached Sliced Beef with Vermicelli in Spicy Sichuan Broth, which was good but really flavorful and oily. It was also on the spicy side. MrC would super love this.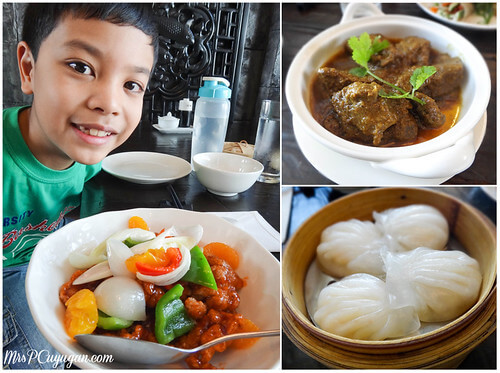 My favorites of all were the Shrimp Hakaw (I told you, creature of habit), and the Chinese Curry Lamb Caserole, which was a total surprise because this was the first time that I ever had lamb at a Chinese restaurant. I love lamb and I love curry, and so this was an expected hit for my taste buds. This dish needs plain rice though, as it's really so potently flavored, so I was happy to finish off what was left of the kiddo's jasmine rice bowl.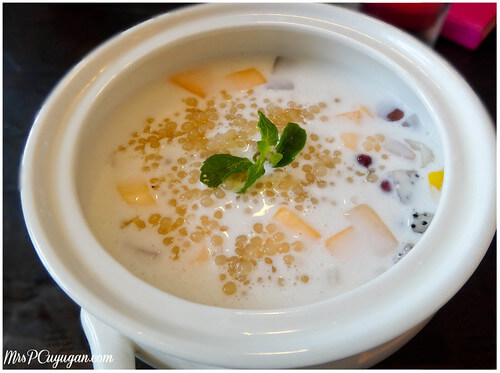 Little MrC and I both agree that dessert was the best part of our meal. We each had a bowl of Chilled Coconut Milk Soup with Sago and Fresh Fruits. This was soooooooo good, not too sweet, and super refreshing. It's perfect for a hot summer snack with the fresh grapes, dragon fruit and other tropical fruits swimming in the coconut milk broth. I would go back just for this. Really.
Thumbs up, Chairman Wang!
This restaurant gets a thumbs up from me. I promised Blush and Alyz that the fambam will come visit some time, and guess what, they already did! Last weekend, my parents and my brother had dinner in Chairman Wang's and they were pretty happy with their experience, too. One thing that my brother noted was that the servers really knew their menu. He has food allergies, and they were able to tell him what he could and couldn't eat.
Blush told us, actually, that the servers really were made to learn their food offerings inside-out, and I noticed that when we were there. Of course, I figured they would all bring their A-game for us bloggers. So when my brother told me that the server during their visit knew his stuff as well, I was definitely impressed. I can safely say that Chairman Wang's staff members really offer top-notch service to their customers.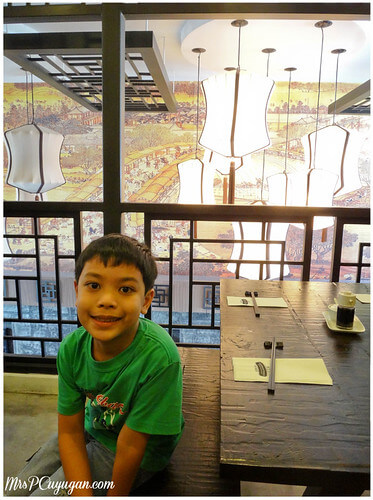 MrC has yet to try the yummy food here, so we will definitely see everyone again at Chairman Wang's! Thank you, Blush and Alyz for being such gracious hosts, and of course, for allowing me to bring the little guy along for lunch. I super appreciate it.
Chairman Wang's Prime Beef Noodle House
Unit 18 Molito Lifestlye Complex
Madrigal Avenue, Alabang, Muntinlupa City
Phone: (02) 828-8477
#/chairmanwangs