It has happened. I am becoming old(er) and forgetful. Those of you who are my friends and followers on Facebook know that, earlier this month, I went to a restaurant to do a food review and forgot to bring a camera. That would have been okay if my phone was nice and high tech, but no. I have a BlackBerry and a very, very, very, VERY low-end Samsung. Basically, I sat down and realized that I was toast.
But, because I was with amazing friends that day, this post won't be a boring, wordy account of what the food looked and tasted like. My new-found friend Jane of Sugar & Spice, and my neighborly neighbor Michelle of Momma 'N Manila decided to save me by sharing their photos with me. Thank God for these two, because trust me, one look at the photos and you will want to come to Sweet Bella for lunch or dinner.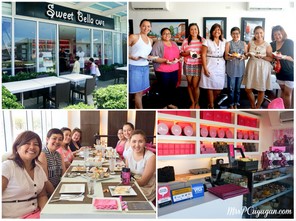 All the other ladies were there when I arrived. I was really rushing that day because we had football in the morning, and then I was scheduled to enroll Little MrC at school in the afternoon. Yes, that's my excuse for forgetting my camera at home. The other mommies actually brought their kids with them, but mine was too tired to go out for lunch. It was too bad, because they served all of his favorite things at the kids' table.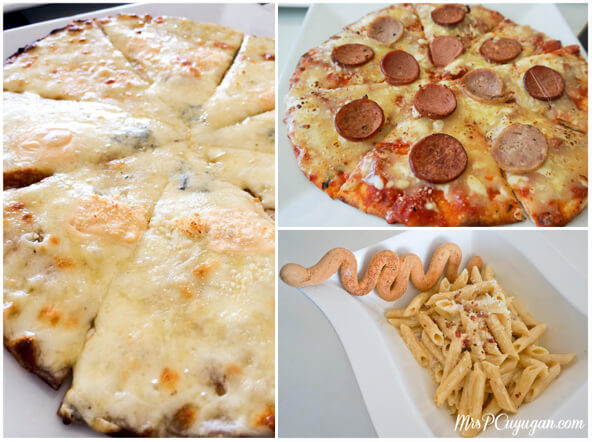 I got to try some of the Rustica Pizza (Php395), which is topped with Italian sausage, Hungarian sausage, frankfurter, pepperoni, mozzarella and Parmesan cheese. Yum. I could even eat this for breakfast. There was also a Four Cheese Pizza (Php395) with fontina, mozzarella, bleu and parmesan cheeses, and Penne Carbonara (Php350) served to the kids. Like I said, all of my little boy's favorites.
Now that I think about it, a lot of the dishes served to us mommies are faves of my kiddo as well. I swear, I need to take the boys here real soon. For sure, MrC would love the Seafood Chowder (Php250), which is one of the super winner dishes in my opinion. It's loaded bits of seafood, a definite plus considering that most restaurants have more soup than meat in their chowder. The zigzag bread stick that comes with it is a perfect complement. I also truly enjoyed the HUGE Rockefeller Oysters (Php395) served to us.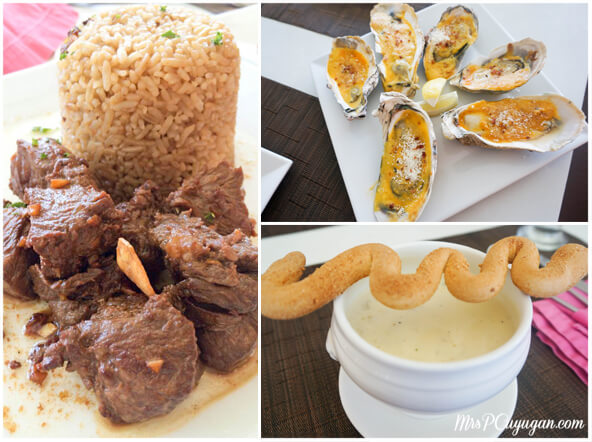 One dish that deserves special mention is the USDA Beef Salpicao (Php450), which is served with steak rice. The rice has bits of crispy beef and bits of crispy fat in it. So, so, so good. This is perfectly flavored, very garlicky, and an absolute must-try. You won't regret it, I promise. So worth the calorie splurge.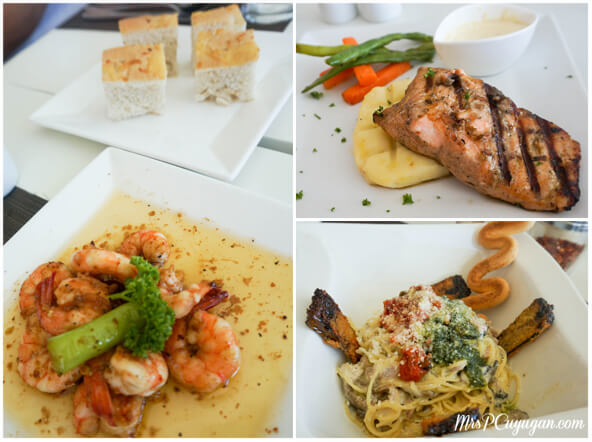 Michelle says that she likes to order the salpicao, plus an order of Gambas al Ajillo (Php270) for an instant surf n turf meal. Sounds like a good idea, for sure! The best way to eat the gambas is to pop a piece of shrimp in your mouth, whole if you can, then soak up some of the oil with your bread and pop that into your mouth right after. Mmm, good.
If you're craving for pasta, you need to try the Capellini Pomodore e Salsa Verde (Php395). It has truffle oil, pomodoro sauce AND pesto sauce, plus crunchy balsamic-glazed eggplant on the side. This goes really well with the Grilled Salmon with Lemon Butter Sauce (Php495). I have to tell you, I don't normally like cooked salmon. I don't like the rubbery texture that comes from overcooking the fish. Sweet Bella's though was cooked perfectly. It was tender, flaky and just melts in your mouth.
Actually, everything we ate that day was perfectly cooked. Even the salpicao cubes were a little bit pink inside, imagine that? Now, if the beef cubes were perfect, you can just imagine how amazingly perfect this piece of wagyu beef was.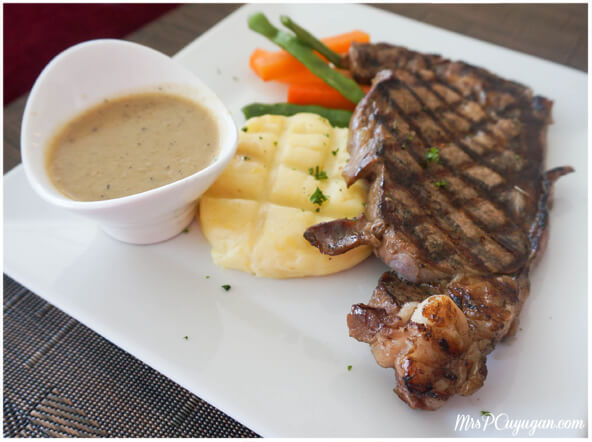 Sweet Bella is actually the pretty, pink sister of Melo's and House of Wagyu, so you can be sure that the steaks they serve are superior-grade. I can totally eat an entire Rib-eye Steak (Php995) all by myself, coz I'm takaw like that. But, I was smart enough to only have a small piece because the best part of our meal was yet to come – DESSERT!
As you walk into Sweet Bella, you are greeted by a display of gorgeous cakes. I was so happy when I heard that we were going to be given six different mini cakes to try. I love cake! Oh, note that the prices for the cakes below are for the personal size.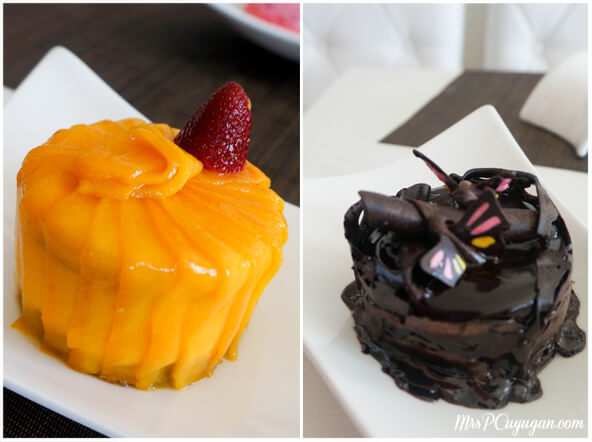 First, there's the Mangotier (Php275), an oven-baked cheesecake with mango mousse and fresh mango coulis. The Chocolata (Php220), which has been voted as best dessert, is a chocolate cake layered with ganache and topped with chocolate glass and butterflies. So pretty! They warmed this for us before serving, making it all melty and delicious. The chocoholic in me is happy.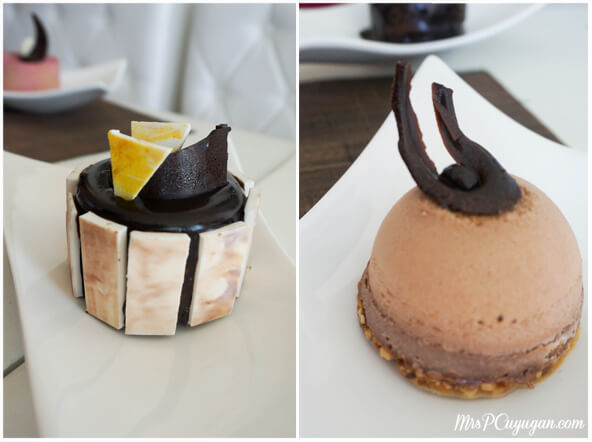 Just when I thought that it couldn't get any better, I had a bite of the Trio (Ph275). It has layers of coffee mousse, and dark and white chocolate mousse, and just literally melts in your mouth. This, along with the Mi Camille (Php295) are my favorites. The Mi Camille dome is made of a delicate Belgian milk chocolate mousse on top of hazelnut praline on top of French biscuit on top of an almond praline crust. Chocolate plus nuts, for the win.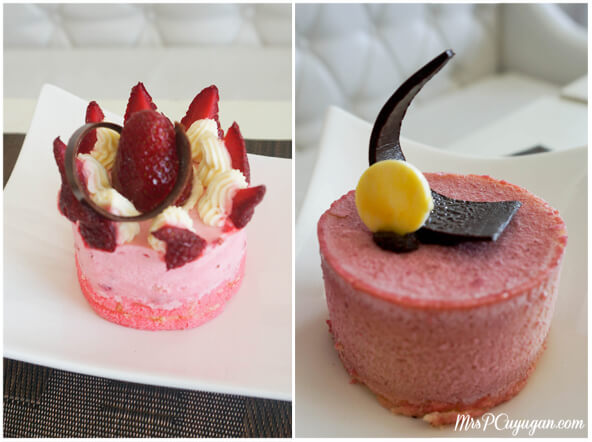 These last two cakes win simply because they are pink. The Strawberry Shortcake (Php275) is a tower of vanilla cake layered with strawberry cream. This is so good with a cup of coffee or hot chocolate. And oh, the Hot Chocolate at Sweet Bella is a must-try, too. If you want something unique, try the Pearl (Php295), a pink guava mousse filled with flambeed mango. This one was voted best dessert as well.
I'm really so glad that I got to borrow photos for this post! It wouldn't be the same without them, right? I'm even happier that I actually made it to this lunch. I almost missed it because of my nutty summer schedule, and I'm glad I made an effort to be there. I know what I would have been missing, and really, it would have been a lot.
Oh, one last thing. Sweet Bella has AMAZING sugar free ensaymadas and cheese rolls. We recently got some for my lola, and she loved them. She had them as a snack, as dessert, as breakfast, and I think as lunch also, once. You have to order these in advance, though, and it takes 2-3 days before they are delivered to the branch.
Thank you, thank you, Michelle for inviting me, Michelle and Jane for sharing your photos, and, of course, Veron for having us. I will definitely be back soon with the family!
SWEET BELLA CAFE
Cluster II, Unit IIB
Molito, Alabang
(02) 556-4247
sweetbella_alabang@yahoo.com
sweetbellacakes@yahoo.com
#/sweetbellacafe