Every once in a while, I get lucky in the kitchen and make something good out of things I just throw into a pot. Yesterday was one of those times.
We had a power outage early yesterday evening. It only lasted a little over an hour, but I was left with barely any time to make dinner. I have this thing about not opening the fridge when the power is out (thanks to my mom and the frequent Manila blackouts of the 90's,) so I really didn't move until the electricity came back on. Then the mad dash to make dinner began. It's a good thing I stocked up on some of my essential pantry staples over the week, and was equipped to make something on the fly.
And so my Whole Wheat Spaghetti with Creamy Chicken and Broccoli was born. This is one of those dishes that's so simple and easy to make, it doesn't actually need a recipe. But in case you want to try making it yourself (and also so I remember how to do it next time haha,) I'm writing it down here.
Before anything else, a quick tip when making simple recipes with few ingredients. Quality matters. Because your dish doesn't contain much, most if not all flavors can and will stand out. So if you put something in there that's not that good, you'll taste it. Trust me on this. Okay, moving on.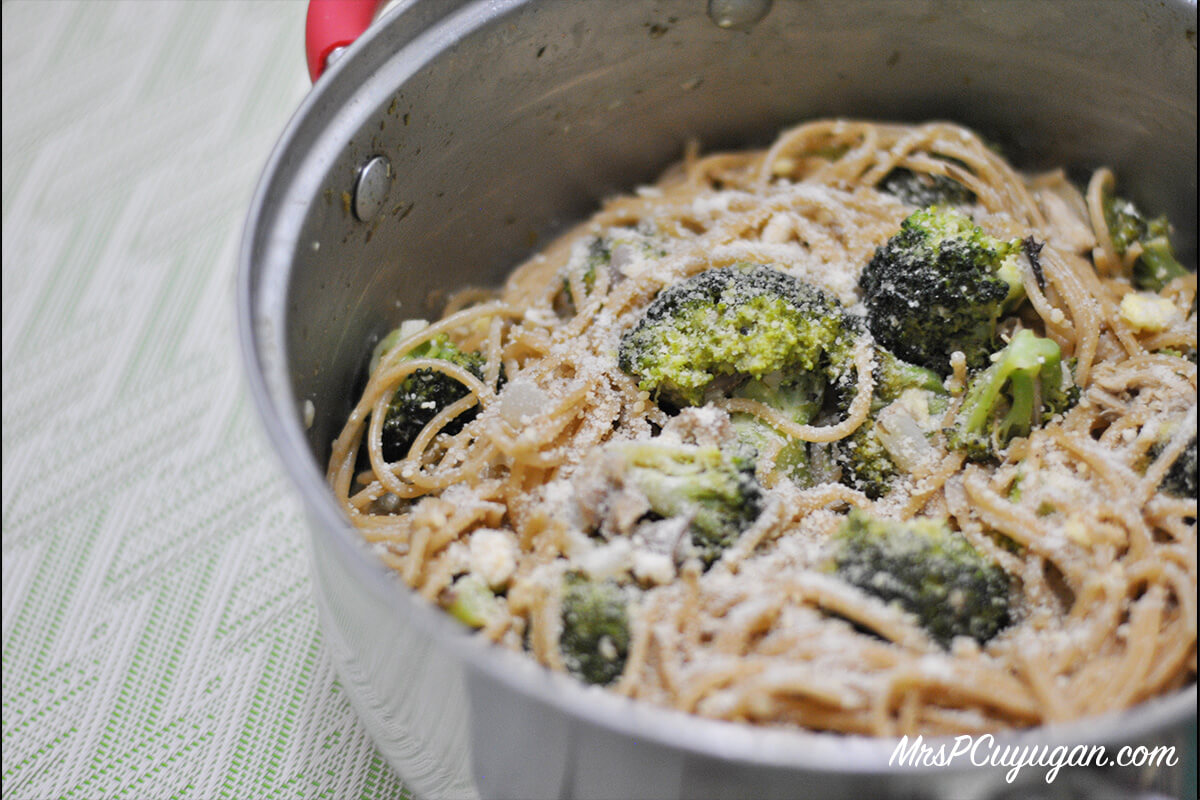 This recipe starts with 250g of whole wheat spaghetti. I bought mine from Earth Origins, my go-to place for organic, healthier eats. We're all out of gluten-free pasta at home, and I think that this might be the next best thing. It doesn't look like our skin is reacting badly to it. Maybe our problem isn't exactly with gluten, but more specifically with bad, over-processed, commercial gluten. That's something worth exploring.
Boil the pasta as you normally would. Make sure to salt your water. I didn't start doing that until my brilliant Pinay-American-Italian friend, MommaNManila Mish, told me to. It has made my pasta so much better. Cook until al dente. I always pull out a noodle and take a bite just to be sure it's cooked just right. That rhymes. I don't put oil in my water or on the noodles after they're done, but some people do. You could, too. That also rhymes.
Set aside the noodles, and set aside some pasta water because you will need it later.
In the same pot (yay for less-mess cooking!) heat some good olive oil. I used Molinera EVOO for this. I recently switched to this from another brand that got voted "Not good" by my trusted circle of cooking mommy friends. It's worth it. Once the oil is hot, sauté onions then garlic in that order. Onions first so the garlic doesn't burn.
Next, add one cup of your favorite chicken that's been shredded. I used leftover Baliwag lechon manok for this. You can use homemade roasted chicken, your favorite rotisserie chicken, whatever. When I buy from Baliwag, I usually take the chicken home whole. That way I can slice it up myself and keep the bones of the body intact for when I make stock. When we're all done eating, I shred whatever meat is left, put it in a jar, and stick in the freezer for future use. This recipe is what I mean by future use.
Once the chicken is nicely warmed up, add cut up broccoli florets. I have no idea how much broccoli I used here, to be honest. You can just use as much as you want to use. I'm not kidding. I told you this recipe was simple. My broccoli is also from Earth Origins. I like buying this particular veggie organic because it's hard to clean, and I always worry that there's still pesticide and chemical residue in there somewhere that I missed. So yes, for broccoli, go organic.
After tossing the broccoli and chicken together for a bit, add liquid to the pot. I used 1/2 cup of homemade veggie stock plus about 1/4 cup of pasta water. The pasta water helps thicken the sauce. I make the veggie stock myself using vegetable scraps. It's unsalted. I salt as needed when I cook. Don't forget that the pasta water is salted. Taste as you go along. You can use plain water if you don't have stock. You can even use all pasta water. It's really up to you.
Bring the pot to a boil, lower the heat, then add cream. I used about half a small brick of all-purpose cream. I also added 1/4 cup of yogurt because I find that it cuts through the richness of the cream, and gives the sauce a tiny hint of tartness, which I really like. I used homemade yogurt but you can use any PLAIN yogurt. Emphasis on plain. Unsweetened. You can also add some lemon juice instead of yogurt. This works, too. Just enough so the cream isn't nakakaumay. What is nakakaumay in English?
Next, add a teaspoon or two of pesto into the pot. I used bottled pesto for this because I don't really make everything from scratch haha. This adds a nice herby, green taste to the creamy sauce. Stir a little, then add a some Parmesan cheese into the sauce. Just eyeball it. Add as much as you want. This helps make the sauce thicker, and also saltier. I don't add any more salt to this dish. The cheese and pasta water are enough for me.
Simmer for a few minutes. Season with pepper and your favorite herbs. Once the sauce tastes right, and is as thick as you want it to be (I wait until it coats a spoon nicely,) add the noodles back into the pot. Mix, mix, turn off the heat, add more cheese on top, and you're done. The whole process took me 30 minutes, including ingredient prep. How easy is that?
Don't you just love quick and easy dinner recipes? Let me know if you try making this, okay?
Whole Wheat Spaghetti with Creamy Chicken and Broccoli
2018-02-23 20:29:02
Serves 4
A quick and easy dinner recipe made with pantry staples and leftovers.
Ingredients
250g Whole Wheat Spaghetti
Half a head of garlic, minced
1 Small red onion, finely chopped
1 cup Shredded leftover roasted chicken
1-2 cups Cut up broccoli florets
1/2 cup Vegetable stock
1/4 cup Pasta water (from cooking the noodles)
1/4 cup All-purpose cream
1/4 cup Plain yogurt
1-2 teaspoons Prepared pesto sauce
Parmesan cheese
Black pepper
Fresh or dried herbs for seasoning (Oregano, thyme, basil)
Instructions
In a medium-sized pot, cook pasta according to package directions. Drain and set aside. Save pasta water.
In the same pot, heat olive oil. Then, saute onions and garlic.
Add shredded chicken and toss until warmed and slightly browned. Add broccoli, and toss for a few seconds.
Pour in veggie stock and pasta water. Bring to a boil. Lower the heat, then add cream and yogurt. Stir and allow to simmer for a few minutes.
Add pesto, then Parmesan cheese into the sauce. Mix well. Simmer a little more. Season with pepper and herbs.
Add spaghetti back into the pot. Mix into the sauce. Top with more cheese. Remove from heat.
Serve with a smile and a side salad. Garlic bread, too, if you wish. Enjoy!
At Home With MrsC https://blissbysam.com/