It's me! I'm back. I know, I disappeared on you guys again. I'm sorry. It's just, you know… Life.
So, it's been a month since my last post. Since then, we celebrated our first home-iversary. Yes, Casa Cuyugan turned a year old, and I never got to write about it! Basically, we celebrated with a nice big pot of sinigang.
Why sinigang? Because it's the first thing I ever made in my brand new kitchen, and we've decided to make celebratory sinigang a tradition. Since it was a special occasion, I made sure that my sinigang was special, too. I used leftover frozen Zubuchon instead of plain pork. Soooooo good.
So obviously I was feeling proud of myself for making more than just the usual sinigang, right? Well, lo and behold, days later, I learned a few more ways to jazz up this old favorite. This happened at the Knorr #LutongNanay event at The Cookery Place in BGC, which was hosted by celebrity mom, Camille Prats.
You guys have to understand, my pantry is stocked with Knorr products in real life. I grew up with food made from these recipe mixes, soups, broth cubes, and seasonings. I learned to cook using them, too. The sinigang mix in particular. This is the only way I know to make sinigang.
I'm beyond excited to be part of the Knorr #LutongNanay campaign. Feel na feel ko sya. I'm a home cook, and I take pride in the dishes that I prepare for my family. Food really is my love language. Meal time is bonding time for us, too, so I really do my best to have hot, fresh favorites ready for the occasion.
Knorr's Senior Brand Manager, Czarina de Leon-Manalo, shared with us that the goal of the campaign is to bring back the value behind home cooked meals especially since people choose to eat outside or even alone in this fast-paced world.
She said, "Knorr aims to help more moms bring the family together through the best flavors in their cooking. Cooking is a force for good. When a mother cooks, it is often seen as a way for her to ensure her family's well being – and through Knorr, moms can serve nutritious meals without sacrificing great flavor."
I love it.
After the introductions and presentations, Chef Sari Jorge of 25 Mushrooms Kitchen started off with a demo of Knorr Sinigang with Pakwan . Truth – I wasn't too sure about the idea of having watermelon in my sinigang. But guys, you have to try it. The pakwan adds a nice touch of sweetness to the broth. Extra rice levels.
Here's the recipe.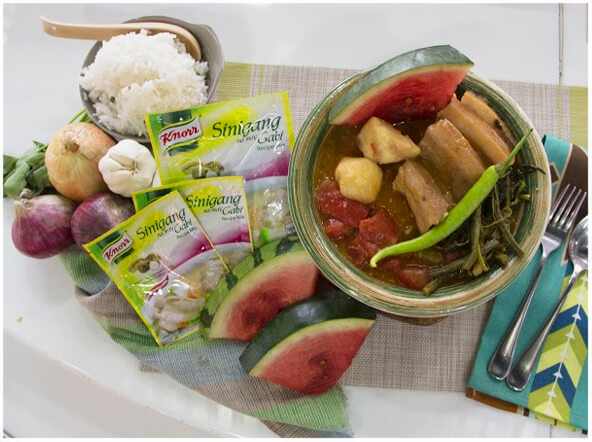 Knorr Sinigang with Pakwan
2016-07-14 16:08:24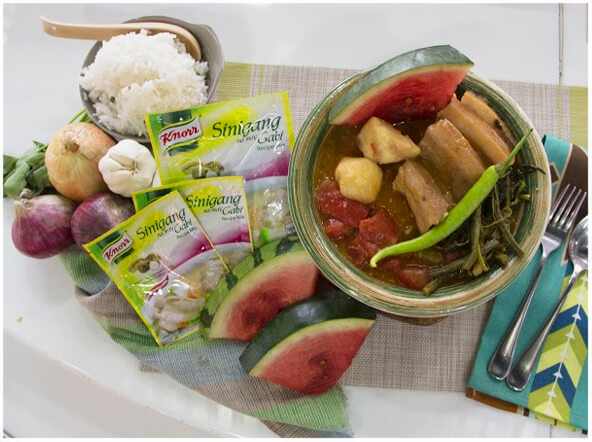 Ingredients
500 grams
 Pork Belly, sliced 3 inches x 1 inch
3 tbsp Knorr Liquid Seasoning
2 tbsp 
vegetable oil
1 liter water
3 cloves garlic, crushed
1/2
 onion, cut into 2 wedges
3 tomatoes, sliced into quarters
1 inch fresh ginger, cut into fine matchsticks
1
 lemongrass stalk, white part only
2 pcs fresh kaffir leaves (optional)
200 grams gabi, sliced into cubes
500 grams seedless sweet watermelon, peeled and cut into 1inch cubes (divided into 2 parts)
1 22g pack Knorr Sinigang sa Gabi Mix
1 Knorr Beef Cube
1 tbsp
 fish sauce, plus extra to taste
1 tbsp soy sauce
¼ tsp 
freshly ground black pepper
2 long green chillies, sliced
150 grams
 sitaw, cut into 7 cm lengths
100 grams
 okra
1 bunch 
kangkong
Steamed rice, to serve
Fish sauce to serve
Instructions
Marinate the pork belly in Knorr Liquid Seasoning for at least 30 mins.
Place a large casserole over medium-high heat. Add the oil and, working in batches, cook the pork until evenly browned. Remove with a slotted spoon and set aside.
Reduce the heat to medium. Add the garlic and onions to the casserole. Add the tomatoes, ginger, lemongrass, gabi and watermelon and cook for 2 minutes before returning the pork to the casserole.
Add the water, Knorr Sinigang sa Gabi Mix, Knorr Beef Cube. Cook for a further 1–1½ hours until the pork is tender.
When the pork is tender, remove the pork from the casserole and set aside. Strain the liquid and add the fish sauce, soy sauce and pepper to taste.
Add the remaining watermelon, beans, chilies, and okra and cook for 20 minutes, before adding the water spinach and cooking for a minute until all the vegetables are tender.
Serve with steamed white rice and fish sauce for dipping.
At Home With MrsC https://blissbysam.com/
After the demo, we were split into four groups, and each one had to prepare an out of the ordinary sinigang recipe. Ours was Knorr Sinigang na Grilled Liempo . This was super similar to my lechon sinigang, with a smoky-tart-salty broth. I love that it's a creative way to use up leftover grilled meat, too.
The one I am super excited to make at home is this Knorr Sizzling Sinigang . Isn't it so interesting? I heard that there's a restaurant that serves this, but I've yet to try it.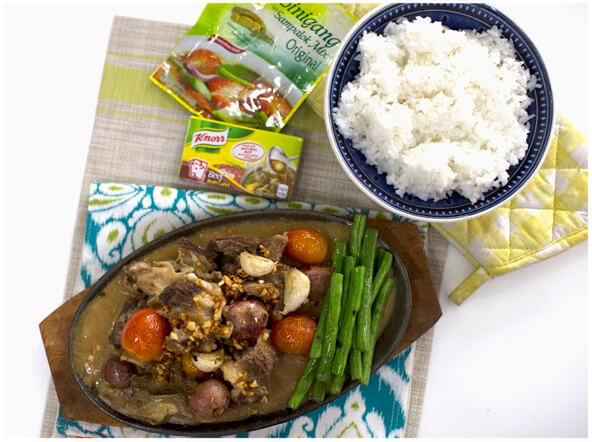 Another team made a Knorr Surf and Turf Sinigang, and the last group prepared their version of the Knorr watermelon sinigang recipe.
It was such a fun afternoon, and I'm extra happy because I now have four new dishes that I can make for dinner at home. I wonder which of these Knorr sinigang versions the boys will like best? Keep you posted!
Do you do sinigang differently? Tell me about it in the comments!
*All photos courtesy of Knorr Philippines