One day, I was sitting on my sofa, and I noticed just how many cookbooks I've accumulated over the years. Confession: I hardly ever use them for cooking. I browse through them every once in a while, but I usually search the internet when I need a recipe because that's just easier to do.
Thing is, I went through something recently that helped convince me that less is really more. So I am slowly but surely, and as aggressively as I can be (given that I'm really a hoarder at heart,) purging. Yes, it's true. And yes, I will really see this purge through until the end. (Really, MrC, really. I know you are super skeptical about this.)
So now my attention is focused on my cookbooks. Honestly, I don't know which ones I should keep, and which can go. I don't think that I'll be able to decide until I actually try a few recipes from each of them, though, because that's the only way that I can pick objectively. Right? It's a slow process, but I really feel like I need to do it.
And so, from now on I'll be featuring a cookbook of the month right here on the blog. Along with the review, I plan on including a recipe from the book; One that I made at home and absolutely loved. If I don't end up liking what I tried from the book, then obviously there's no room for it in my blog or on my book shelf. Period.
This month's cookbook is Paleo Italian Cooking by Cindy Barbieri, which was given to me by the lovely people over at Tuttle Publishing. I was excited about this cookbook from day one because I've been worried that going gluten-free would mean saying goodbye to Italian food. This cookbook brought hope to my kitchen and my tummy. And I'm super happy to share that it did not disappoint.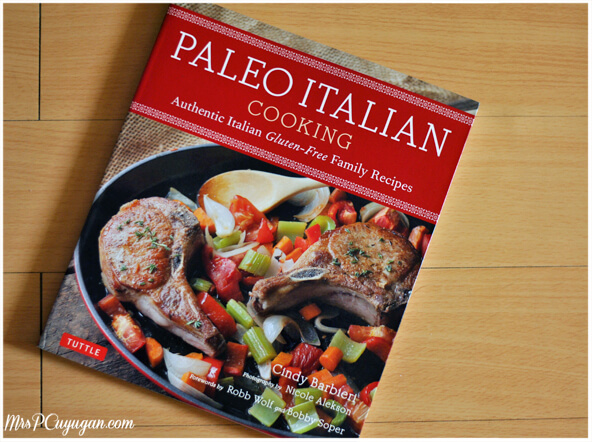 I've read the entire book from cover to cover. Yes, all the forewords, introductions, ingredients, procedures, tips, footnotes, and photo captions. I love that the author shares little bits and pieces about her life all over the book, and how each recipe represents a memory, a loved one, the author's home, and her personality. I kinda feel like I know her already.
The book is divided into helpful chapters, making it super easy to find the recipes that you want. There are chapters for sauces and condiments, brunch (which is awesome!), meat, seafood, pasta, and a lot more. Yes guys, there are pasta recipes in this paleo/gluten-free cookbook. Told you we have a winner here.
One of my favorite sections is the one about keeping your Italian kitchen paleo. It's taken a lot of research, and a whole lot of stopping to read at grocery aisles for me to transform my pantry into a functioning gluten-free one. So the fact that this cookbook explains the basics of the paleo lifestyle, and what you need to have in order to cook for that diet, is a huge help to me.
And now, the most important part, the recipes. The ingredients and procedures in each recipe are clearly stated and easy to understand. The author shares personal tips in there, too, which for me is always a good thing. Plus, the photos look amazing, which of course is important when you're talking about food. Everything is fresh, healthy, colorful, and super exciting.
I recently tried the recipe for Tuscan Turkey Burgers written in this book, only, I used chicken instead of turkey because ground turkey is hard to come by here. This dish was so good that MrC had it for dinner, then lunch the next day, and then lunch again the day after that. Mm-hmm. Husbandry-approved! The kiddo wasn't too fond of it, though, most likely because of the spinach. But he ate it all up anyway. Thank goodness he isn't a picky eater.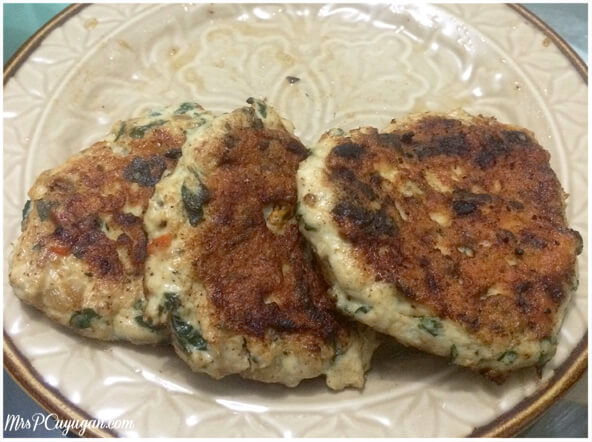 So, yes, Paleo Italian Cooking stays. I can't wait to try the other recipes listed in this cookbook. And I'm also excited to start experimenting with the other cookbooks in my collection. Stay tuned, guys!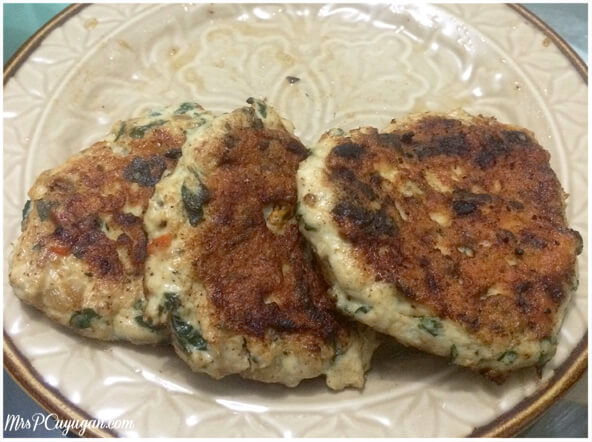 Tuscan Chicken Burgers [Gluten-Free!]
2016-10-05 01:50:11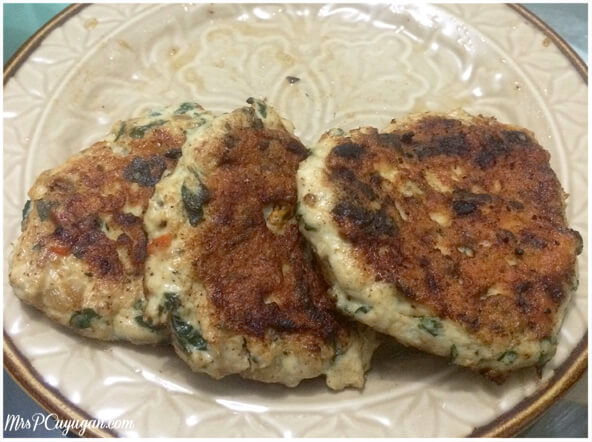 Serves 6
Ingredients
500g Ground chicken
1 Egg
1 tsp Sea salt, divided
1 tsp Ground black pepper, divided
1 tbsp Olive oil
1/4 cup Red bell pepper, diced
1/4 cup Yellow onion, diced
5 cloves Garlic, minced
1 cup Fresh baby spinach, chopped
6 leaves Basil, chopped
1 tsp Fresh thyme
1/4 tsp Dried red pepper flakes
Instructions
Place ground chicken in a large bowl. Make a well in the center and break the egg into it. Blend well with a spoon. Season with 1/2 teaspoon each of salt and pepper. Set aside.
Place a skillet over medium heat. Add the olive oil. Once hot, add the red bell pepper and onion. Season with remaining salt and pepper.
Saute, stirring frequently, for 2 minutes. Add the garlic, spinach, basil, thyme and red pepper flakes. Cook for 1 minute more, then remove from heat.
Once the vegetables are cool, add them to the bowl of chicken.
Use your hands to mix all ingredients well. Form the mixture into 6 burgers.
Cook on a grill or pan over medium heat, about 6 minutes per side, flipping once, until cooked through.
Notes
The fresh herbs really make a difference in this recipe, so if you have them use them. Otherwise, 1/2 teaspoon each of dried basil and thyme would work, too.
The chicken mixture can be a bit sticky, so use wet hands when forming into patties.
The original recipe says to divide the chicken mixture into 4 burgers, but I found them to be too big, which is why I split them into 6 instead.
I served this with a super easy honey-mustard dipping sauce, which is just 1 part yellow mustard mixed with 1.5 parts good raw honey. Enjoy!
Adapted from Paleo Italian Cooking
Adapted from Paleo Italian Cooking
At Home With MrsC https://blissbysam.com/
P.S. I'm writing this post in October, but setting the publish date to September 30 because I was supposed to write about this in September but my life has been insane. Just thought I'd come clean about that. Lol! 🙂