Fact: I'm running on pocket wifi, 80% of our things are still in boxes, we're surrounded by dust, and Pine Sol is my new best friend. Still, nothing beats that happy feeling of waking up in your new home, even though waking up must now happen between 4:30 and 5:00 am.
Yep, yep, yep, it has finally happened. We have moved! Casa Cuyugan is now ready to accept visitors (who are not sensitive about dust and grime, will not judge us for living in a still-dirty house, and come bearing food)! *Happy dance*
My IG and Facebook posts as of late have been all about our #LipatBahayChronicles, often with bad image quality because we packed away my camera, and I'm not sure which bin it went to. Lol. Should've just put it in my purse.
Over the next few weeks, I know I'll be writing about the house – How we are lucky to have hardly spent for anything that we have right now because our families are so generous (and just happened to have two of everything), who's come over and the goodies they've shared, and my ever-so-useful survival checklist for our first week in this new home.
Off the top of my head, I can tell you that you will need a microwave, a coffee maker, a refrigerator, a bed, soap, toilet paper, water dispenser, instant ulam (our day one lifesaver was Deep Dips by Chef Arnold), and zip-top bags in all shapes and sizes (I have Glad Philippines to thank for all of mine.)
Dust and excitement aside, I'm happy to report that we are settling in nicely. Last night, the boys and I had our first home cooked meal for dinner. Of course it was sinigang because that's my family's idea of happy food. I'm so excited about all the wonderful meals I will now get to prepare in my very own kitchen. And of course, I can't wait to share all the kwento here.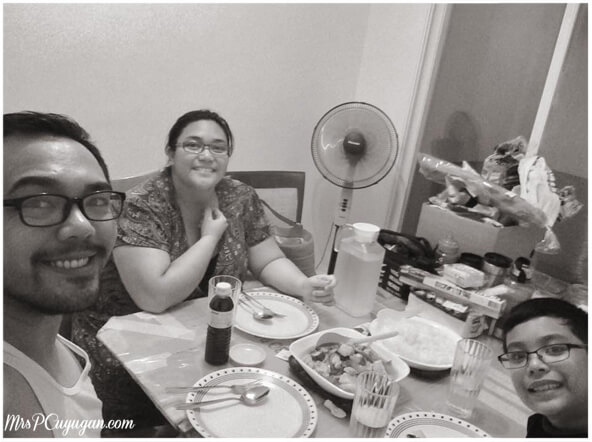 For now, it's back to regular programming for me in my new space. Time to catch up on my writing backlog. Smart Bro, don't fail me now!
Curious question: What are your best tips to survive the first week in a new home?