Say it with me, people… Pork chops!!!
Obviously, I get excited over pork chops. So excited, actually, that I had some tonight. Eep, yes, I am ashamed to admit that I broke my meatless Lenten promise. I feel regret in my guilty conscience, but my belly is quite happy. I promise to go back to regular pescatarian programming tomorrow, but first let me tell you about these fab chops.
First of all, I ended up cooking too many. That's because mom said that my original plan to cook only the 1/4 kilo of butterfly pork chops I bought from the store wasn't gonna be enough for dinner for everyone. So she threw in a few pieces of skinless pork chops, too. Then my dad and brother ended up not having dinner. And so we had a lot left over.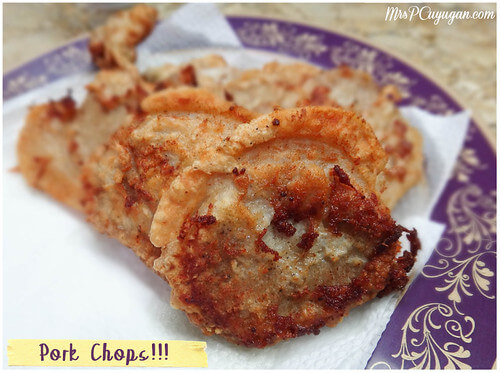 I, surprisingly, had the foresight to put away the cooked butterflied chops instead of serving them. So now I have enough for a meaty recycled and revamped dish for the boys' lunch tomorrow. I will probably end up making a mushroom sauce and just throwing the chops in. Sounds like a plan.
So, back to the pork chops. First, we make seasoned salt. This is used to add flavor to the flour that we will use for dredging. I actually picked this up from The Pioneer Woman's Pan-Fried Pork Chops recipe because it makes lots of sense. Flour alone would be dull and tasteless. Flour + seasoned salt, on the other hand, is just pure yum.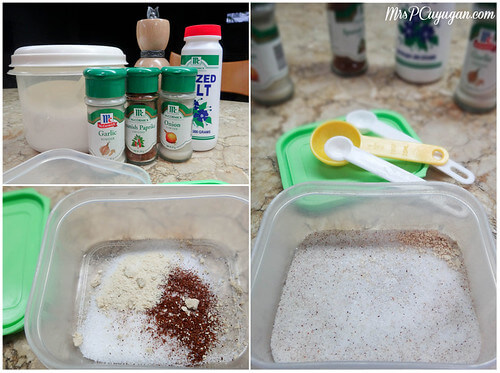 Just combine 1/2 tbsp salt, 1/2 tsp sugar, and 1/8 tsp each of onion powder, garlic powder and paprika. That is all. I like to dump everything into a small food keeper, then seal and shake it violently for a few seconds. It's easier than stirring in vain with a fork or teaspoon, plus, in case you make too much seasoned salt you don't need to transfer it to a storage container. Less stuff to wash afterwards. When you're done making this, set it aside for a while and proceed to rinse your meat.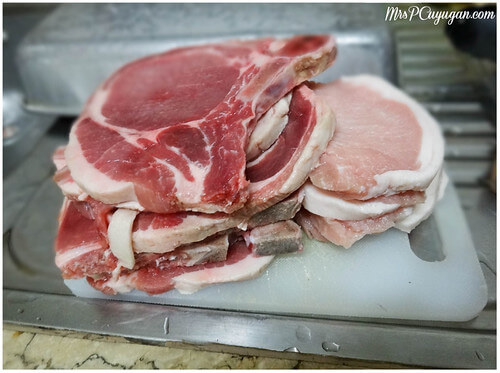 I rinse it to remove excess blood from the meat and to get rid of whatever sliminess there is on the surface. After rinsing, season each chop thoroughly with salt and pepper on both sides.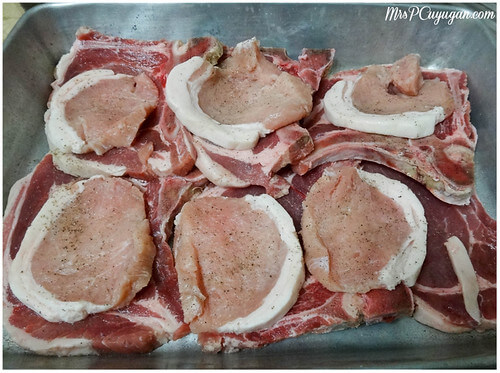 On a clean plate, mix together 1/2 cup of flour, 1 tsp black pepper and 1 tsp of your seasoned salt. Use a fork to swish everything together. Then, coat each pork chop generously with the flour mixture, shake off the excess and toss them into a pan with enough oil to cover the meat.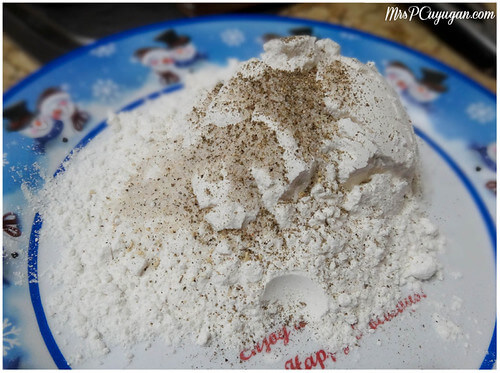 Another tip I got from The Pioneer Woman is to add a tablespoon or two of butter into the oil for frying. It helps to achieve a nice golden brown color on the cooked chops. Wait, you didn't think that this would be healthy, did you?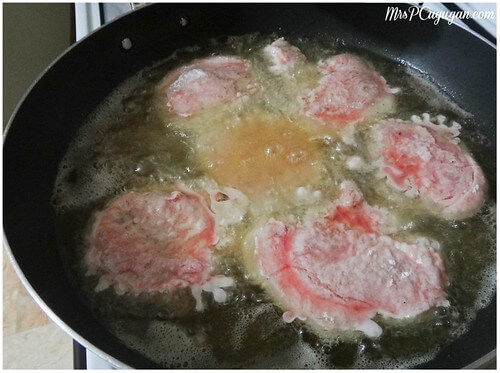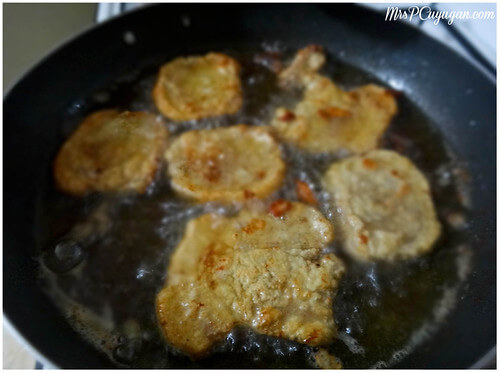 You want to cook the meat for about 3-5 minutes on the first side, then flip. Cook for 2 more minutes or so on side b. I turn it a couple more times after that just to make sure that I've got the golden brown color that I want. Yup, I'm restless with my tongs!
Once the meat is cooked through, take each chop out and place on a plate lined with paper towels to absorb the excess oil.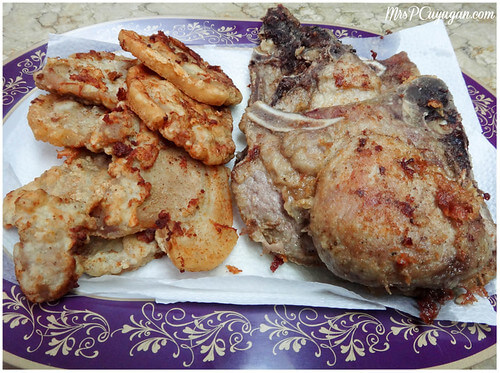 That is it. I like these with rice and Mang Tomas All Around Sarsa, plus a little bit of chopsuey on the side. Yum. There you have it, the pork chops that made me break my meat-free Lenten promise. This was a hit with the boys and with lola, and I hope it will be a hit with your dinner crowd, too.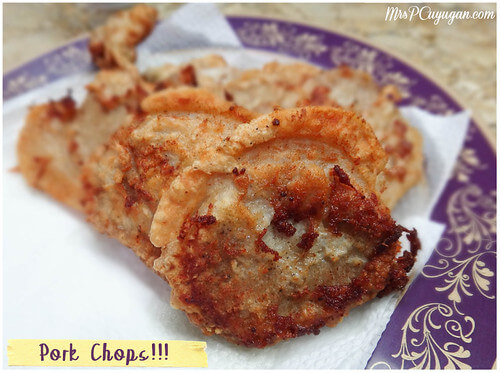 Pork Chops!!!
2014-03-27 07:47:28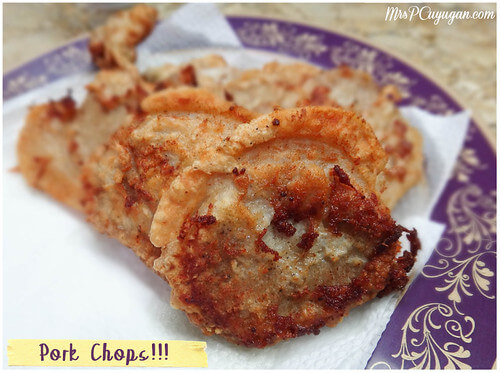 Really easy but really yummy fried pork chops.
Ingredients
1/2 kilo Skinless pork chops or butterflied pork chops
1/2 tablespoon Salt, plus extra for seasoning meat
1/2 teaspoon Sugar
1/8 teaspoon Onion powder
1/8 teaspoon Garlic powder
1/8 teaspoon Spanish paprika
1/2 cup All purpose flour
1 teaspoon Black pepper, plus extra for seasoning meat
Cooking oil for frying
1 tablespoon Salted butter
Instructions
Make the seasoned salt by combining 1 tablespoon of salt with the sugar, onion powder, garlic powder and paprika. Set aside.
Rinse pork chops and pat dry with paper towels.
Season both sides of the prepared pork chops with salt and pepper.
Combine all purpose flour, 1 teaspoon of the seasoned salt mixture and 1 teaspoon of black pepper on a plate. Mix well using a fork.
Heat enough cooking oil to cover the pieces of meat. Add a tablespoon of butter into the oil. Keep the stove on medium high.
Dredge each chop with enough flour to form a thick, firm coating. Shake off the excess flour.
Arrange the chops, three at a time, in the pan with hot oil. You may opt to cook more or less chops at a time, depending on the size of your pan.
Cook the first side for about 3 to 5 minutes. Flip, and cook the second side for about 2 more minutes.
You will know that the pork chops are done when there is no more blood or pink juice oozing out of the meat. You should also end up with a nice golden brown color once cooked.
Notes
Remember to regulate the heat of your stove as needed. If the oil is too hot, the flour coating will burn before the pork is cooked through.
Adapted from The Pioneer Woman
At Home With MrsC https://blissbysam.com/
As always, please tell me if you get to try this recipe at home. Happy cooking, and happy eating!