I haven't been sharing as many recipes as I would like, and to be honest it's because I'm usually too lazy to take photos of my cooking process. There, I said it. Lol.
Yesterday, though, for some reason, I decided to post a sorta step-by-step cooking demo on Snapchat. Yep, this app has me completely hooked. I love how it helps me deal with my camera shyness (which doesn't necessarily mean that I'm any less awkward on-camera.)
So, about yesterday's Snapchat cooking session – I had one chicken and I made two dishes out of it. Chicken Tinola was the first. This dish is great because it's easy to make, it freezes well, it pairs well with other viands, and you can make it really healthy.
Truth: I'm not a fan of tinola. But my boys seem to like it (the husbandry actually loves it,) so I make it anyway.
For my tinola, I used the breast, back and neck portions of the chicken. I opted to keep the skin on because it really just makes the dish a million and one times more delicious, but if you are more health-conscious than I am, then I recommend you go skinless.
Start by cutting your chicken up into proper-sized pieces. While you're at it, get your onions, garlic and ginger ready, too.
Heat some oil in a big enough pot. I use canola oil when I cook at home.
When the oil is hot enough, saute your onions, garlic and ginger (in that order) for a few minutes until fragrant, aka super sarap-smelling.
Next, arrange your chicken pieces in your pot. Cook, and turn, until they are brown on all sides. I don't like eating pale, soggy chicken skin, so this step of browning is a must for me whenever I prepare chicken dishes.
Once the chicken is nicely browned, add enough water into the pot to cover all the pieces. And then, boil, boil, boil.
Some people choose to season the dish before adding water, but I like to season towards the end of the cooking process. I honestly don't know if it makes a difference if you season before or after adding water. If anyone knows, could you please tell me?
Moving on… While waiting for the tinola to boil, wash your leafy greens and slice up your green papaya into wedges. Yesterday's tinola had no papaya because there wasn't any at the grocery when I went shopping.
Once you reach a rolling boil, lower the heat and allow the chicken pieces to cook. Add the papaya wedges into the pot. When the papaya is tender, add a chicken broth cube into the pot, then season the dish with patis and pepper.
Finally, put in your greens – typically it's dahon ng sili but I didn't have that either, so I used kangkong leaves – stir, then remove the pot from the heat. And you're done cooking!
Tinola is best served with steamed rice, plus, in my opinion, fried or grilled meat or fish. Yummers.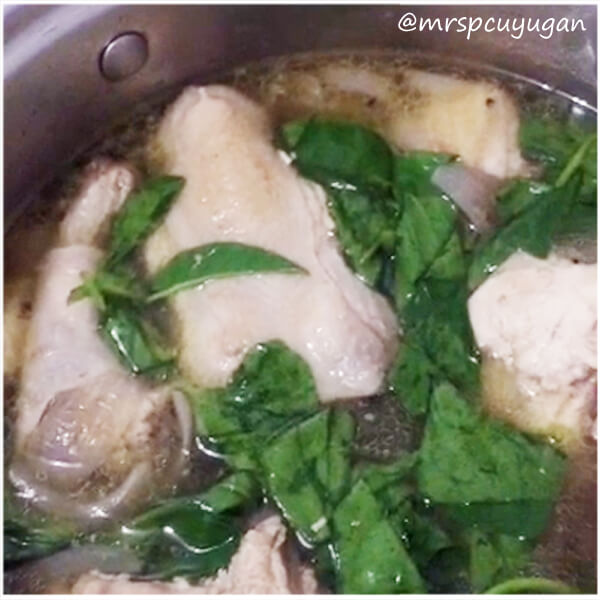 Chicken Tinola
2016-05-28 00:48:29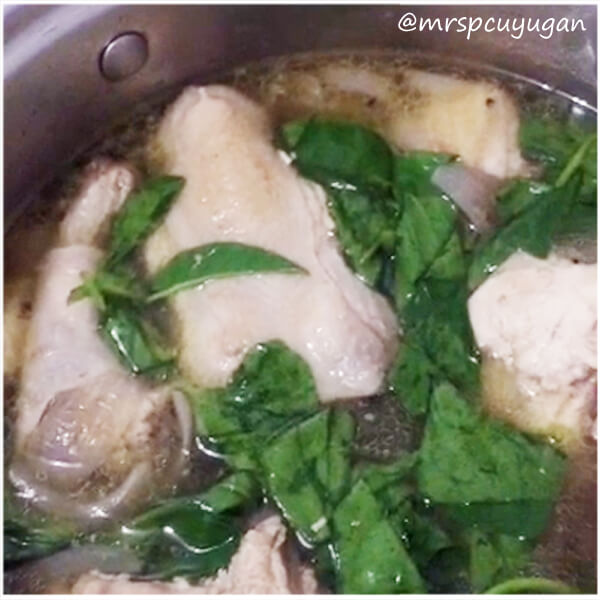 Serves 4
Ingredients
1 small red onion, chopped
6 cloves of garlic, sliced into slivers (I like biting into big pieces of garlic. If you don't, you can mince yours)
1 thumb of ginger, cut into strips
1kg chicken pieces (I used the breast and back portions)
6 cups water
1 small green papaya, cut into wedges
1 chicken broth cube (I used Knorr)
Patis and pepper, to taste
1 pack of dahon ng sili, or 1 bundle kangkong, leaves only
Instructions
Heat cooking oil in a medium-sized pot. Saute onions, garlic and ginger until fragrant.
Arrange chicken pieces into the pot. Cook and turn until nicely browned on all sides.
Pour enough water into the pot to cover all of the chicken pieces. Bring to a boil.
Once it has reached a rolling boil, lower the heat and allow the chicken to cook.
Add the papaya pieces and cook until tender.
Add the chicken broth cube, and season the dish with pepper and patis.
Finally, add the dahon ng sili or kangkong, and stir the pot. Remove from the heat.
Notes
For a healthier pot of tinola, remove the skin from the chicken before you start cooking.
This will keep for up to a month in the freezer. It's better if you freeze tinola without the veggies so they don't get soggy. You can always add the papaya and leaves when you reheat the dish anyway.
Adapted from Yummy
At Home With MrsC https://blissbysam.com/
So what do you think of my Snapchat cooking session? Should I do this again? And guys, let me know if you try this recipe at home okay? Hope you enjoy it! 🙂