Another week, another meal plan!
This week is going to be a busy one for me, and so I've chosen meals that are easier to prepare (as in, can be made or marinated ahead,) especially where baon is concerned.
I also have a lot of leftovers sitting in the refrigerator and freezer, and I really have to make sure to use these up before my next grocery trip. At the moment, I have no room to put in anything new. Time to get creative with recycling, and mixing and matching. Sigh. Small fridge woes.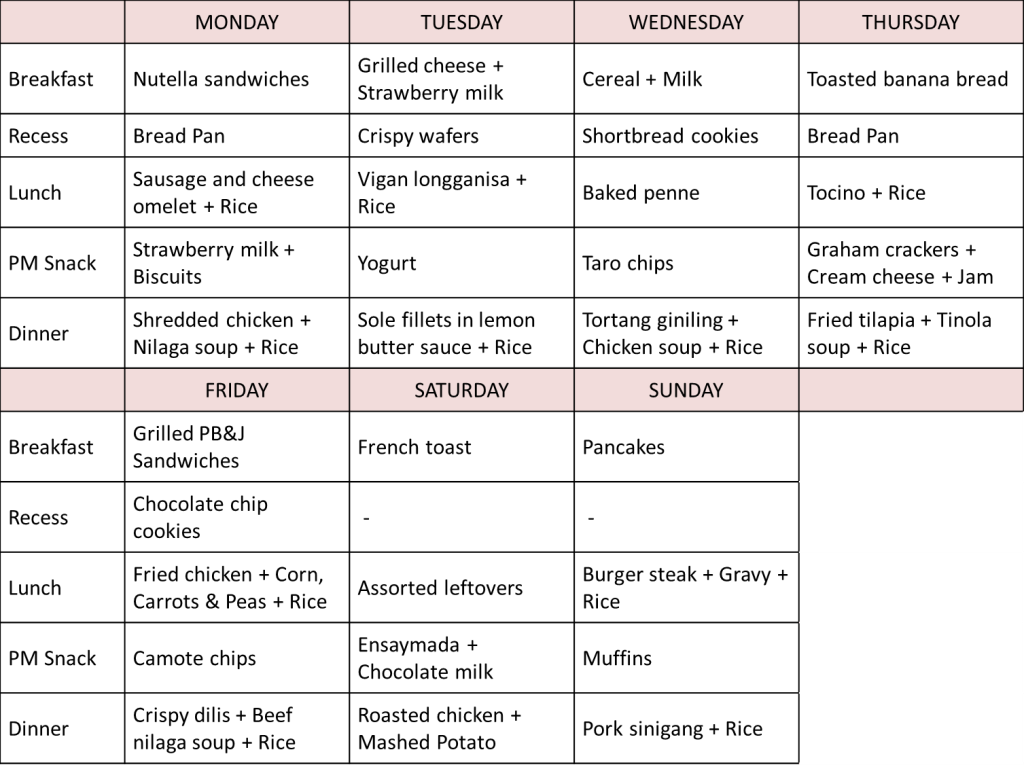 If you'll notice, Saturday is "assorted leftovers for lunch day" again, just like last week. I often find myself with small containers of random things, like a piece of fried chicken, 3 slices of tapa, tiny portions of corned beef, etc. and this is my way of making sure none of them go to waste. We sometimes call this our weekly Tupperware buffet.
Speaking of last week, I made a really nice, super easy baked fish dish for a potluck dinner party with the family over the weekend. Here's the recipe for that, in case you guys wanna try making it at home, too.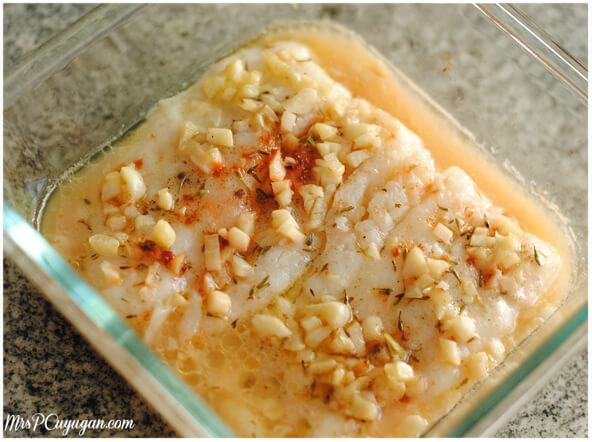 Baked Fish in White Wine Butter Sauce
2016-01-10 20:35:38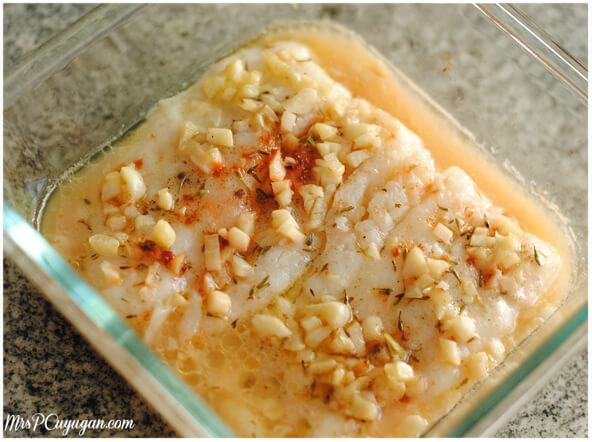 Ingredients
One pack of fish fillets (You may use sole, dory, pangasius or tilapia)
Salt
Pepper
Parsley or thyme
Paprika
Olive oil
2 Tbsp unsalted butter
Half a head of garlic, minced
1/4 cup White wine
The juice of half a lemon
Instructions
Preheat oven to 375F.
Season fish fillets with salt, pepper, parsley or thyme, and paprika. Arrange in a baking dish and drizzle with a little bit of olive oil.
In a small sauce pan, melt butter. Once melted, add the minced garlic and cook until it is as toasted as you desire. Add white wine and lemon juice. Allow to simmer then remove sauce from the heat.
Spoon sauce over the fish fillets. Bake, uncovered, for 25 to 30 minutes, or until flakey. Serve hot.
Notes
The sauce may be made in the microwave by simply placing all the ingredients in a microwave-safe bowl and nuking it on high for a minute or two.
If you don't have an oven, this dish may be prepared on the stove. Make the sauce in a deep-ish pan, then once cooked, arrange the seasoned fish fillets over the sauce. Cook, covered, over very low heat.
Adapted from from a Pinterest pin that I can no longer find
Adapted from from a Pinterest pin that I can no longer find
At Home With MrsC https://blissbysam.com/
So, on to this crazy week, then. Wish me luck! And while you're at it, maybe you could share what meals you prepare for your families on hectic days and weeks. I'd love to have more ideas for my future meal plans.
Have an amazing week, everyone! 🙂