As you know, I am one of those home cooks who likes to make meals ahead and freeze them. Whether it's a marinate and freeze dish or an extra container of soup or stew, you are sure to find quick to cook or easy to reheat meals packed away in my freezer. Yes, takot ako magutom, and this is proof!
I love marinating meat ahead and then freezing it in portions that are just enough for our family. I find that dishes really do end up tastier this way, and for me, tastier is definitely better. I also prefer to put things away in exact serving portions already to minimize leftovers. I get to maximize our refrigerator space that way.Since we share fridge space with a whole lot of people, it's best to keep things at a minimum.
This week, I decided to make a batch of Pork Steak for the boys. We're a small family, so 1/4 kilo of pork loin is actually good enough for 2 meals for us already. Tipid! I have a feeling that this won't last long, though because Little MrC is slowly but surely starting to eat like a big boy.
Pork steak was something that I got to eat at MrC's family's house more often than my own house. I know for a fact that he misses his family's homecooking, and so I thought that I'd try to make more of the food that I'd eaten there before. So we started this week off with a yummy, soft pork steak that I am actually pretty proud of.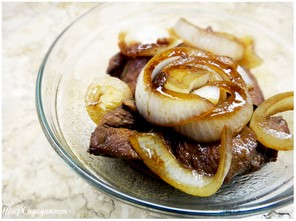 Pork Steak
2014-08-05 21:39:21
Serves 4
A quick and easy pork recipe. Perfect as a marinade and freeze meal.
Ingredients
1/4 kilo pork tenderloin aka lomo
1 tbsp calamansi juice
3 tbsp soy sauce
2 tbsp water
1/2 tbsp sugar
A few dashes of cracked black pepper
1 small white onion cut into rings
Garlic powder
Vegetable oil for frying
A pat of butter
Instructions
Wash and trim the pork loin. Cut into 1/2" thick medallions.
Make the marinade by combining the calamansi juice, soy sauce, water, sugar and black pepper.
Arrange pork loin in a food keeper and pour the marinade over it. Marinade in the refrigerator for at least 30 minutes. At this point, you can transfer your container to the freezer if you are making this ahead.
When you are ready to cook, heat some oil in a skillet.
Once the oil is hot, pour in the meat and the marinade and allow to simmer until brown.
Add a dash or two of garlic powder for added flavor, and a pat of butter to add richness to the sauce.
If you prefer your pork steak to be more saucy, add water a tablespoon at a time.
Once the meat is done, add the onion rings. Allow to cook until the onions are a bit wilted but still crunchy.
Remove from the heat and serve over steamed rice.
Notes
If you are marinading and freezing this, remember to thaw the pork steak completely in the refrigerator before cooking.
At Home With MrsC https://blissbysam.com/
Oh hey, if you try this recipe at home, please let me know how you liked it okay? 🙂