It's been a while since I have gone food shopping, simply because I've decided to use up whatever's in the fridge and freezer before I buy anything else. Thing is, my mom keeps buying stuff in small batches (thanks, Ma!) so we never run out of food. Now, because I'm making do with what's on hand, I'm forced to be creative with what I cook. Luckily, with the addition of a brand-spanking new bottle of Lea and Perrins Worcestershire sauce to our pantry, I had all I needed to make one of our family faves, Bangus Ala Pobre.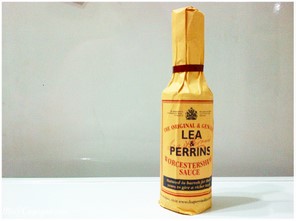 This is a perfect early morning quick baon recipe because you don't need to marinate it for very long, and it cooks real quick too. Everything can be prepared the night before and placed in the refrigerator so that you aren't scrambling for ingredients before dawn. If your fish is frozen, make sure you move it from the freezer to the fridge before you sleep so that it's thawed enough when you wake up.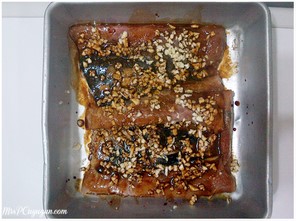 All you need to do is mix 10 cloves of minced garlic, a tiny bit of calamansi or lemon juice, salt and pepper, and 1 tablespoon of Worcestershire sauce in a bowl. Pour the marinade over 2 boneless bangus bellies and let it soak for 15 minutes or so. During this time, I wash and prepare my rice then turn on the rice cooker.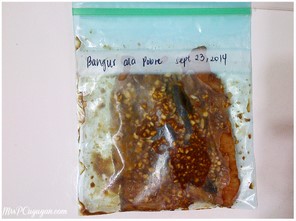 One belly is enough for the boys and I (for now), so I put the second one in a handy dandy GLAD Freezer bag and pop it in the freezer for another day. Don't forget to label your food keepers or zipper bags so you know what you have on hand, and when it went into the freezer. Once you're ready to cook, simply heat up some olive oil in a pan and fry the fish. Be careful coz this pops!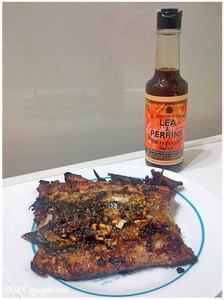 I like to fry this skin side down first, then flip it to get the belly and the garlic bits all nice and toasty. Serve immediately with hot rice, and vegetables or scrambled eggs on the side.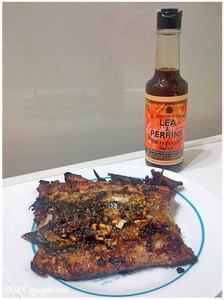 Bangus Ala Pobre
2014-09-26 06:40:51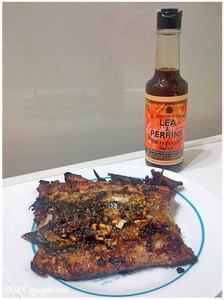 Serves 4
Made with Lea & Perrins Worcestershire Sauce
Ingredients
2 pcs Boneless bangus belly, unseasoned
1 Tbsp Lea & Perrins Worcestershire Sauce
10 Cloves of garlic, minced
The juice of 1 calamansi
Salt and Pepper to taste
1 Tbsp Olive oil for frying
Instructions
Make the marinade by combining the Worcestershire sauce, garlic, calamansi juice, salt and pepper.
Pour the mixture over the bangus bellies. Marinate for at least 15 minutes.
Heat oil in a frying pan. Fry bangus skin side down until the edges are golden brown. Flip the fish and continue to fry until the garlic bits and fatty portion are toasted.
Serve immediately.
At Home With MrsC https://blissbysam.com/