Have you ever tried baking with Swiss Miss? As in the hot chocolate mix? Me neither, until yesterday.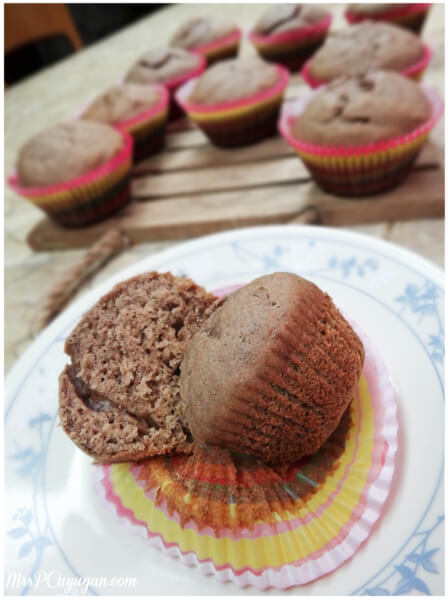 I decided to make peace with our 20+ year old oven by attempting to bake a nice snack treat for Little MrC. Since it's exam week, he's home way before lunch time, so this week is filled with more mommy time than WAHM time. I could see he was getting bored with his usual afternoon cartoons. Blame it on him being stuck at home with a fever over the last 5 days. Because Cartoon Network and Toonami weren't doing their usual magic, I had to think of a quick activity that we could do. And so, I went ahead and cranked up the heat on our old-timer oven. Bahala na if the temperature on the right is hotter than the temperature on the left. Lol.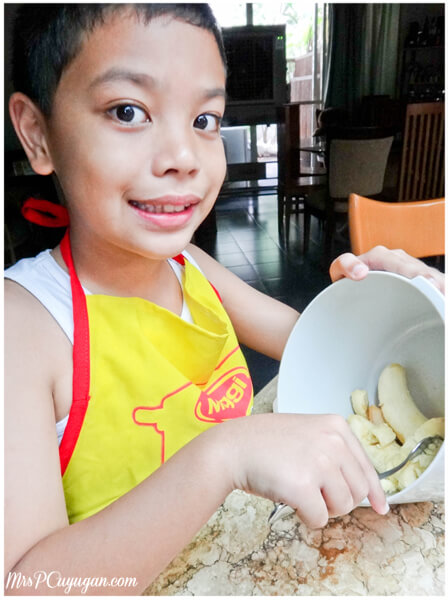 I got the little boy all excited about mashing bananas, put an apron on him and set him to work. I realized too late that I should have checked that I had everything we needed in the pantry before I involved the little boy. The original plan was to make choco banana muffins like these ones by Nigella, but using tablea instead of cocoa powder. Toinks, my stash of tablea apparently went bad in the freezer during that Glenda storm, and my mom had gotten rid of them already. We also didn't have any cocoa powder. I could have just gone with plain banana muffins, but I already said chocolate (the magic word) to the little boy. I had to think fast. I decided to use Swiss Miss. The dark kind.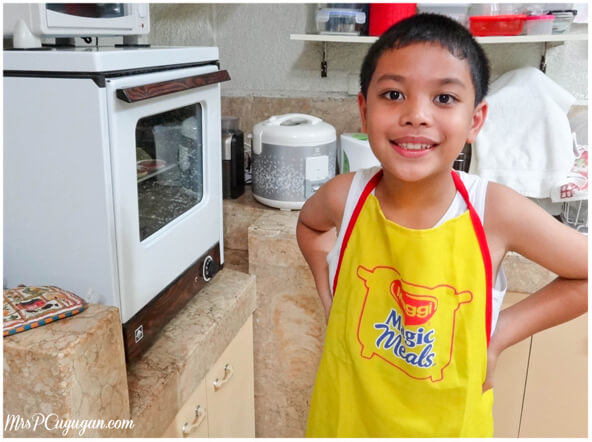 They came out yummy. There's not a lot of sugar in the recipe, so the sweetness comes mostly from the bananas. The riper the better. I like to use the nearly rotten ones for baking. Those are the best. The end result was not as chocolatey as it would have been if I used proper cocoa, but for a quick meryenda fix, a fun bonding afternoon with my kid and quick snack box fillers for today, these are more than good enough.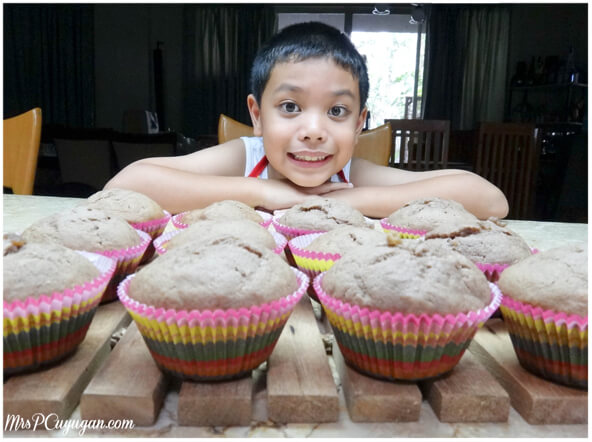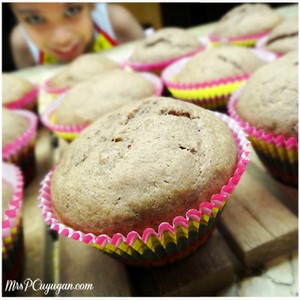 Banana Swiss Miss Muffins
2014-08-18 18:37:40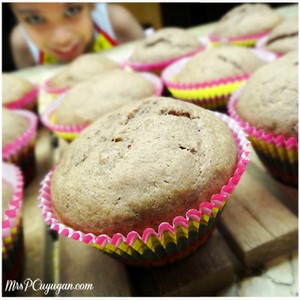 Ingredients
3 overripe (as in borderline bulok) bananas
½ cup vegetable oil
2 large eggs
½ cup brown sugar
1 ½ cups all-purpose flour
1 packet Swiss Miss Dark Chocolate Sensation
1 tsp baking soda
Instructions
Preheat your oven to 400°F. Line a 12-cup muffin pan with paper liners. The cuter the better!
Mash the bananas to baby food consistency.
With an electric mixer on low (or by hand), combine the mashed bananas and vegetable oil. Add in the egg and sugar.
In a separate bowl, sift together the flour, Swiss Miss and baking soda.
Gently add the dry mixture to the banana mixture. Do not overmix! It's totally fine if your batter is lumpy.
Spoon batter into the prepared muffin cups. I use an ice cream scoop for this so that I get relatively uniformed muffin sizes.
Bake in the preheated over for 15-20 minutes. These should rise significantly and become a nice shade of cocoa brown when done. Cool the muffins slightly in the pan before removing to a wire rack to cool completely.
Notes
This tastes super awesome topped with fruit preserves or with cream cheese frosting.
Adapted from KITCHEN Recipes from the Heart of the Home
At Home With MrsC https://blissbysam.com/