One of the things that MrC and I did in preparation for his family's arrival from the US last October was stock the refrigerator in their condo unit with healthy, home cooked meals. I love to cook, and so I had a great time preparing some of our favorites for them. I was extra excited about being able to feed my dad-in-law with food from my kitchen because he was the one who took the time to teach me how to cook, back when they were still living in Manila.
My whole kitchen experience became even more fun when this bag of goodies from Maggi arrived at my doorstep, literally days before I was to start preparing my cook and freeze meals. Maggi is actually one of those brands that I remember from TV time in my childhood, along with Wok With Yan and Cooking With The Daza's. Yup, I have loved watching cooking shows for as long as I remember. The noodle soup commercial with Tita Maggi is one of the ads that I remember seeing a lot during those days. Coincidentally, Tita Maggi became Tita Menchu to me, when her daughter became a friend in high school, but that's another story altogether.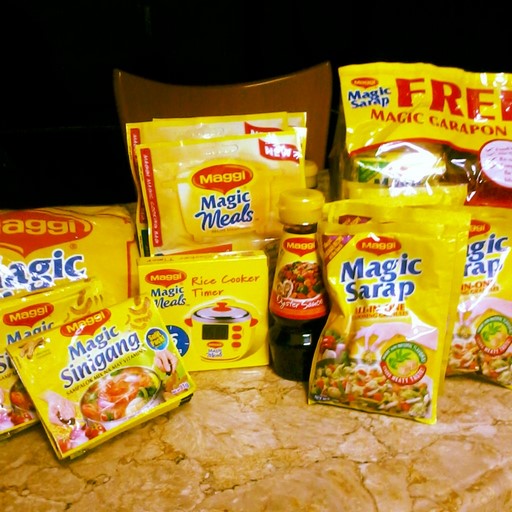 Back to my story. One of the dishes I prepared for the family was a skinless chicken adobo. Now, I will be honest, I love pork adobo more than chicken adobo because I've always found it to be tastier. But, now, I think I've found a chicken adobo recipe that I really, really like, which is actually a tweaked version of an Adobong Puti recipe from the Maggi website (you can see the orignal recipe here) plus this Kris Aquino recipe and my mom's good old ever-reliable adobo.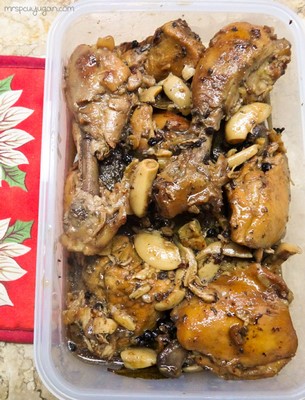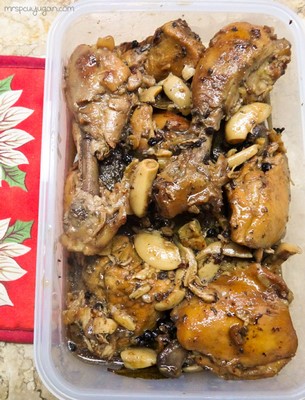 Chicken Adobo
2014-06-12 16:28:18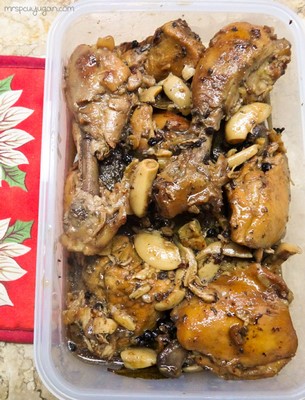 Serves 6
Ingredients
1/2 kg chicken leg quarters, separate the thighs from the drumstick and remove all of the skin
1/2 kg chicken breast, cut into 4pcs each and remove all of the skin
2 heads garlic, peeled and smashed
1 medium onion, sliced
1 cup sukang sasa
1/2 cup soy sauce
1/2 cup water
A handful of whole peppercorns
3 bay leaves
1 tbsp brown sugar
Half of the contents of one 50g pack of Maggi Magic Sarap
2 tbsp vegetable oil for frying
Instructions
Place all of the ingredients, EXCEPT the oil, in a pot and bring to a boil. Simmer covered for about an hour, or until chicken is tender. Remove the chicken pieces from the sauce once done.
Continue to boil the sauce until it is reduced by half.
Fry the chicken pieces in a little bit of oil until golden brown.
Return the fried chicken pieces into the reduced sauce and bring to a boil.
Notes
This dish is best served with steamed white rice and a ripe banana or a slice of ripe mango.
I keep the peppercorn and the garlic whole because I love biting into them after they've stewed in the adobo sauce. Super, super yummy!
You can also opt to fry the garlic after the initial boiling period so that it becomes nice and crispy. You should probably chop it up, though, if you plan to do this.
At Home With MrsC https://blissbysam.com/
For more delicious recipes, visit the Maggi
Facebook Page
and
website
!
How do you prepare your adobo? 🙂