MrC's celebration continued over his birthday weekend, when we went out to lunch with his side of the family. Since the little boy had been feverish that week, we decided to just pick a restaurant that was close to home. Commercenter was actually a great idea for Sunday lunch because the place is pretty quiet and we didn't need to contend with the usual weekend mall crowd. We decided on Lasa since my sister in law and her husband really love Pinoy food, and the boys and I had been wanting to try the place out also.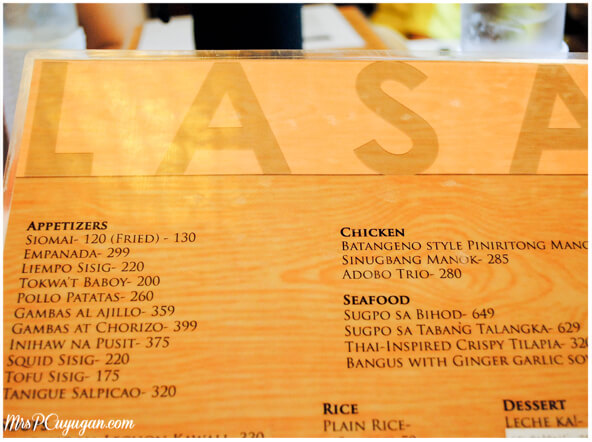 I first read about this place in Southern Living, and then I saw it again a few weeks later on Jane's Blog. I found it really cute and interesting that they served Puto as appetizers. When we got to Lasa, I noticed right away that the restaurant gave off this old Filipino home vibe, complete with heavy wooden furniture, crocheted glass cozies, and wood and capiz ceiling accents. The puto that the server placed on our tables added even more Pinoy homey-ness to the ambiance of the place.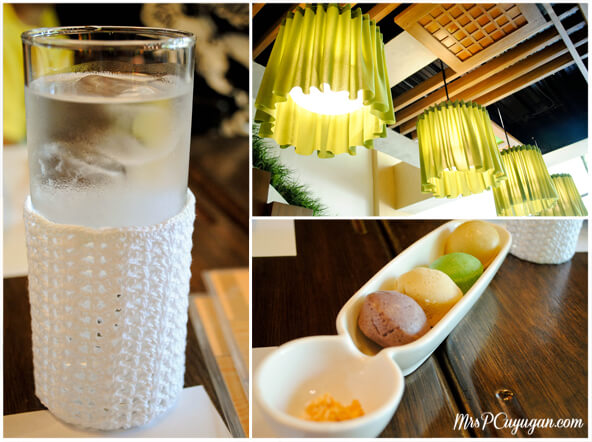 I let my lunch companions take care of the ordering this time, because I wasn't really craving for anything in particular. One thing I made sure to order thought was a nice cold watermelon shake. It was extremely hot that week, so I really wanted to order something to cool myself down.
I also made one other request, for my favorite Gising Gising. I can't remember when and where I first tried this dish, but I remember falling in love with it at first bite. Ever since that first time, I've made sure to get this as my vegetable order at every Filipino restaurant we visit. Lasa's version was a bit different from the others that I've tried. I'm not sure why the sauce is orange, but it is nice and spicy and just so good.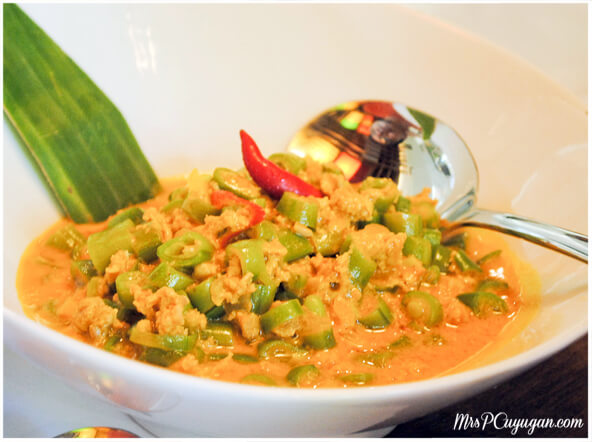 Lasa serves Filipino favorites with a twist. One very good example of their unique take on our local cuisine is the Kare-Kareng Crispy Tadyang. I'm pretty sure I've had crispy kare kare before, but I'm also sure that the vegetables in that dish weren't breaded, tempura style. I think the presentation really set Lasa's version apart from the rest. That, and their bagoong, which was super duper good.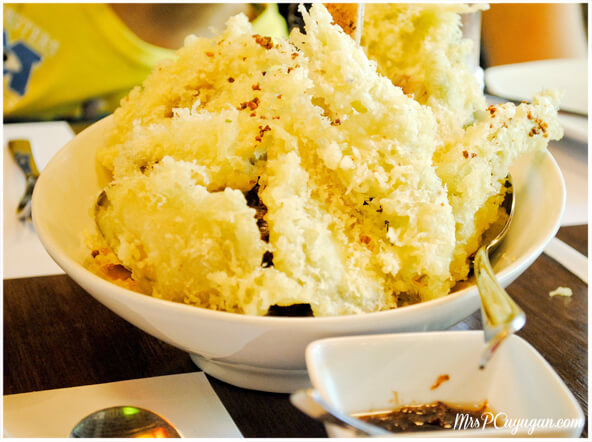 We also ordered Ampalaya and Tinapa, upon special request of MrC's former nanny, who has been with the family for so long that she's practically an aunt to us and an additional grandma to Little MrC. I must admit that I didn't try this because I really do not like ampalaya. It got super rave reviews from the others, though, so if it's something that you would be interested in trying, I say go ahead and order it!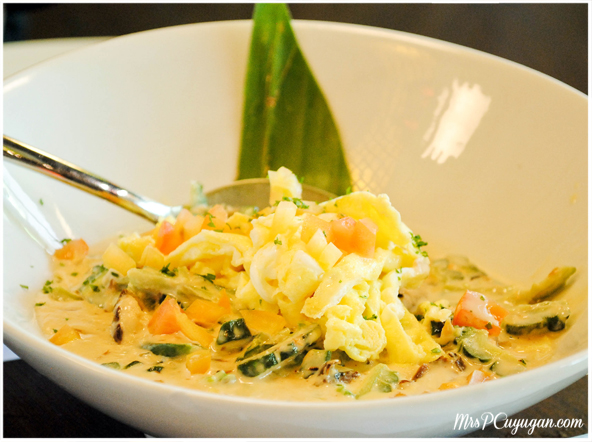 While I always order gising gising, I noticed that my sister in law often requested for Sugpo sa Tabang Talangka. This really wasn't the first time, and I was happy when she said that she wanted to try this dish because it really sounded so yummy. And nope, it didn't disappoint!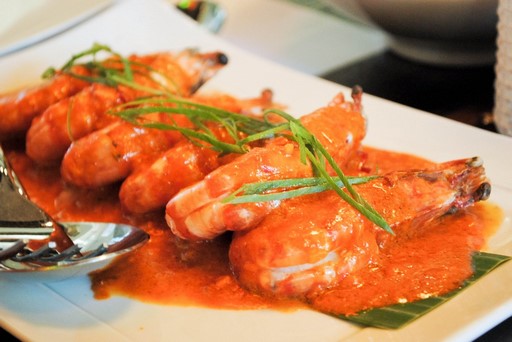 We thought that we had ordered enough, but midway through the meal we realized that we needed one more viand. After a quick menu check, we all decided that it was Crispy Pata that we wanted. Now, I believe that you can't go wrong with crispy pata. There is no bad crispy pata, just good and super good ones. This one was super good.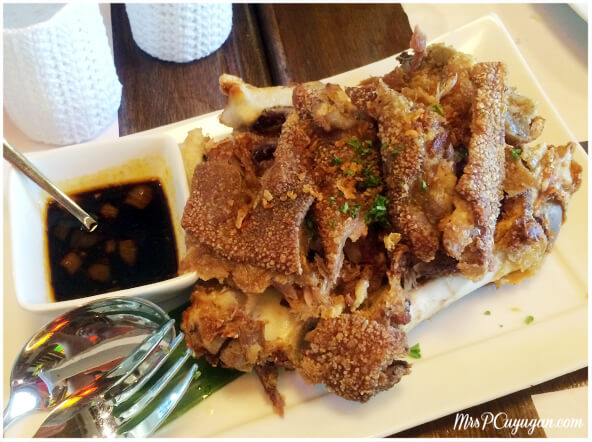 And of course, no Filipino meal is complete without yummy, fluffy steamed rice. We had two of these, plus another extra cup. Yes, we were hungry, and the meal was really just so good.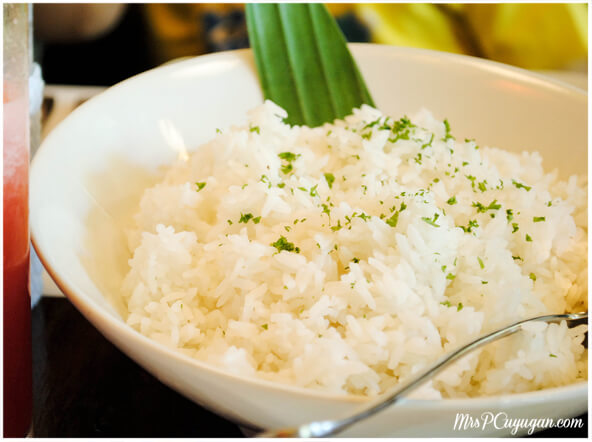 For the first time ever, I was too full for dessert. We did go next door for some coffee though, and to hang around and chat for a while longer. Mr C's sister lives quite far from us, so we really make the most out of our time together whenever we get the chance to meet up.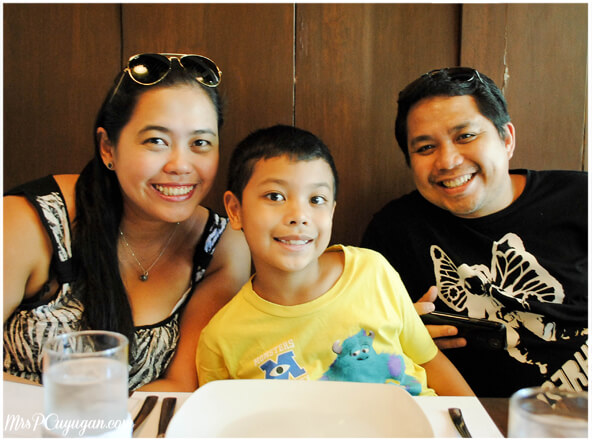 I'm excited to go back to Lasa to try their other dishes. I know I'll be spending a lot of time at Commercenter over the next few weeks, so I'm pretty sure I'll get to eat here again soon. Maybe I'll actually be adventurous and try the ampalaya.
What are your must-orders at Filipino restaurants?