It's officially the end of our third week of school. Yay! I wish I could say that I look forward to sleeping in over the weekend, but soccer camp is back on and so Saturdays and Sundays find us on the field bright and early. I do have the luxury of afternoon naps, though, so it's all good.
Tell me about your kids' first few weeks of school
Did everything run as smoothly as you thought they would? Here at home, weekday afternoons are super busy, with homework and review time taking up a good chunk of what used to be free time for us. I keep reminding my son that the third grade is now part of the "Upper Grades" in school, which means that things are now pretty serious, academically.
One major challenge I've been having to deal with is my son's note-taking. He's been showing me a lot of incomplete and misspelled notes in his assignment notebook and in his subject notebooks, too. These are things he copies off the board, and that's why I have a hard time understanding why there are so many errors. The bad thing is that his excuse is consistent, each and every time. He says he does it in a hurry because he runs out of time to copy his notes. When prodded, he admits that he wasted a lot of time talking before he actually started writing, and that's why he was unable to copy properly. Every day. Every single day this week. I'm still figuring out how to deal with this.
There's also been a bit of drama where the lunch box is concerned, because he recently discovered the joys of buying pizza at recess time, and not eating the food that mom prepared for him. No, he doesn't have an allowance yet, just to be clear. He has some money saved up from random gift-giving sessions with aunts and grandparents, and that's what he's been using. Maybe this is a challenge for me to up my game where baon is concerned? Something to think about for sure. In the meantime, here are some photos of lunches from the last two weeks, as posted on Instagram.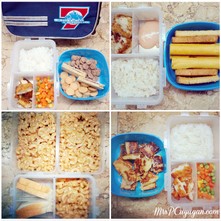 Last Week's Test Recipes
I was able to try two new recipes last week, a beef tapa one from Yummy and Once A Month Meals' Cheesy Tuna Mac. MrC loved the tapa. It was garlicky and sweet and salty with a hint of sourness. It reminded me a lot of carinderia tapa, covered in a sticky sauce that nicely coated the meat while cooking. I still have one more container in the freezer, ready to be cooked for brunch one of these weekends. The Mac N Cheese was well-received by the little boy. In fact,of all the food I packed for him since school started, this was one of the few that he really finished. As in, no leftovers! I also froze some, and I think I'm gonna snack on one of the containers this weekend while watching the World Cup games.
This Week's Featured Recipes and Baon Plan
I feel pressured to make sure that everything I prepare is extra yummy this week, because like I said earlier, I'm now competing with cafeteria pizza. Ugh. I have my sure-win Pinoy Spaghetti on there, and my Beef Salpicao, too. I'm also trying out this recipe for Parmesan Chicken Fingers, and this Honey Balsamic Glazed Pork one. Plus, for recess, I'm gonna be baking a batch of cheese cupcakes. If I never get around to baking, I know I can get good pastries from Le Coeur de France. Buy 1 take 1 on weekends and after 7pm on weekdays, yay! I really hope that the kiddo finishes his food from here on out. I'd like to think that the adjustment period is over already.
I'll let you know how these new recipe experiments turn out. In the meantime, please download (and enjoy) my Baon Plan for June 30 to July 11! And make me kwento about your first few weeks of school, okay?