I wake up at 5am on weekday mornings and immediately head to the kitchen. I prepare breakfast for our family, and pack recess and lunch for my son. It's a bit of a challenge figuring out what to make every day, especially where the packed meals or baon is concerned. Thing is, I really cannot falter because Little MrC's grade level does not have access to the school canteen yet, and so he is stuck eating whatever he has in his lunchbox. So, I took this challenge head on from the moment school started, and I am now on my third week and doing okay so far.
I figured that I must not be the only mommy with meal planning woes. I'm also pretty sure that there are many early morning iron chef mamas out there who, like me, are in charge of making sure that their kids have a proper meal to eat in school each day. And so I've decided to share my weekly lunchbox meal plans, and also impart some kitchen wisdom in what worked, what didn't and why. Sounds like a plan? Yes, a meal plan! Sorry, I know I'm too corny to function. Forgive me, I've been up since (you guessed it!) 5am.
Before you leave this page out of boredom from my corny jokes, I bring you MrsC's Tried and Tested Baon Plan #1. This is what I packed for my son on the first week of school, which happened to fall on the third week of June.
MONDAY
Recess: Vjandep Pastel – First discovered in Cagayan de Oro, this time bought from Market Market.
Lunch: Purefoods Chicken Nuggets, boiled carrots and rice – Always a fave among the kiddies. Plus boiled carrots for added vitamins.
TUESDAY
Recess: PB&J Sandwich
Lunch: Breaded pork, corn & carrots, and rice – I used lomo (tenderloin) so it's super soft.
WEDNESDAY
Recess: Strawberry Pop Tarts – Since we have a whole box from our Duty Free shopping spree.
Lunch: Pork adobo, banana and rice – My mom's epic recipe. Best eaten with a ripe banana.
THURSDAY
Recess: Grilled Cheese Pandesal – Prepared in our trusty Big Boss Grill.
Lunch: Daing na bangus, chopsuey and rice – I buy the Century marinated and frozen bangus (milk fish). It's pretty good and it's boneless too.
FRIDAY
Recess: Voice Overload cracker sandwich and apple slices
Lunch: Tocino, scrambled egg and rice – I tried the CDO young pork tocino for the first time. It's good for baon because it's really soft.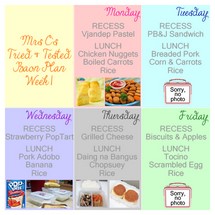 So there you go! Hope you guys are able to get some ideas from this meal plan. Let me know if it helped you somehow. I'd love if you could share your meal plans and recipe ideas too. And please, come back next week, there's more to look forward to then!