Woohoo for a whole successful month of packing recess and lunch for my son! We move on to month two now, and I'm pleased to say that this early morning cooking task is easier to do and feels more natural now. I love it, I am making progress!
I found out from my son that some of his classmates pack hotdogs and spam with rice for lunch. One of his classmates even has McDonalds almost every day! I now feel so proud of myself for really making an effort to prepare freshly cooked healthy meals for my little boy each and every day. I'm also super proud of MrC for stepping in for me on days when I couldn't be in the kitchen, like during Week 4 when I was sick. Teamwork and cooperation is key!
So, here's what we prepared on Week 5.
MONDAY
Breakfast: Crumpy sandwich -(Crumpy is one of our fave sandwich spreads! Yum!)
Recess: Pomelo (Dad's pasalubong straight from Davao.)
Lunch: Baked pork ribs (Leftover from dinner prepared by Lola.)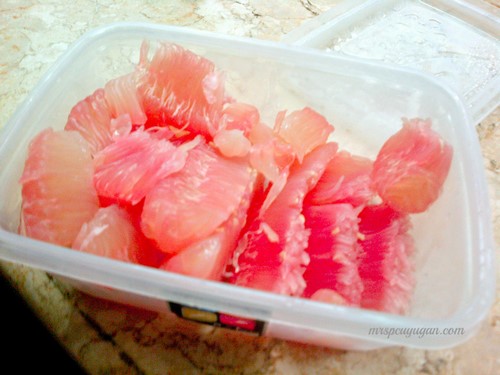 [Read more…] about Baon Plan # 5 Plus a Recipe for Lazy Pizza Grilled Cheese