I need to invest in good black blouses and dresses. I do script writing for events, and black is the official uniform color when you're in this line of work. It's been a while since I've been on the production side of life, and all my black stuff from way back when (as in, pre-pregnancy days) obviously no longer fit me. They also no longer suit me. I was a college student back then, and now I'm about to be a 30-year old, so yeah, I'd probably look ridiculous if I dressed the same way.
Over the years, I've opted for brighter, more fun colors and prints. Figuring out what to wear to work these days is quite a nightmare. But it shouldn't be! Decent black pieces should be a staple in everyone's closets after all. Right? Which leads me to believe that I've been doing this whole outfit thing wrong. Or maybe, just maybe, since I'm crossing over to the 30-something age group, I'm starting to realize that my closet does need an overhaul.
I remember a conversation I had with a marketing head from one of the events I did last December. She was showing me some photos of jewelry she was ordering from abroad, and I told her that I wasn't really much of a jewelry person. She said it's likely because I'm still in my 20's, and things will change when I hit my 30's. If this is true, then I suppose my makeup and jewelry collection is in for a major upgrade alongside my closet. Sounds expensive. But I think it's something that should be done.
So anyway, I am technically still in my 20's, and will be for a few more days. Sharing what I wore to work yesterday, one of my last events as a 20-something.
Glasses: Firmoo (I won these from my friend Joei's blog contest last year)
Black Shrug: Cuenca Bazaar
Black Top: Discreet (A gift from my in-laws. It's a tad too big in the armhole area and bust area, so things tend to fall out. That's why I wear a spaghetti strap top under it.)
Jeans: Moda Plus (The ever-reliable. I'm so sad they closed their Festival Mall Branch)
Pretty Pink Platform Shoes: Coleslaw (A cutie local brand from Laguna. I bought these when we visited Isdaan two years ago.)
Bag: Coach
Chunky Necklace: A gift from an aunt last Christmas. I think it's Forever21.
Makeup: Colour Collection BB Cream, Face Shop black eyeliner and Revlon Lipstick in Cherries in the Snow (my current favorite!)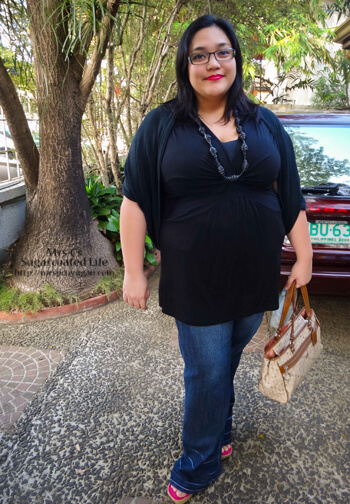 I think it's time I go on a diet.
Much love and happiness,