I'm back with another baon plan! *Happy dance*
I noticed though that I only have one post between last week's lunchbox meal plan and this one. That seems to be a sure sign that I need to blog more often. How do I find the time to do that though? Well, Dainty Mom told me in this blog post that in order to find time to blog, you really need to make a deliberate decision to blog. As in you MAKE time for it. Yes, I firmly believe that she was speaking to me, please do not burst my bubble!

Today I am making time to blog about my second week in baon planning. For my friends abroad, baon, in Filipino, basically means something that you take with you. In this case, baon means packed lunch/snacks. Mmkay?
So, lessons learned first. Week two was not as tough as week one in the sense that it wasn't that much of a struggle getting up at 5am anymore. But, like I often say, waking up and getting up is one thing. Functioning is another. To this, I am pleased to say that I have found an answer, and that is to have what I like to call a jump start routine. If this seems like common sense to you, well, to me it's a whole new thing, and that's why I seem overly excited over something that sounds so simple.
A jump start routine is basically something that you have to do everyday, as soon as you wake up. It's such a regular and recurring thing that you don't need to think about it much. To a certain degree it becomes a little bit mechanical. The logic behind this is that you actually start moving and getting things done while you are organizing your thoughts and figuring out what other things you need to do. That way, you don't run around like a headless chicken, aimlessly going back and forth between the refrigerator and pantry collecting ingredients, with not much else getting done. Having a jump start routine buys me that extra time to think about my battle plan, so I make less trips back an forth from one area of the kitchen to another.
My jump start routine basically begins with sitting up right when my alarm goes off and NOT hitting the snooze button, no matter what. And then I follow these simple steps:
Wake up MrC and ask him to please get the coffee pot, rice cooker and frying pan which were left to dry overnight in our outside kitchen. Why do I need MrC to do that? Because honestly you can't make me step out of the house before sunrise unless it's to go straight into the car. That's because we have a froggy friend who lives in one of the corners of our garden, and he likes to sing to me each morning. *Shudder*

While MrC is outside, take out all the pots and pans that I need for that morning.
Make coffee (unless MrC is in the mood to make it himself).
While the coffee is brewing, cook rice.
Once I turn the rice cooker on, I'm kind of already sure about what I need to get done and how I'm gonna do it. So yes, this whole jump start routine business really works.
Okay, moving on to the meal plan. On week two, I didn't go to the supermarket until Thursday since we had so much food in the house. Oh, and I've decided to include breakfast in my menus since I do prepare it every day. Plus I think that anyone who can have breakfast on the table and a packed lunchbox ready by 6am is super, and deserves the recognition. Yes, I just complimented myself there.
Here's what I managed to prepare on the last week of June using whatever we had in our fridge and pantry.
MONDAY
Breakfast: Pancakes
Recess: PB&J pancake (we had one left over from breakfast) and apple slices
Lunch: Steak with cheese sauce (prepared by Lola, left over from dinner the night before) and boiled corn kernels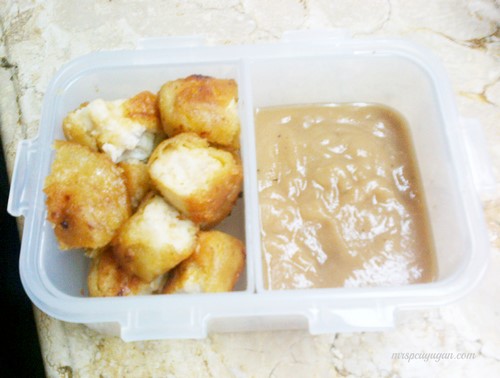 TUESDAY
Breakfast: German franks and toast
Recess: Sandwich crackers and apple slices
Lunch: Chicken Drumettes (the Purefoods kind) with gravy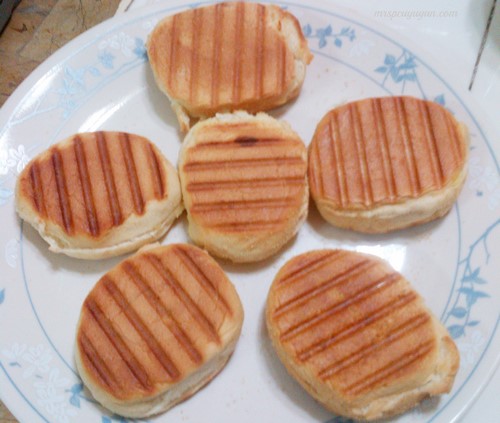 WEDNESDAY
Breakfast: Grilled cheese pandesal
Recess: Two kinds of cereal (Little MrC loves munching on cereal)
Lunch: Breaded pork loin (1/3 of the pork I bought at the supermarket last week) and boiled carrots
THURSDAY
Breakfast: Red Ribbon Mamon
Recess: Crumpy sandwich
Lunch: Pork tapa (the last of the pork from last week, click here for the recipe) and scrambled egg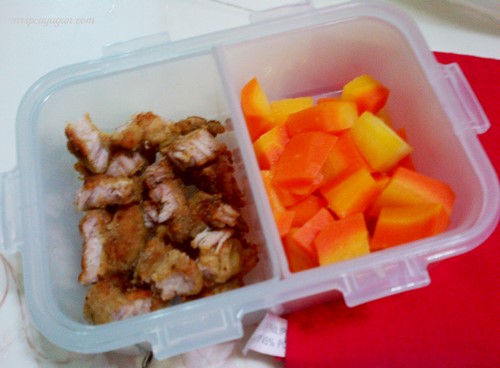 FRIDAY
Breakfast: Cereal and milk
Recess: PB&J Pandesal
Lunch: Rosemary chicken (which I marinated overnight) and potato wedges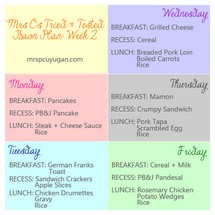 I should really remember to take photos before I pack everything into the lunch bag, but sometimes you just forget. Oh well. There you have it, I'll be back with another baon plan next week!