I discovered this banana bread recipe in a library book a few years ago, and I liked it so much that I even made a few loaves and gave them as presents one Christmas. I make mine without the walnuts coz my brother doesn't like them. I made a batch again today after over a year of not baking, and I'm glad that they turned out just as good as they did before.
Thought I'd share the recipe with everyone, and digitally archive it as well in case I lose my precious recipe notebook. Do let me know how it turns out in case any of you try to make this yourselves.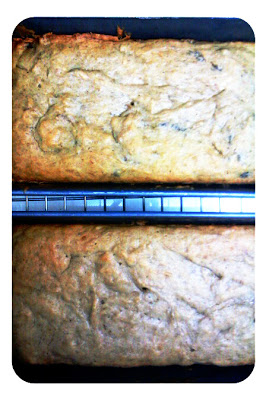 BEST BANANA BREAD
2 1/2 cups all purpose flour
1 1/2 teaspoons baking soda
1/2 teaspoon salt
3/4 cup salted butter, softened
1 1/2 cups light brown sugar, packed
2 large eggs
3 cups ripe bananas (about 7 medium), mashed
1 teaspoon pure vanilla extract
1 cup (4 ounces) chopped walnuts (optional)
Preheat oven to 325°F. Grease two 9×5″ loaf pans.
In a medium bowl, combine flour, soda and salt with a wire whisk; set aside.
In a large bowl, cream butter and sugar with an electric mixer. Add eggs, bananas and vanilla, and beat at medium speed until thick. Scrape down sides of bowl.
Add the flour mixture & walnuts, then blend at low speed until just combined. Do not overmix.
Pour batter into prepared pans. Bake on center rack of oven for 60-70 minutes. A toothpick inserted in center should come out clean, and the bread should pull away from the sides.
Cool in pan for 10 minutes. Turn pans on sides; cool to room temperature before removing and slicing.
Enjoy! Our household certainly did.