Before you start reading this post, please read my first Pico de Loro entry, just so you're up to date. 🙂 Indulge me. Thank you.
Okay. After our property tour around the super big Pico de Loro Cove, Celine suggested that we grab some cold drinks at the Sun Coral Cafe, the Beach Club's Filipino restaurant. Our dinner was to be served by the chef and servers of Sun Coral Cafe at a beautiful table set up right on the sand, so it was a good idea to hang around the area at cocktail hour. Plus, I was never one to say no to mojitos by the beach.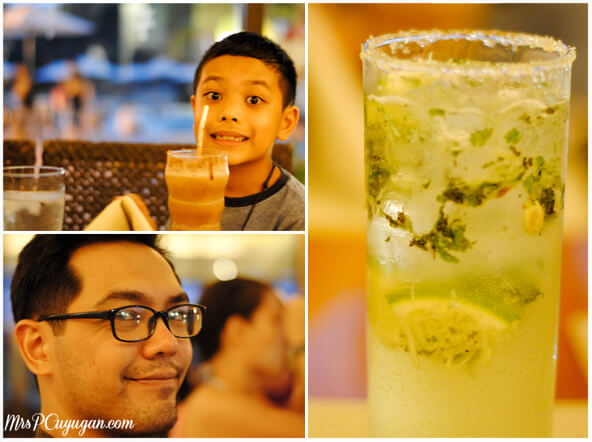 It was here that Tim and Little MrC really started chatting and bonding. After about ten minutes, they were BFFs already. Of course, no one was happier about their new-found friendship than their two mamas! While the boys were bonding, I took the time to chat with Tina and play with my favorite little girl, Baby Anne. I started talking to this little one when she was still in the tummy, and I was so happy that she instantly took to me, played with me, held my hand and let me carry her! I love this baby, I really do.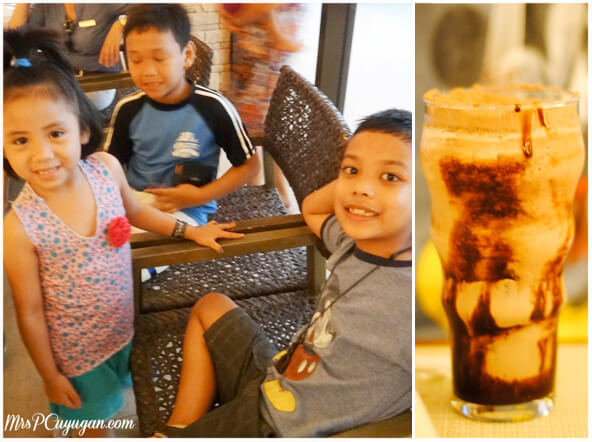 Dinner on the Beach
After only a few minutes, we were invited to head out onto the beach and get settled in for dinner. The setup was so romantic, just like the al fresco garden dinner we had last September at Taal Vista Hotel. In fact, a few feet away from our long table was a table for two all set up with candles and tiki torches. Yep, they can do this for you at Pico de Loro, so if you are celebrating an anniversary or planning a romantic proposal, keep them in mind!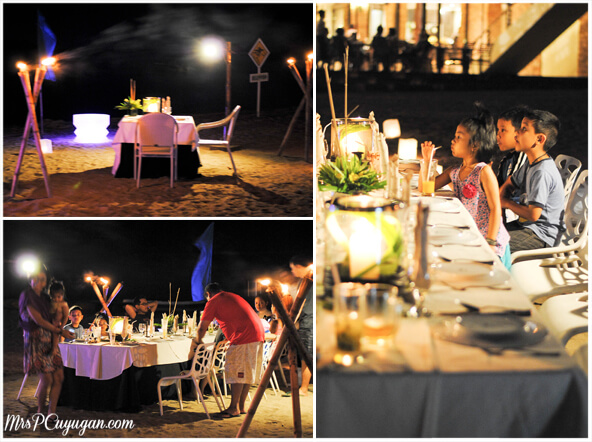 Because Sun Coral Cafe specializes in Filipino food, we had a Pinoy feast with a twist for dinner. It was a little dark, so you're gonna have to forgive my blurry photos. We started off with a lightly-dressed salad with apples, arugula and walnuts. I absolutely loved this. We were also served soup, a Batangas-style tinola that had squash in it instead of papaya. The soup was actually orange from the squash. MrC loved this one, and so did the kids. They ate mostly soup and rice for dinner.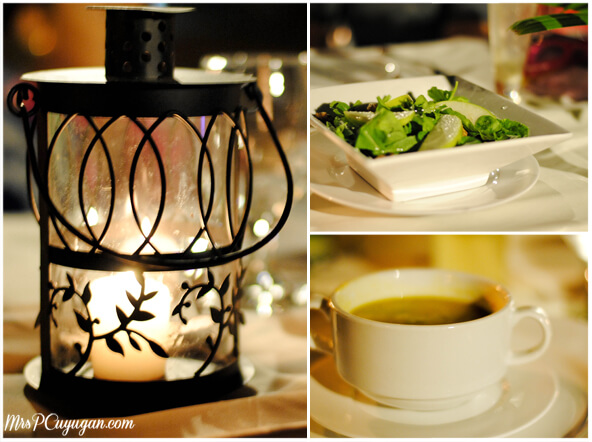 My favorite part of the entire meal was the rice. It was as if the rice was cooked in nilagang baka broth and topped with bulalo! So bad, but so, so good. There was also pancit habhab topped with egg, lechon kawali, crispy binagoongan, bistek-style fish and gising gising. I hope I didn't forget anything! Dessert was a warm, gooey chocolate cake cooked on a skillet with vanilla ice cream, vanilla sauce and strawberry sauce that you could smother onto the chocolate. Just thinking about it is making my mouth water.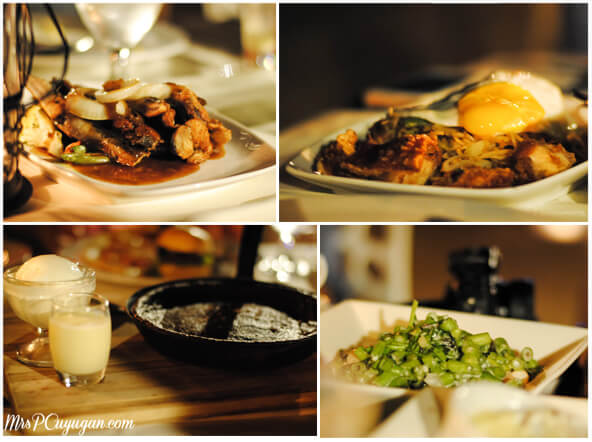 The kids were served their own special dinner set. They had pizza, mac and cheese, mini burgers and huge scoops of ice cream for dessert. We were all so stuffed after this meal that we ordered pots of TWG tea to sip on as we chatted and digested.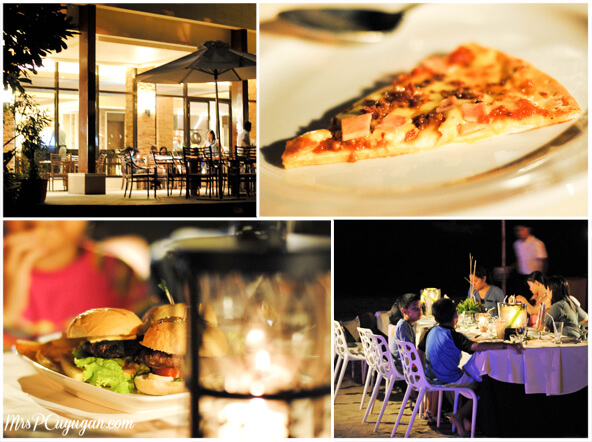 Time to Say Goodnight!
Before long, we all started to get sleepy and it was time to head home to Pico Sands Hotel. The boys and I were pleasantly surprised with the good night "notes" and sweet treats we found in the room when we entered. The turn down service at this hotel is superb. Shades now covered the big windows, the bed was ready for us, and the room was super cold. While the little boy cleaned up, MrC and I ate some of the cookies and pastillas. Yes, more eating!
I was more than excited to take a shower after being outdoors all afternoon. The fluffy bath robe and bedroom slippers were calling out to me!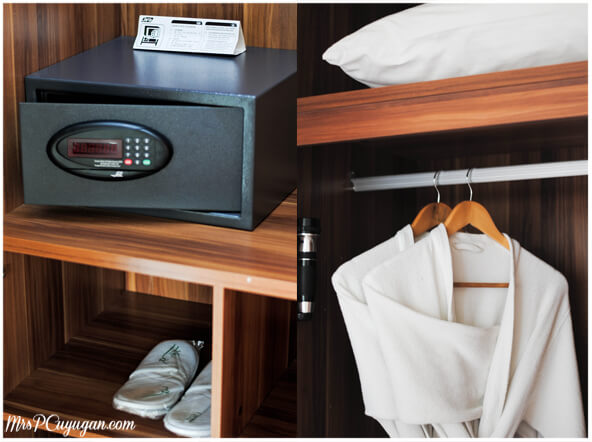 It's important to note that the water at Pico Sands Hotel is not potable. They actually provide guests with bottled water in the bathrooms to use for tooth brushing. I was really happy about that. I usually make sure that we gargle with bottled water when we're out of town just so I can be sure that we don't end up with upset tummies.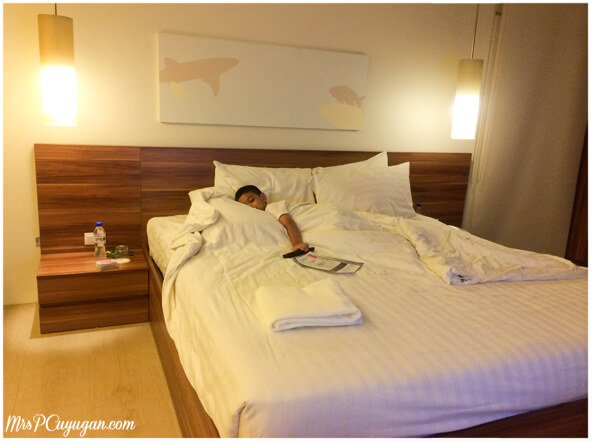 We set an early alarm for May 1, so that we could be sure to make the most out of our one full day at Pico de Loro. The view outside our window was so beautiful that I literally had to take a photo from bed. We eventually managed to get ourselves off that cozy bed and out of room 627, so we could go grab breakfast at Pico Restaurant.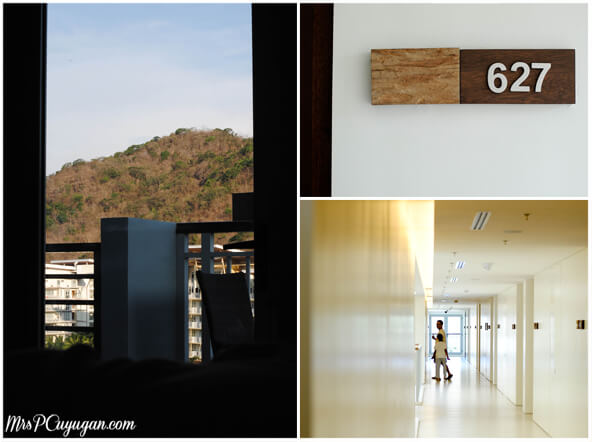 Breakfast buffet, yay!
The breakfast buffet at Pico Restaurant was simple, hearty and filling. The usual pancake and egg stations were located in the garden, each within their own nipa huts. Super cute.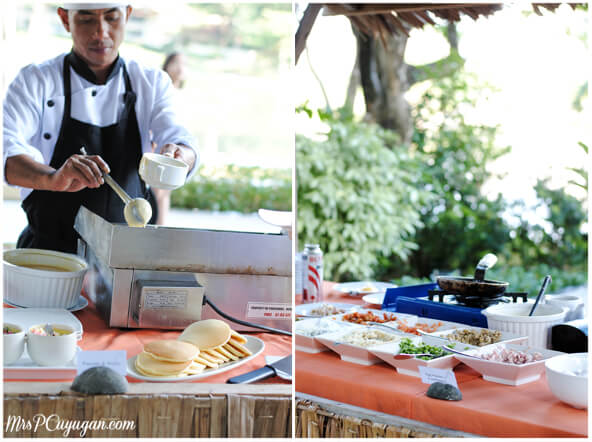 They served both steamed and garlic fried rice, plus a mountain of bacon, fried fish, beef tapa, and sausages. There was a small bread selection with peanut butter and jam, a cereal station, soup and salad. The juices were nice and refreshing and the fresh fruits at the buffet were really juicy and sweet.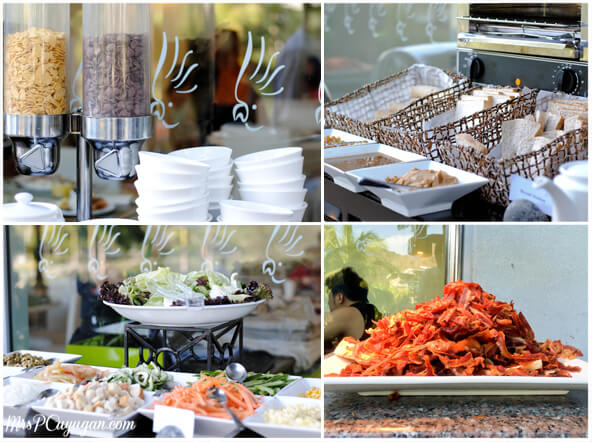 We enjoyed breakfast. Yes we did. The only thing I didn't like was the barako coffee, but that's just because I really don't like barako. I prefer arabica from the mountains, thankyouverymuch.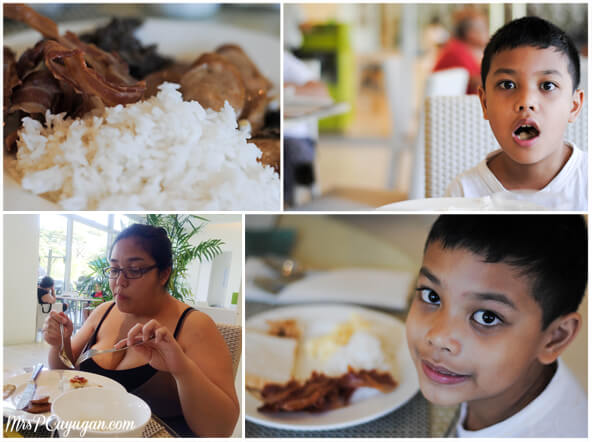 After breakfast, it was time to hit the pool! Unfortunately I was hormonal during our visit and so I had absolutely no pool action whatsoever. Argh. I really need to plan our return to Pico de Loro soon, just so I get to swim there. I'm still not over it.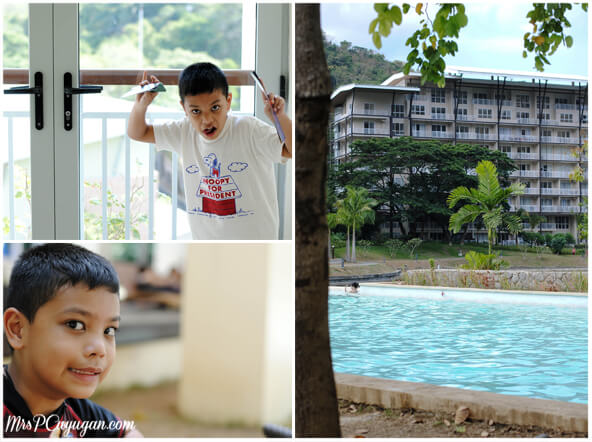 Since I was stuck sunning by the pool, I took the opportunity to catch up on my reading. A few chapters in, and it started to get too hot for my rash-y skin, so I decided to order a watermelon shake to cool off.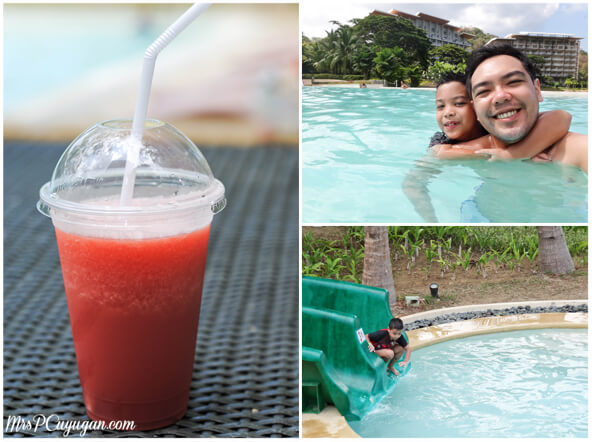 I like that the water depth in the pool of the Pico de Loro Country Cub is clearly marked, so the kiddo knows where he can and cannot go. The pool is also divided into sections, so kids can be confined in the shallower areas while adults and bigger kids are free to do their thing in the deeper areas. It makes for less paranoid parents, really. Plus, there are a lot of lifeguards around the area, and they are easy to spot in their red outfits. Safety first!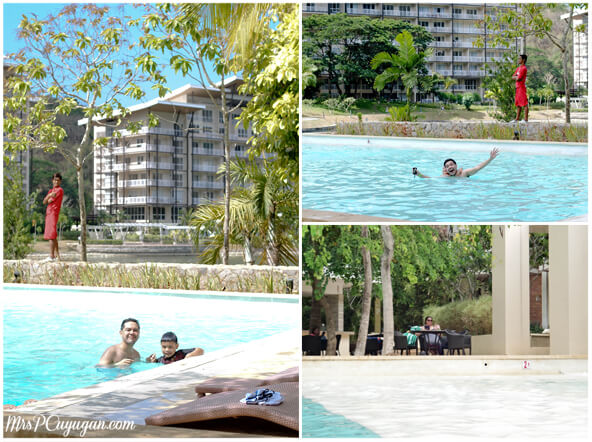 The boys took a break from swimming so that Little MrC and Tim could play in the video game room. After sitting by the pool for a couple of hours, I was also really looking forward to staying in a cold place for a bit and so I said yes to the digital distraction. I thought that after the game the kids would agree to just go to our rooms, shower and then have lunch, but I was so wrong. Tim and this little boy asked for more pool time, and of course us mommies had to say yes. Tina, Anne and I hung around and bonded instead while the two big boys swam with little Rysse.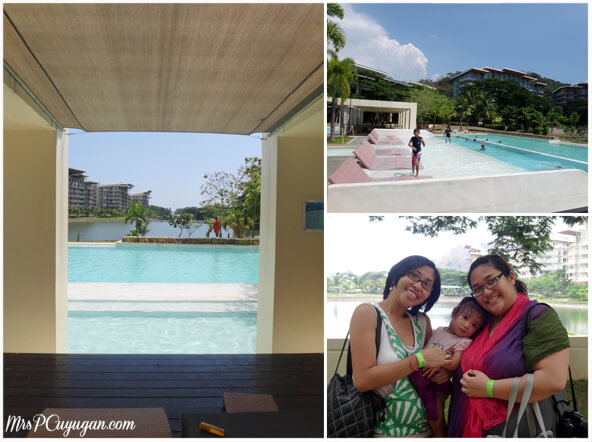 We were all so tired after that second swim. We said our goodbyes to the Rodriguez family before we went to our rooms, because Tina and I were worried that the two little boys might ask to do more activities. Unfortunately, it was almost time to get ready to leave. We decided to order room service for lunch instead of going down to the restaurant because we were lazy (lol), and also so that we could have a little more time to pack and clean up.
Our trip to Pico de Loro was just what this little family needed this summer. We were really looking forward to a nice vacation, and I am so grateful that we were granted one. I overheard my mom telling my cousin, actually, that I have a good thing going on with this blog (her exact words were "Ang gand ng raket nya"). I may not earn much from it as far as money goes, but the things we get to see and do together as a family, all thanks to blogging, are simply irreplaceable.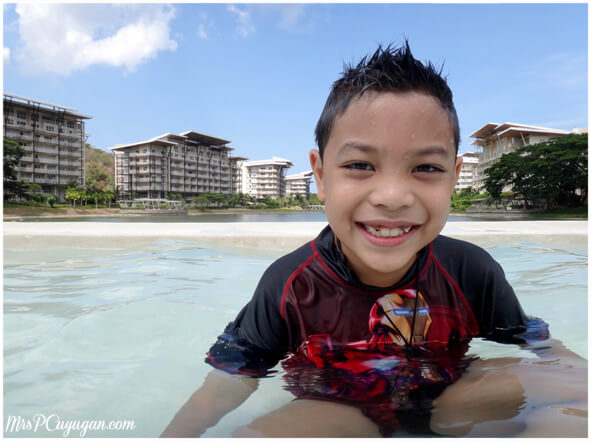 Thank you so very much to the wonderful staff of Pico Sands Hotel, Pico de Loro Beach and Country Club, and to Celine and the team. It's always a pleasure spending time with you guys. We are so excited to comeback to Pico and to Taal Vista real soon.
Pico de Loro Cove is located in Nasugbu, Batangas. For inquiries, please call Pico Sands Hotel at + 632 46478888. Visit their website at http://www.picodelorocove.com and stay connected at facebook.com/picosandshotel and instagram.com/picodeloroclub.