Before anything else, I have to apologize because this post is a few days late. I was supposed to publish this last Sunday, but then I got sick and really wasn't able to function properly until, well, now. So this post has been sitting in my drafts folder for a few days, but the good news is (and believe me, it's good news for you guys too, you'll find out why later), it is finally here. This is the story of our Taal Vista Hotel Staycation!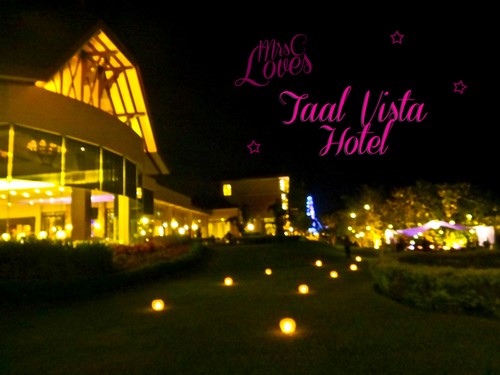 September has become one of those much-awaited months for me for two very special reasons. First, our wedding anniversary is in September, and I don't think I need to explain why that's exciting. Second, September is also the birth month of this blog, which has been my happy place over the last two years. I was actually planning to have a grand celebration for both our second anniversary as Mr and Mrs C and the 2nd birthday of my cyber home, but because life has been testing me lately, I have had to make a sudden change of plans and go for something simpler and cozier.
I was super lucky to have been chosen as the winner of Topaz Mommy's Taal Vista Hotel giveaway, and perfect timing too. I decided to book us at the hotel on the weekend right before our anniversary. Things have been so hectic for me lately, and I really needed the R&R. I definitely made the right decision booking this trip because that was exactly what I got from the moment we drove up the hotel driveway. No, actually, relaxation began the moment I started seeing the wood furniture stores on the road. It meant we were near Tagaytay already, a place we really love to visit as a family whenever we feel the need for a quick getaway. The perfect drive down south was a great start to our staycation, and as soon as we entered the hotel things just kept getting better and better. We were greeted by two fabulous women from the hotel, Celine Arenillo and Treena Tecson. I was so happy when they told us that our room was already available when we got there because we had so much stuff with us! Check in was a breeze, and everyone was so helpful and polite. During last year's anniversary staycation, one thing that I really appreciated about our hotel was that everyone was smiling. This time around, we had the same experience. All of the staff of Taal Vista Hotel looked so happy! I love that, and it really put me in a great mood.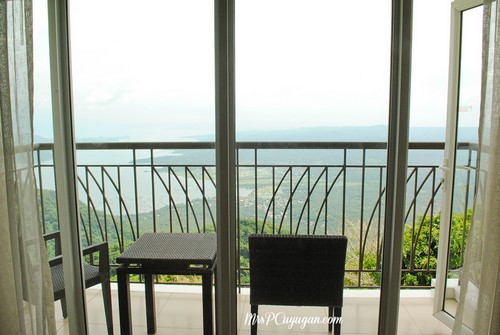 When we got to our room, the first thing that I noticed was that there were two beds, one double and one single. That was the perfect room setup for us, since my little boy is getting bigger by the day, and now needs to sleep in his own bed. Pretty soon, I know that we're gonna need to pay for an extra bed for this one, so I really appreciate hotels like Taal Vista that have big rooms and enough sleeping space for families like ours.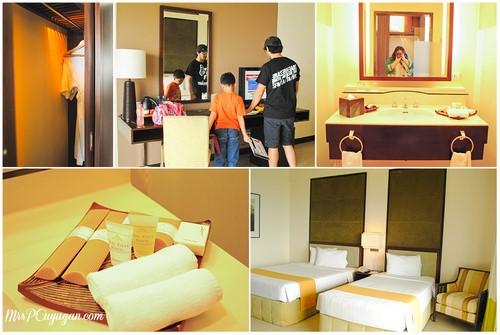 As soon as we were settled in and the boys had the TV figured out (lol, refer to above image), we went back down to the restaurant to have lunch. I'm sure you already know that we are a family of big eaters, so you can imagine how excited we all were to try the yummy Heritage Lunch Buffet, which is one of the things that Taal Vista Hotel is known for.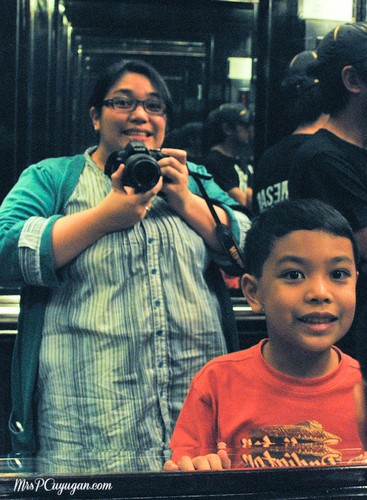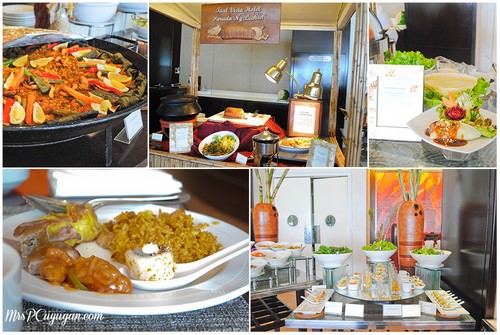 I really wanted to have a salad so that I could make the most out of all the fresh Tagaytay veggies, but somehow I ended up starting out with a plate of paella, siomai, sweet and sour pork, that delicious pork belly lechon, adobong kangkong and a fresh lumpia on the side. After all of that food, I could feel myself getting full already, so I moved straight on to dessert. Oh well, I will have to remember to go get that salad another time then.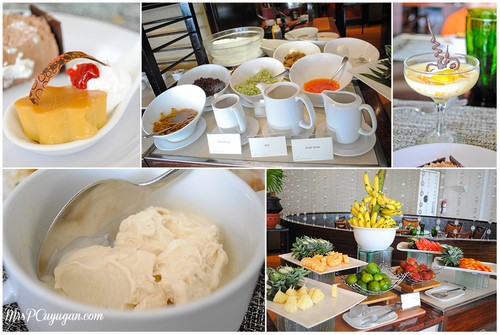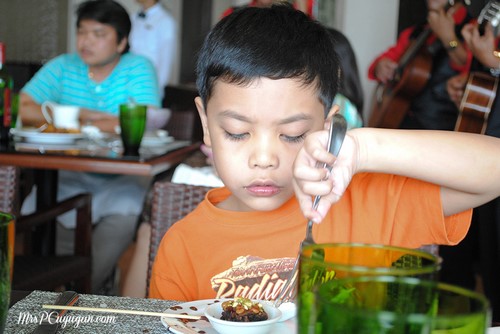 I tried the leche flan, a slice of their moussey chocolate cake, mango sago, and the super yummy homemade gelato which is a definite must-try. I was hoping to have some halo-halo too, coz the make your own halo-halo station was calling out to me, but just like my salad, and those really colorful fruits, that will just have to wait until I get to visit the hotel again. After the bowl of ice cream, I was already too full to function. There was only one thing left that was definitely in order – a mug of coffee. And oh my gosh, their mugs are HUGE! Just the way I like it.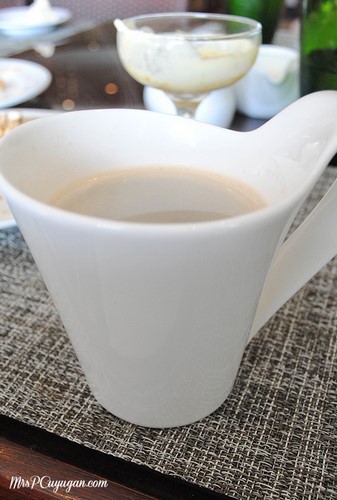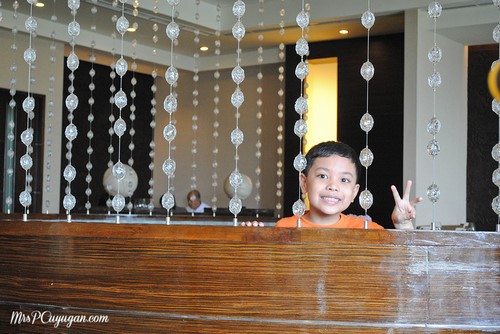 After lunch, the boys and I walked around a bit in the garden and along the ridge. I remember taking family photos in that exact same place years ago, when I was just a little bit older than the kiddo is now. The only difference is that the hotel is so much nicer now, and you can see the giant ferris wheel of Sky Ranch right next door. Before heading back to our rooms, Celine and Treena showed us the really nice pool of the hotel. I would have wanted to go for a swim, but unfortunately I was having girly problems that day and I just couldn't.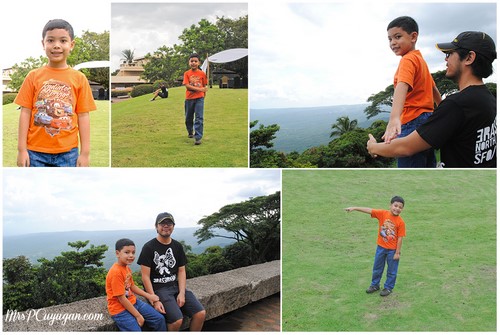 The rest of the afternoon was spent being lazy in our room. The beds were just too inviting to resist! We were originally planning to go to Sky Ranch, but we saw the line for the rides from the window in our hallway, and we decided to just plan another trip there another time. We instead walked around the hotel in an attempt to work up an appetite for dinner. We checked out the Kultura souvenir shop, where the boys got some candy and we bought a present for MrC's sister whose birthday was coming up.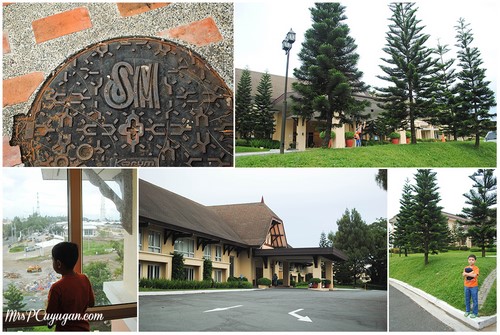 When we got back to our room to prepare for dinner, we were greeted once again by this majestic view that seemed to just keep getting prettier and prettier the longer we were there.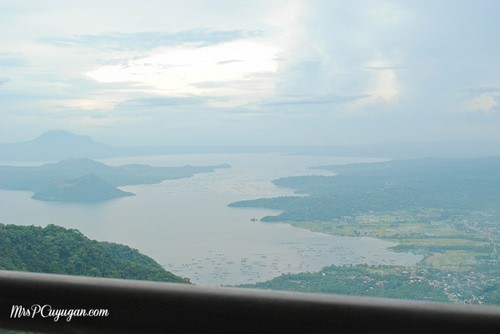 Celine told us that they had something wonderful planned for our group for dinner, and we just couldn't wait. I'll be telling you about that magical evening in tomorrow's post, along with our fun adventure from day two of our Taal Vista Hotel stay.
In the meantime, in celebration of my 2nd year of blogging here at MrsC's Sugarcoated Life, I want to make September extra special for one of my readers too, with the help of my fab friends from Taal Vista Hotel. Yupyup, you guessed it, I will be giving away an overnight stay in a Premier Room with Buffet Breakfast for 2 at Taal Vista Hotel. Yay! This giveaway officially kicks of my (delayed) blog birthday celebration!
Like Taal Vista Hotel on Facebook
Follow @TaalVistaHotel on Twitter
Send me an email at mrspcuyugan(at)gmail(dot)com and tell me why you deserve an amazing Tagaytay staycation.
***THIS CONTEST IS CLOSED!***
You have until October 1 to join. I will announce the winner on October 5. Please include your full name and contact number when you email me, kk?
Excited? I know I am! Can't wait to hear from all of you!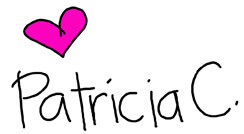 P.S. This is only the first of a series of blog birthday treats that I'll be giving away over the next few days. So like MrsC's Sugarcoated Life on Facebook and follow @MrsPCuyugan on Twitter as well to stay updated on what's coming next!
P.P.S My Taal Vista Staycation Dinner and Day 2 Post is HERE!