May has always been a month to look forward to in our family. MrC celebrates his birthday in May, and I also get my celebration on Mother's Day. It's the middle of summer, so the little boy is often in high spirits, and, best of all, the month begins with a holiday. What's not to love about May?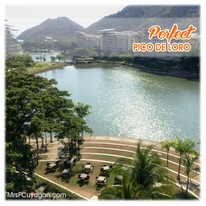 Well, this year our wonderful friends from Pico de Loro (who happen to be our same wonderful friends from Taal Vista Hotel) gave us one more reason to love May. I had been wishing, hoping and dreaming about a summer getaway ever since school closed at the end of March. Finally, sometime mid-April, I received an invite from Celine Arenillo, Area Marketing Communications Manager for Pico de Loro and Taal Vista, for an overnight stay at Pico Sands Hotel. Happy, happy, joy, joy! Even better, we were scheduled to visit the place at the same time as my bloggy mommy friend, fellow WMB contributor, seatmate, group mate and dance partner, Tina Rodriguez and her family.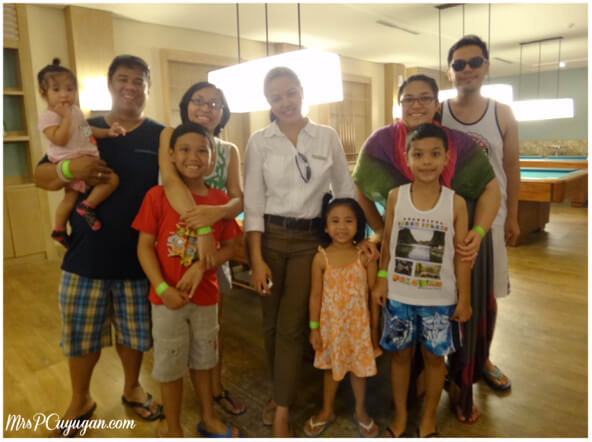 We left Alabang at a little past 2pm on April 30, a Wednesday. MrC had to report to work in the morning, and that's why we weren't able to head out until after lunch. It was a quick and easy drive along familiar roads. While most people take Cavitex on the way to Pico de Loro, that route is actually out of the way for us. Luckily, Pico is only a cove away from Patungan, home of Lolo's Fishville, and we know how to get there via Imus, Trece Martires, General Trias, Ternate and Maragondon. Yup, it's a tour of Cavite!
Pico Sands Hotel
We arrived at Pico Sands Hotel at just after 4pm. Celine greeted us at the reception area and explained our 2-day itinerary as we checked in. Of course, my curious little boy asked question after question about the food, the amenities and the activities available to us.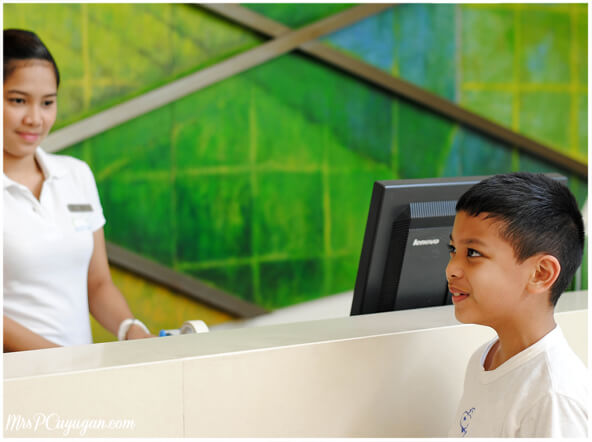 Check in was super quick and easy. We were given our key cards, a map of the grounds, a checklist of activities that we can do while at Pico, breakfast and beach towel coupons, and waterproof wrist tags that we had to wear in order to access all of the amenities. See, some areas are exclusive for members, and so non-member guests are given a different color tag from members and sponsored guests.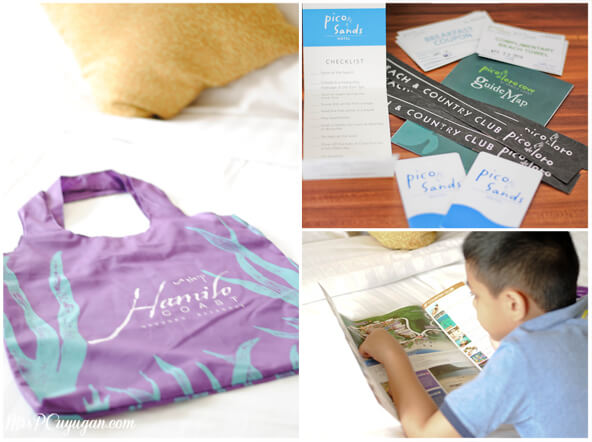 We were booked in a Corner Deluxe Room, which was really big and super cozy. Little MrC is at that age where he can still squeeze into a big bed with his dad and I, and we were happy that the bed was roomy, the pillows soft and the blanket fluffy. I knew right away that I would sleep like a baby at Pico Sands, just like I did at Taal Vista Hotel.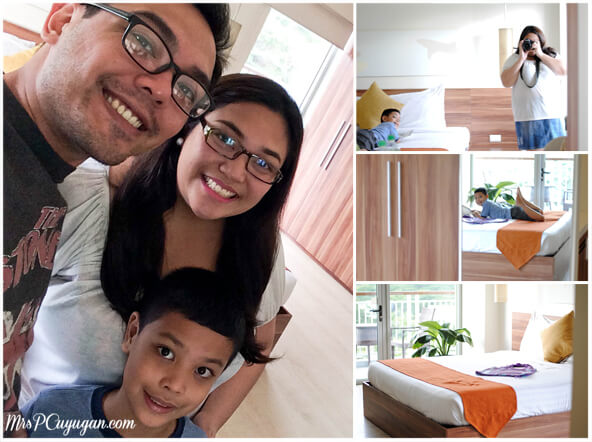 Because we were in a corner room, we had a huge balcony. It was actually wrapped around two sides of the room. We also had lots of windows so the room was always bathed in light. The windows and balcony also gave us access to the gorgeous view of the man-made lagoon and the country club grounds.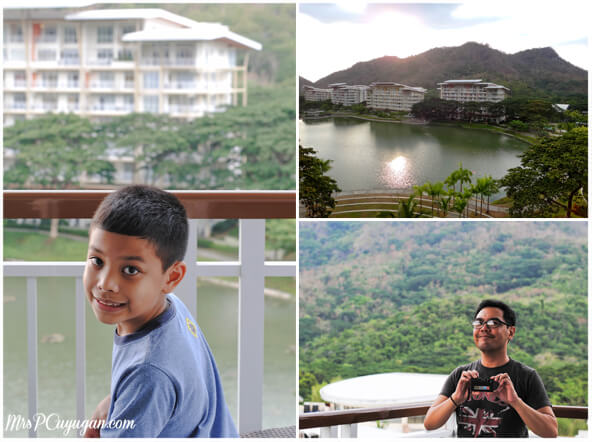 I find that balconies are the best places to read or write, especially when the weather is pleasant. Because this summer is scorching, though, I hardly spent time outside. I opted to use the large writing desk inside the airconditioned room instead. I also didn't bring my laptop on this trip because I just wanted to go on vacation so badly and so I decided to leave work at home. I think that was a super good move.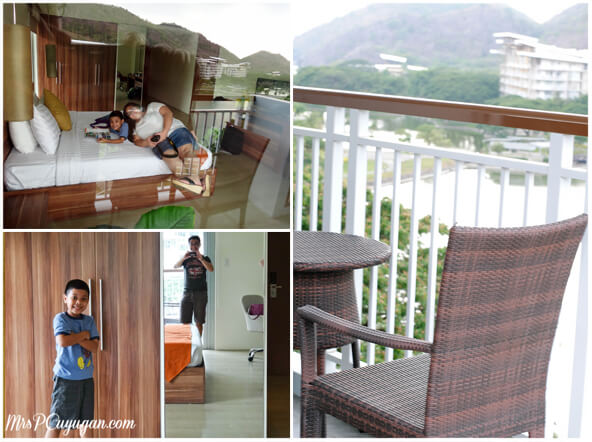 After we got settled and unpacked, I had to leave the boys for a bit to go on a property tour with Celine and the other bloggers in our group. They said they would go and explore on their own too, then sent me off. Back at the ground floor of the hotel, I saw Pico Restaurant where we would be having breakfast the next morning, and Pico Bar where I would have loved to grab a cocktail if we were staying longer.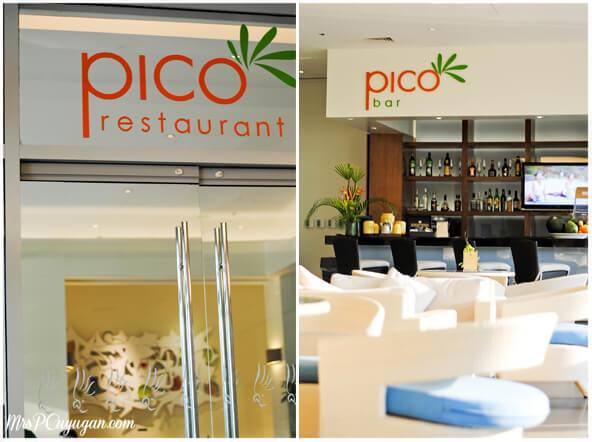 Pico de Loro Country Club
Our first stop on the tour was Pico de Loro Country Club, which is only a short walking distance from the hotel. Guests staying at Pico Sands have access to the pool at the club, as well as the locker rooms, which are big, clean and nice smelling. Yay for that!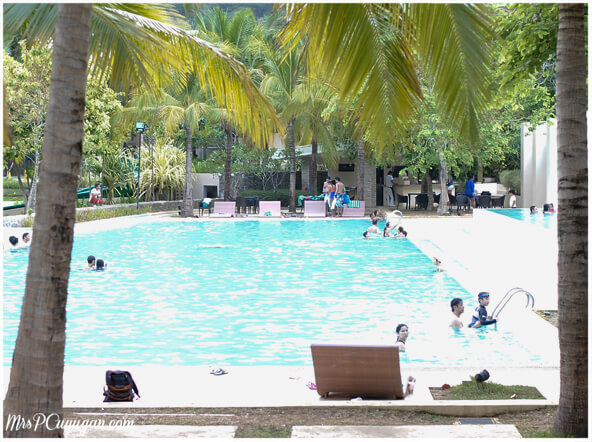 The Country Club also has bowling lanes and billiard tables, and it super reminded me of the resorts and country clubs I visited during my childhood. For the little kiddos, there's Club Pico, a play place with tunnels, a ball pit and other fun activities. My kid is too big for this already, but Tina's girls had the best time playing inside Club Pico.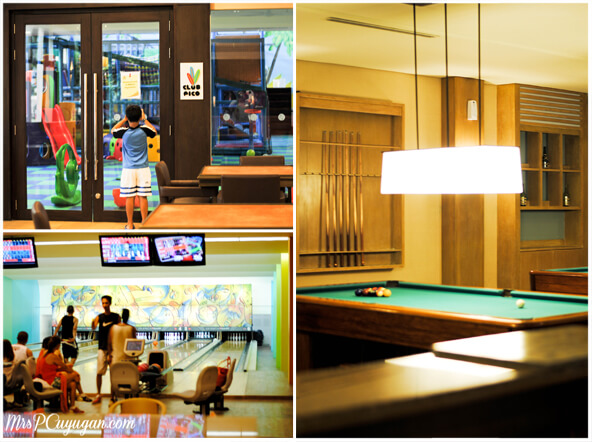 For older kids who aren't big enough for billiards or bowling yet, there's always the Game Lounge, or, as Little MrC calls it, the video game room. At the beginning of our mini-vacation I declared that there would be no video games on the trip. But then on day two, something about the mid-day heat made me say yes to an hour of Plants vs Zombies on the PS3. I guess I was just really happy that my little boy and Tina's son, Tim, really hit it off. They were so in-sync, it was as if they had already known each other for years.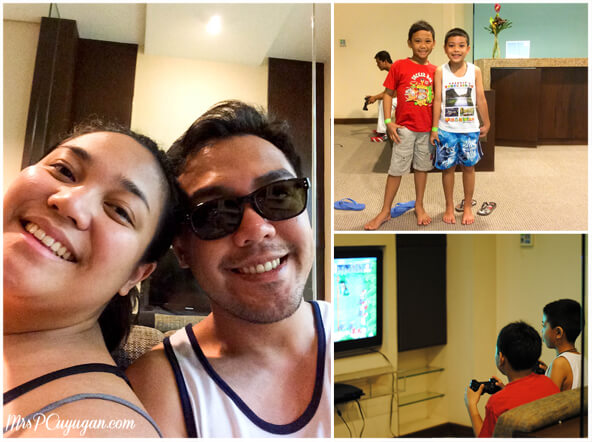 I really would have wanted to try the videoke rooms, but later on decided that I would just save that experience for another visit. The Country Club has a restaurant called Lagoa, a Cafe Lounge and a Lanai Bar. There is also a large ballroom for corporate or social functions. In the same complex, there's a really nice sports area with tennis and badminton courts, a basketball court, ping-pong tables, and even a squash/pelota area. This is really perfect for company team building or sportsfest activities. HR friends, take note!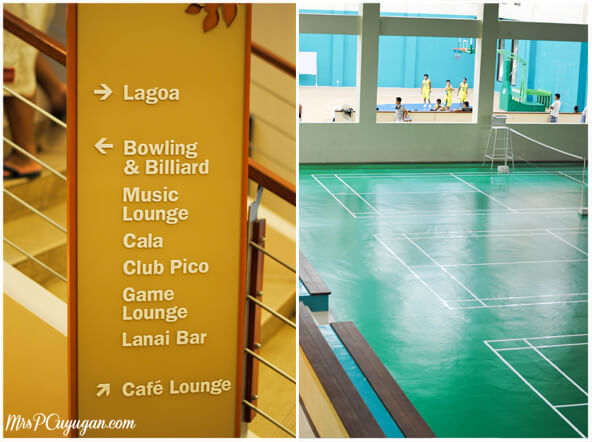 There is also a convenience store at the lobby of the country club where members and hotel guests can buy things like food, sunglasses, and various other things. If you are looking to buy flip flops, beach bags, swimwear or cover-ups, though, you can actually visit the Kultura boutiques, which are located at the lobby of Pico Sands Hotel and the lobby of the Beach Club. I only got to take a quick peek at the convenience store before the shuttle arrived at the Country Club driveway, and it was time for us to go and check out the chapel.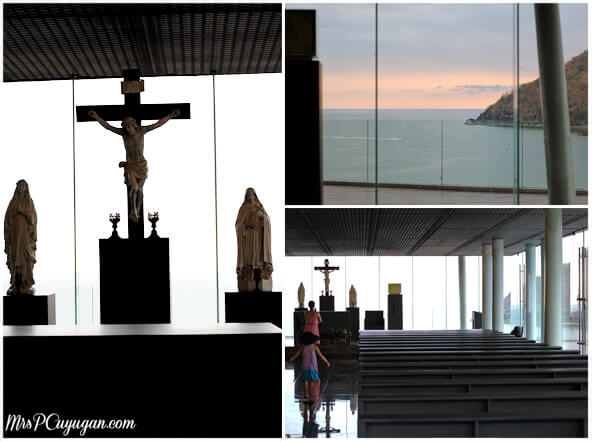 I love this chapel! It gives you a beautiful ocean sunset backdrop, just like what we had during my sister-in-law's Bohol wedding, only with the added perk of airconditioning! It's the best of both worlds, if you ask me. Celine said that this chapel has been used for a celebrity wedding, and also for the wedding of one of Henry Sy's grandsons.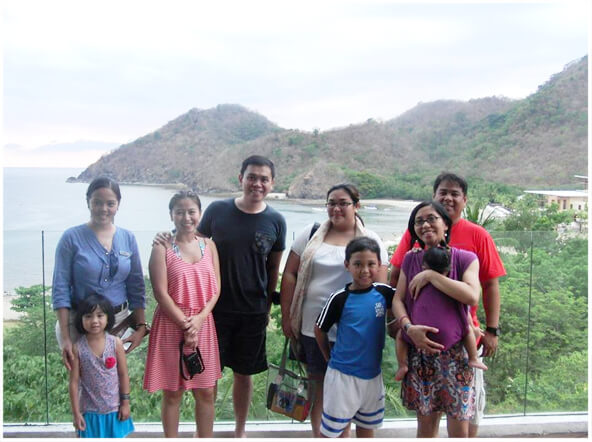 Meanwhile, in MrC land…
We caught up with the boys on our way to the Beach Club from the church. They were trying to catch a shuttle and ours just happened to drive by. I was so curious to know what they did while I was on the property tour. The photos I found in the camera were just so cute that I thought I'd share them here, too!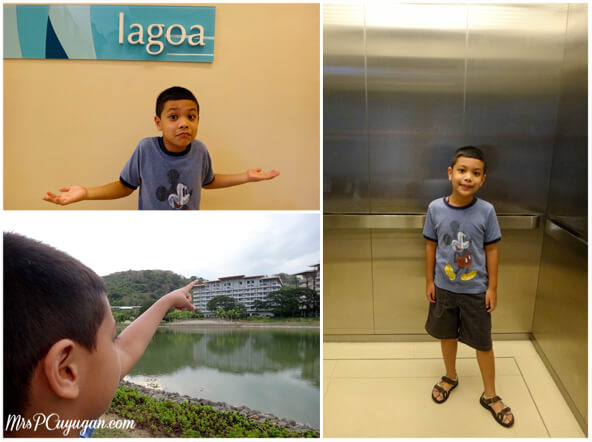 They checked out the country club, the beach and the grounds around the lagoon during the afternoon. That's a lot of walking! No wonder they both looked tired when we picked them up.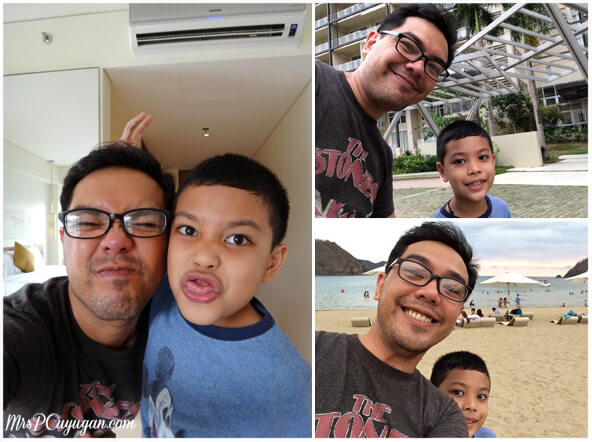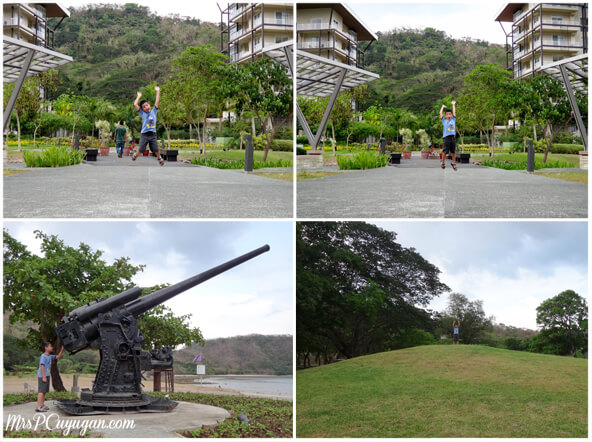 Imagine, we did all of that in only a couple of hours, and day 1 of our vacation wasn't over yet. After the property tour, we had cocktails and then dinner on the beach. And then day 2 was filled with lots of family fun and bonding with the Rodriguez's! So much to write about and so many photos to share, but I will save the rest of the story for another post.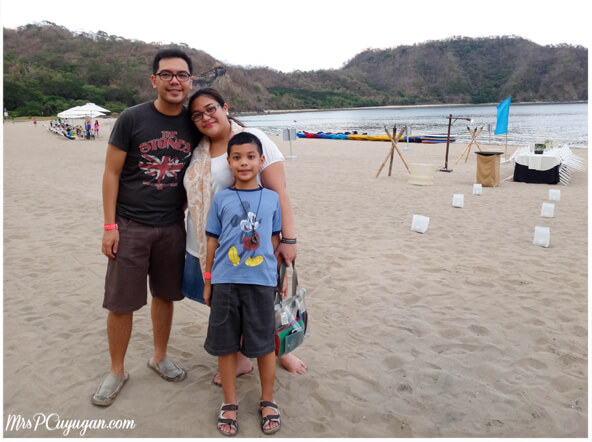 Have you been to Pico de Loro? If you haven't yet, you really should add it to your list of vacation prospects. Honestly, I can't wait to go back!
PICO SANDS HOTEL
Pico de Loro Cove, Hamilo Coast,
Barangay Papaya, Nasugbu, Batangas
+632 2147800 / +632 2147888 / +639178091289
reservations@picosandshotel.com
http://www.picodelorocove.com/
http://www.hamilocoast.com/
#/picosandshotel
For membership inquiries, call +632 9458000