In case you missed it, please check out yesterday's post about our first day at Taal Vista Hotel, Tagaytay. I ask you to do this because I need for you to see the gorgeous (but blurry, sorry) photo of the hotel garden at night. Notice the path of lights and the tent-like structure on the right side of the photo? That's where we had dinner during our Tagaytay staycation.
That was the special surprise that our hosts, Celine and Treena, Chef Edwin, and the rest of their team at Taal Vista Hotel put together for us. It was such a magical setup, perfect for a proposal, an anniversary celebration, or any ordinary night when you want your special someone to feel extra special. Yup, you can have the hotel arrange a beautiful dinner under the stars for you. So romantic! It was a great anniversary dinner for MrC and I, although we had to share it with the rest of our group haha!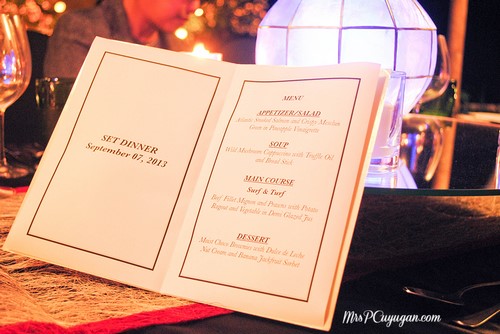 I just have to say that everything we had that evening was oh so good. There was an amazing attention to detail, down to the special menu for the children in our group. I actually tried the kiddie food coz it looked too yummy to resist, and wow, the spaghetti, chicken nuggets and fries really gave me a Ratatouille moment (you know, when that mean chef had a bite of the ratatouille and it brought him back to his childhood? Anyway…)
While I picked at his food, my little boy and his mature taste buds really enjoyed the smoked salmon that was served to us as an appetizer. He also decided during dinner that he wanted to have some blue Powerade in a wine glass, after he noticed that the adults all had their own glasses of wine.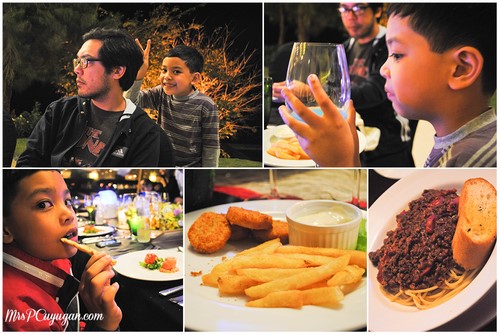 Meanwhile, here's what we big people had for dinner. I especially loved the mushroom soup (I am still dreaming about it!) and the fillet mignon that was so tender you could cut it with a spoon. I love steak!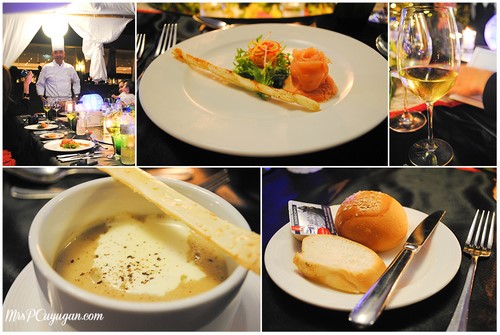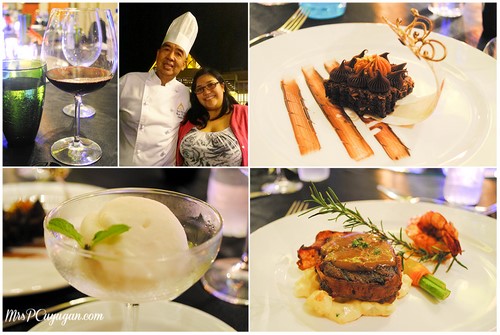 As you can see from the photos, I had some white wine with my starters, and then I switched to red wine for my main course and dessert. Now, I don't know if it's the alcohol, the cool breeze, or the super soft pillows and warm cozy bed that did the trick, but I had the most amazingly restful sleep that night. It was just a perfectly relaxing evening, something that I really wanted and needed.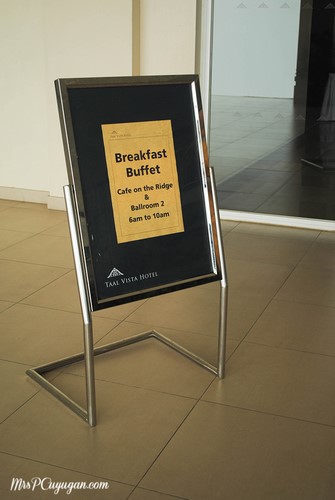 The next day, we got out of bed much later than we had originally planned. The hotel was fully booked, and so when we finally went down to have breakfast, the main restaurant was already full to the brim. Because of this we had to go and eat at the satellite breakfast area in one of the hotel ballrooms, which was fine by me. Now, please pay attention as Little MrC presents to you the breakfast stations!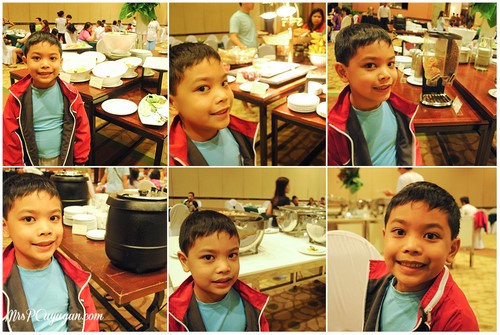 Okay, L-R, from the top row: Salad station. Bread, waffles, pancakes and fruits. Cereal station. Arroz caldo and champorado. Hot food station (where he was obviously unhappy already, and so we ended up not getting a photo of the omelet and juice stations). Back at the table and time to eat!
I was still pretty full from all the eating we had done the day before, but I did manage to still have two plates of food (had to try some of the breads and a bit of the hot dishes), my favorite ham, cheese and mushroom omelet, a glass of mango juice and, my morning must-have, a cup of coffee. If you ever go and have breakfast at Taal Vista Hotel, try their pork adobo. So, so good!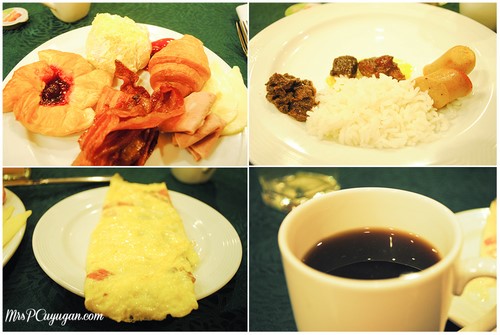 When we were done with breakfast, we took some silly photos, then Little MrC wanted to walk around the foggy garden for a bit. After that, it was time to go back to our room to start packing.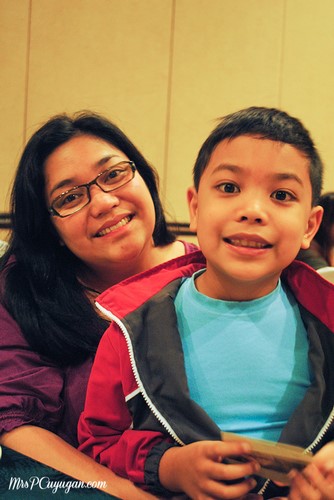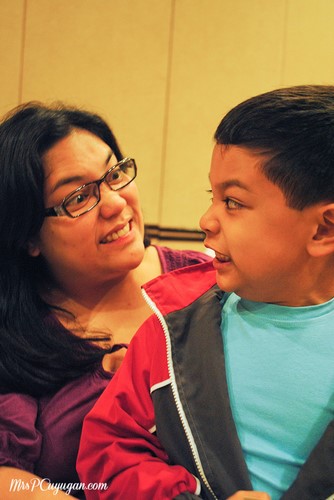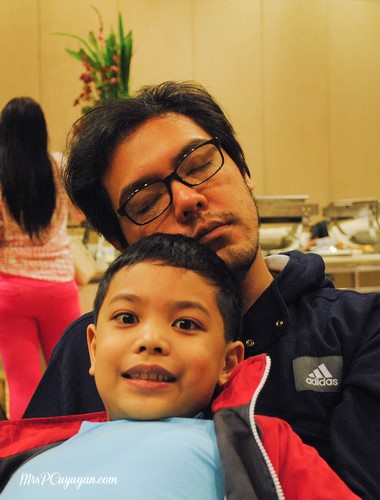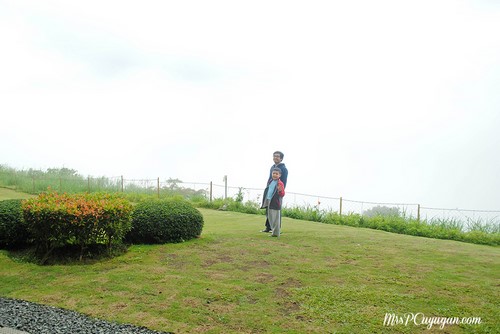 While waiting for MrC to finish getting ready, the little boy and I decided to go for another walk with Treena and Celine, this time to check out the hotel's herb garden. One of the things I love about Tagaytay is that they have the perfect weather to grow everything there, and so you always get the freshest produce with every meal. My dream is to grow my own herbs someday, and I always get jealous when I see photos of my bloggy friend, Marryl's wonderful basil and all the other stuff from her garden in Cebu. Celine told me that their chef is free to use any of the herbs grown in their garden. No wonder everything we ate was so good. Their herbs are just beautiful! I was particularly impressed by the rows and rows of dill that were almost as tall as my son.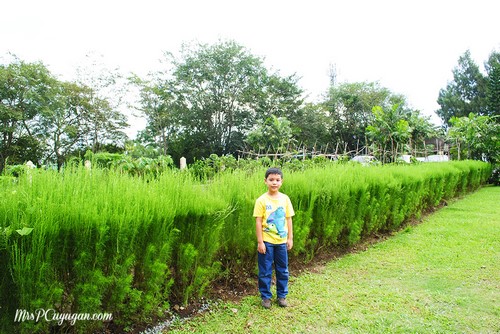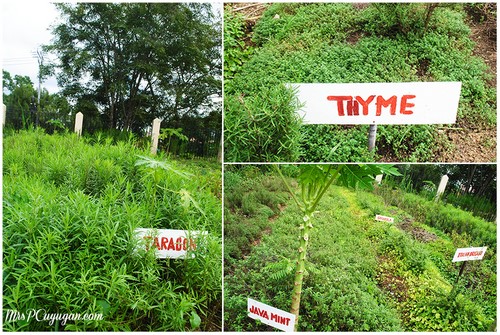 As we walked back to the hotel lobby in preparation to head back home, I remembered that I saw a signature Taal Vista Hotel blend among their TWG tea selections in the lobby lounge menu. I wasn't about to leave without trying that one out, and I'm so glad that I did because it was really, really good. I imagine it would make a great writing companion on a quiet, foggy afternoon. I must do that when I come back to the hotel!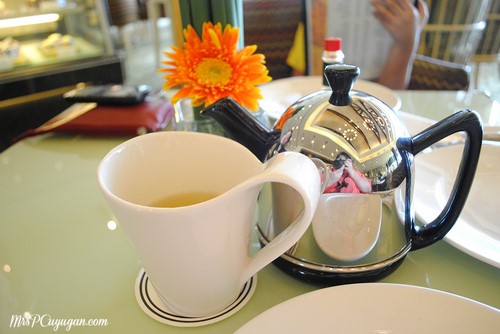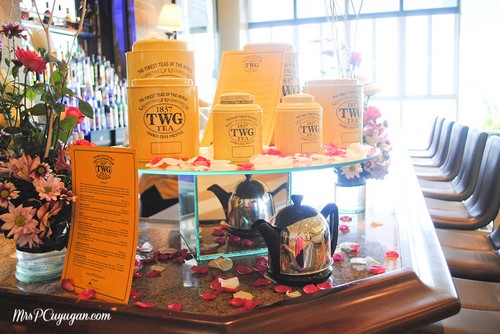 This was by far one of our best Tagaytay staycations, ever! Thanks so very much, Treena, Celine, Christine and the rest of the hardworking team for this amazing experience. We can't wait to come back!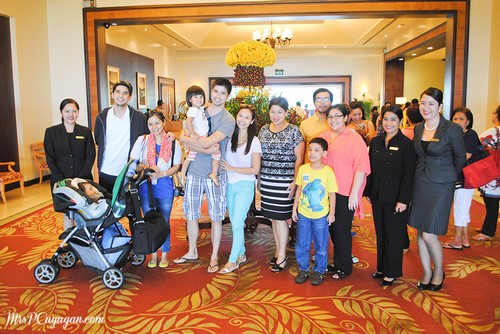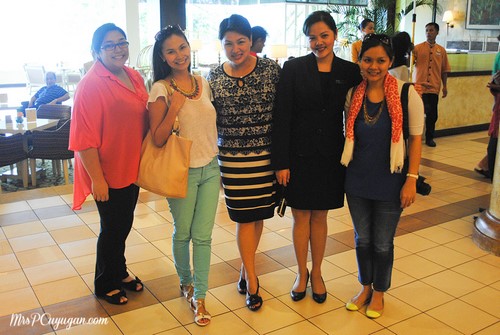 I also want to thank the generous Taal Vista Hotel management for giving me the opportunity to gift a lucky blog reader with an overnight stay in a premier room with buffet breakfast for two! In case you guys missed it in yesterday's post, here are the mechanics for joining:
Like Taal Vista Hotel on Facebook
Follow @TaalVistaHotel on Twitter
Send me an email at mrspcuyugan(at)gmail(dot)com and tell me why you deserve an amazing Tagaytay staycation.
***THIS CONTEST IS CLOSED!***
You have until October 1 to join. I will announce the winner on October 5. And please don't forget to include your full name and contact number when you email me.
I will also be announcing giveaway number two for my Sugarcoated Blog Birthday Party in a few days. I can't wait! 🙂