Have I told you guys how much I love Taal Vista Hotel ?
A week after our dinner date at QiWellness Living, MrC and I escaped for a quick pre-anniversary lunch at Taal Vista. It was a great time to be there because Chef Fernando Aracama was in the house. He was Cafe Veranda's guest chef on the first weekend of the hotel's Culinary Gems: A Festival of Filipino Flavors event.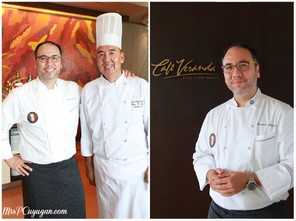 We arrived just in time to catch the opening ceremonies. Instead of the usual ribbon cutting, Chef Aracama and Peggy Angeles of SM Hotels and Conventions Corp. (and my seatmate at lunch!) broke a clay pot over an arrangement of fruits and vegetables. I'm not sure if this is symbolic, but if it is, it probably means something nice. Lol.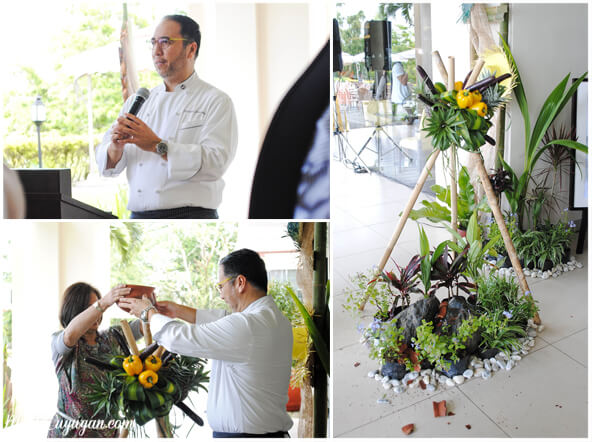 The boys and I had lunch at Cafe Veranda during our weekend staycation at Taal Vista last year. I was excited to see what the hotel's Executive Chef, Edwin Santos had prepared, and of course how Chef Aracama's creations would accent the Filipino food buffet.
As always, Chef Edwin did not disappoint. Everything from the hotel's signature Lumpiang Ubod to the Brazo de Mercedes were so delicious. Chef Aracama's Ilonggo creations we also extremely good. I couldn't get enough of how tasty all of his dishes were. I couldn't get enough of the Beef Adobo sa Tuba and the Sigarilyas Gising Gising Style.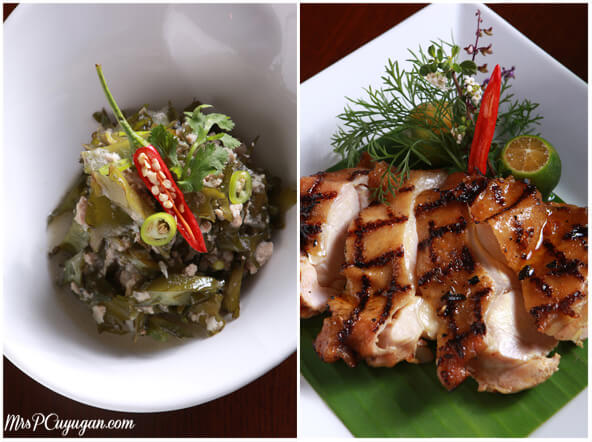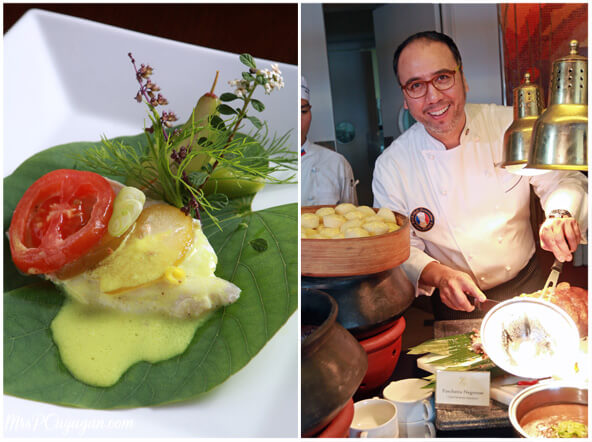 I started my meal off with a plate of assorted appetizers. My favorites among everything I got was Chef Aracama's Malunggay Dip and Pan Tostado, the Salted Egg Brulee, and the Ginataang Langka Triangle.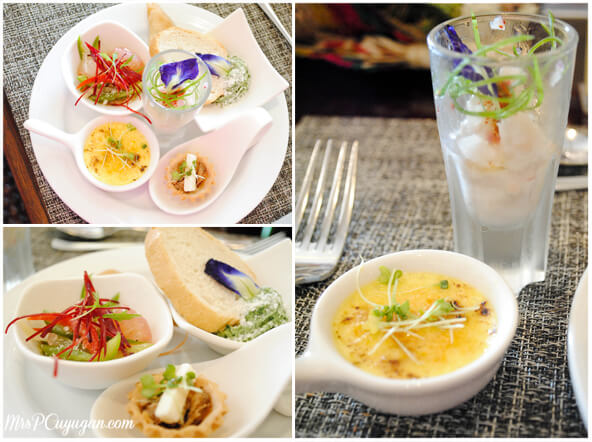 Plate #2 was loaded with all of the Aracama dishes that I found interesting – Kalkag Fried Rice, Sinanglay na Isda en Papillote, Chicken Inasal, Beef Adobo sa Tuba and the Sigarilyas Gising Gising Style . I would seriously have gone back for a second helping of the exact same plate if I had the space for it in my stomach.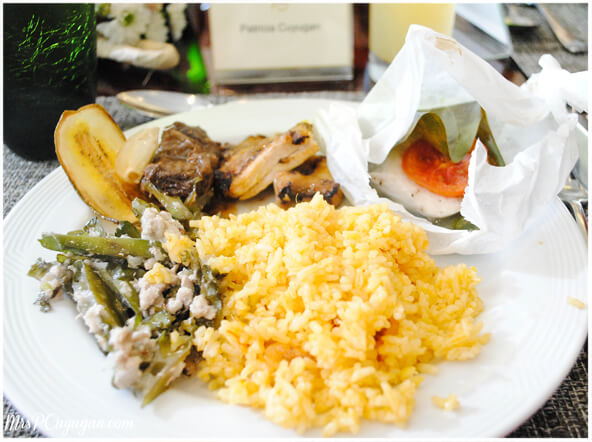 Yes, I had a third plate, but it was a small one. I had forgotten to get Porchetta Negrense during my second round at the buffet, so I took a bite off of MrC's. It was so good that I of course had to go get a few slices for myself. The husbandry had his with the uber delicious vinegar that they were serving that day, while I opted for the lechon sauce. I was expecting the usual lechon liver sauce, but this one had an extra hint of spice and a bite of sourness to it. Oh my golly, so good. I also had some Dinuguan and Puto, a Filipino meryenda favorite that I can never skip, no matter how full I already am.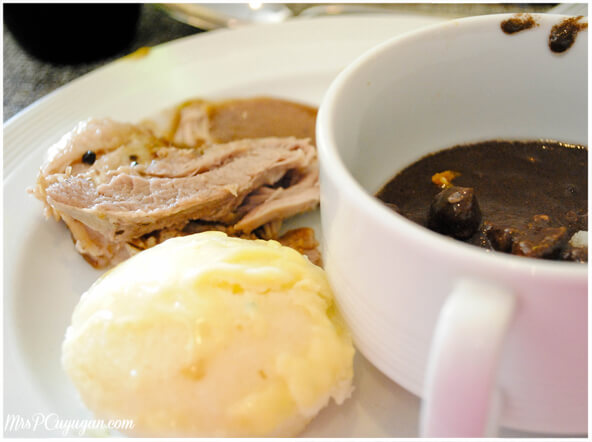 I wish that I could have eaten some more but I was just about ready to burst. So, it was time to end things with a selection of sweet desserts. Chef Aracama's Chocnut Ice Cream was the highlight of my sweet treats. I split a Buko Panna Cotta (also by Chef Aracama) with MrC because I just couldn't finish one whole on my own. It was one of those non-jello-ish panna cottas, so I was happy. And, I couldn't say no to Chef Edwin's Frozen Brazo de Mercedes, because it really is superb.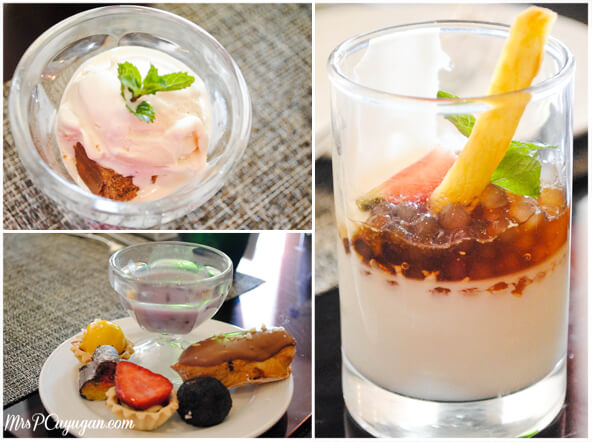 The promise of an amazing cultural show and excellent Pinoy food is a really great excuse to make the trip up to Tagaytay for a special lunch or dinner meal. Chef Aracama's weekends at Taal Vista Hotel are over, but there are other celebrity guest chefs lined up who will bring their unique interpretations of Filipino cuisine to Cafe Veranda. Here's the schedule so you can decide which weekend to visit:
Chef Sau del Rosario – September 27 & 28 (That's this weekend!)
Chef Babes Austria – October 4, 5, 11 & 12
Chef Edwin Santos – October 18, 19, 26 & 26
Chef Bruce Lim – November 1, 2, 8 & 9 (I am definitely planning a visit on one of his weekends)
Chefs Jackie and Rolando Laudico – November 15, 16, 22 & 23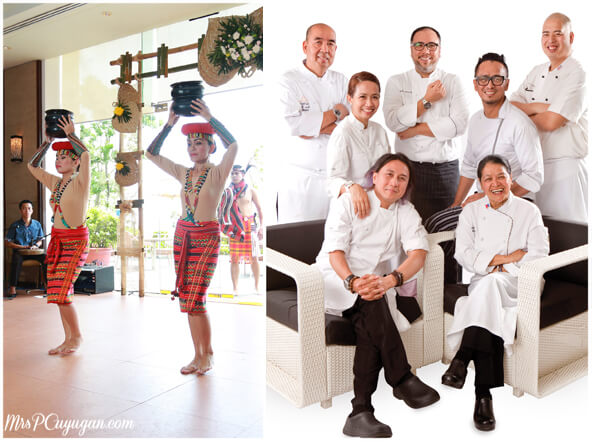 THANK YOU so very much, Celine Arenillo and Treena Tecson for having me and MrC over at Taal Vista again. We love celebrating anniversaries and birthdays with you guys hehe! Thanks also to my fun to kwento with seatmate, Peggy Angeles for letting me know which dishes I really ought to try. See you guys (hopefully) this Halloween!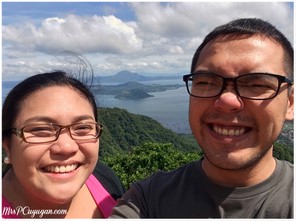 The Culinary Gems Festival of Filipino Flavors continues on until November at Taal Vista Hotel's Cafe Veranda. Saturday lunch and dinner buffet, and Sunday lunch buffet costs PHP1350 nett per person. For inquiries, you may call +632 917-8225.
TAAL VISTA HOTEL
Kilometer 60, Aguinaldo Highway
Tagaytay City, Philippines
www.taalvistahotel.com