My week was literally half work, half play. Monday, Tuesday and Wednesday were super productive work days for me. I was able to submit a couple of articles, script edits, write a few blog posts and attend our PH editorial meeting for theAsianParent.com. Thursday and Friday were partly spent doing some house chores, but mostly I watched Mad Men. From late last week til the end of this week, I managed to watch all of the first three seasons. Yep, I'm hooked, obviously.
I think that the highlights of my past week came on the two Saturdays that bookended it. Both were spent in Tagaytay, my favorite quick escape. Last Saturday was spent discovering the gorgeous QiWellness Living Tea House and Bath House with my ABC loves (as in Alabang Bloggers Club – you will be reading a lot about this fun group in the coming posts), our significant others (or what I like to call the Prince Charming Crew), and a few other blogger friends from the south. We were treated to an amazing 8-course Yin Yang dinner, complete with Asian-inspired cocktails and glasses of wine. What a treat! It was just the date night that we mommies needed.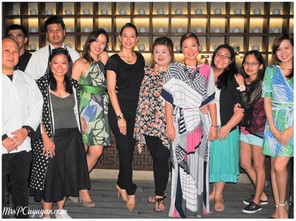 This Saturday (as in today) was spent with MrC. He and I went on an early anniversary lunch date at Taal Vista Hotel. If you've been visiting this blog for a while now, you'll remember that we celebrated our 2nd anniversary at Taal Vista last year. We had the chance to catch the opening of Culinary Gems, a series of special lunch and dinner buffets to celebrate the hotel's 75th year. Over the next few weekends, featured guest chefs will put their spin on local favorites as part of the buffet offerings.
I was beyond excited to meet Chef Fernando Aracama. Oh my gosh I just love this man's cooking. Love with a capital L. I know for a fact that I will be dreaming about his Beef Adobo sa Tuba.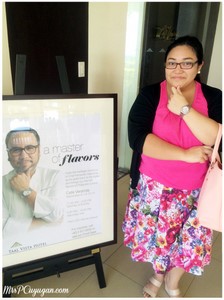 Blogging about both amazeballs Saturdays soon. I actually missed posting a few stories I had lined up for the week. Confession: It's because I chose to watch Mad Men instead of writing. Maybe I should treat myself to an episode AFTER I finish publishing or adding a post to my queue. Sounds like a pretty good idea to me.
How did you guys spend your week? Any interesting stories?