Our family had lunch at Ramen Yushoken in Molito last weekend, and I forgot to bring a camera. Winner. Good think I had the spare, super low-end Android phone in my bag, the phone I use for Instagram. It has a much better camera than my high-tech BlackBerry. So yes,we had lunch at a Japanese restaurant on Chinese New Year. Ramen Yushoken is said to be the best ramen place in the south, and Our Awesome Planet's Anton Diaz agrees!
We had to wait a while for a table, but we didn't actually mind. While waiting, we took a glance at their menu, which was short and sweet – just ramen, a few side dishes and drinks. At the bottom of the paper menu, it states that they don't pack food to go and that they don't have any forks at the restaurant. Mommies and daddies, take note of this! You might want to pack a set of utensils for your kiddos. It was quite an experience for us trying to feed the little guy with chopsticks and a soup spoon.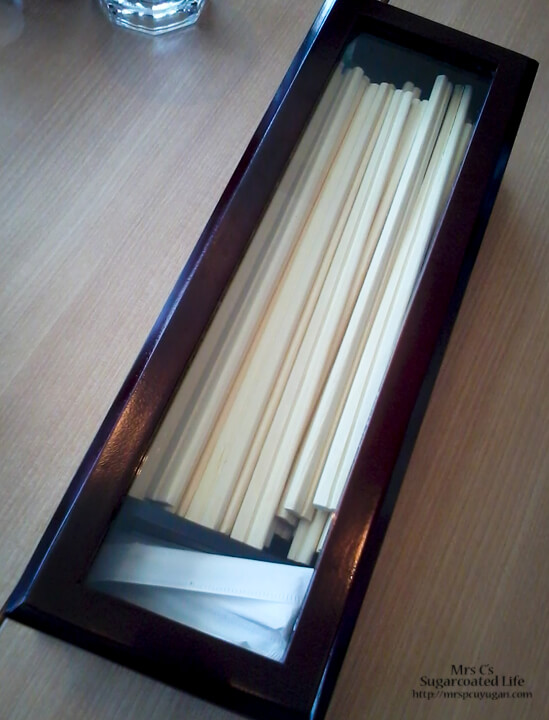 After about 20 minutes of waiting, we were finally seated at the back of the restaurant. That was actually a good place to be because it's a lot less busy than the front, where people were standing around, waiting for tables. Yushoken's interiors are bright and blue and very homey. Like most of the establishments in Molito, they have high ceilings and big windows so natural light really pours in. The thing is we a re a photosensitive family, so we ended up having lunch with sunglasses on. That's bad table manners, I know, but it's better than getting a migraine. I actually looked around at the other tables and saw quite a lot of people wearing shades too. Maybe curtains are in order?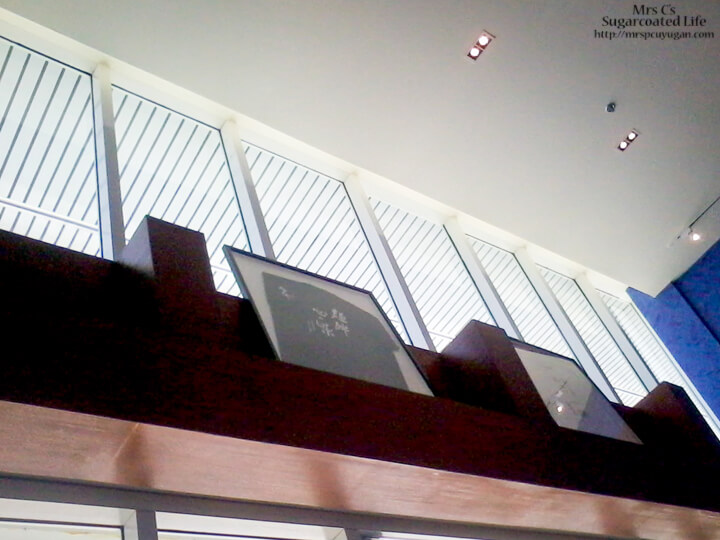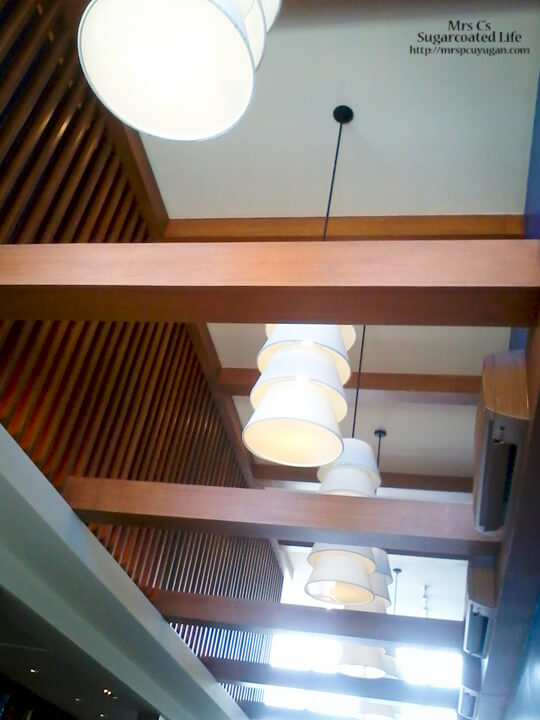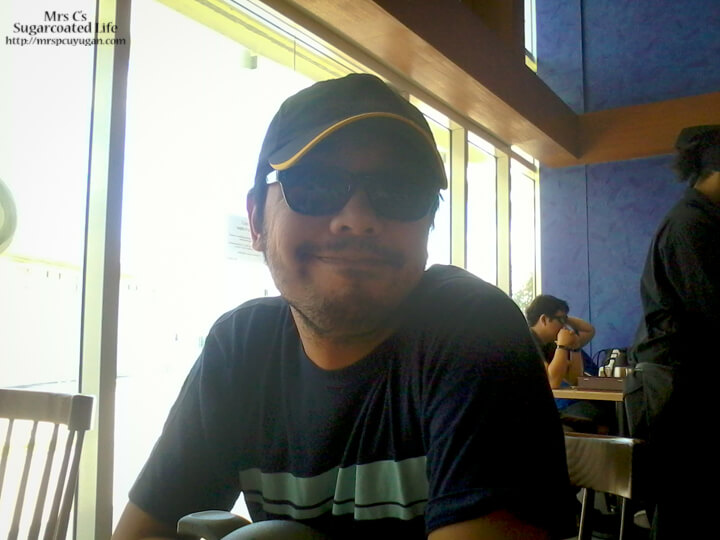 Looking for more places to eat in Molito? Try Cafe Juanita.
As soon as we were seated, our server placed jugs of cold water on the table, then took our drink orders. They serve canned soda, Sola bottled iced tea, mineral water and an assortment of local and imported beer. I got a bottle of my favorite apple iced tea to share with the little boy.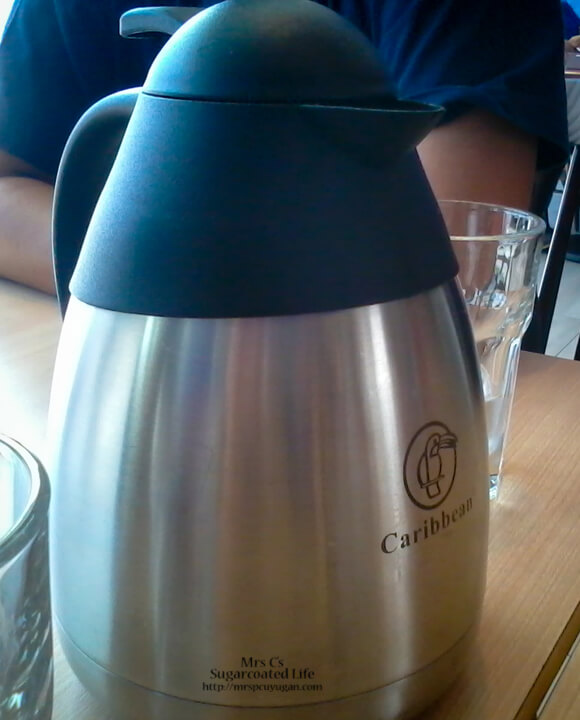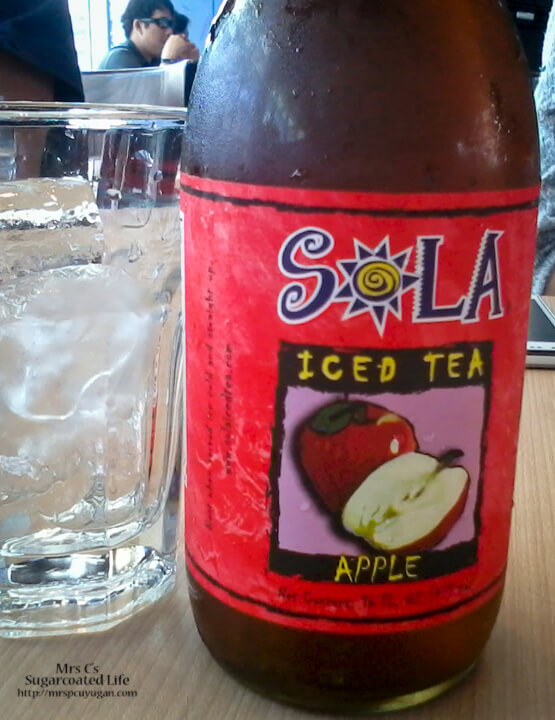 The Food
I am not a ramen person, so you'll have to forgive me when I tell you that my favorite dish at Ramen Yushoken is the Karaage. Ironically, it's one of the few things on their menu that I shouldn't be eating, since chicken aggravates my eczema. But seriously, it is so good, and a perfect pair to the chahan. A small squeeze of lemon plus a pinch of salt on a perfectly fried piece of chicken over a bed of fried rice equals the perfect bite.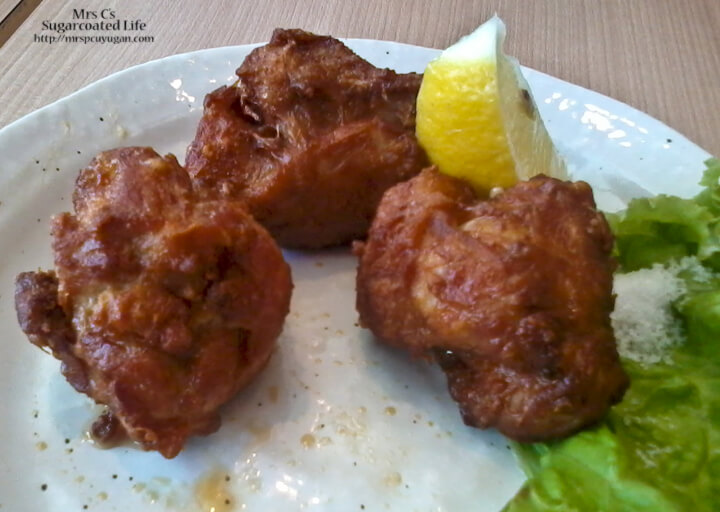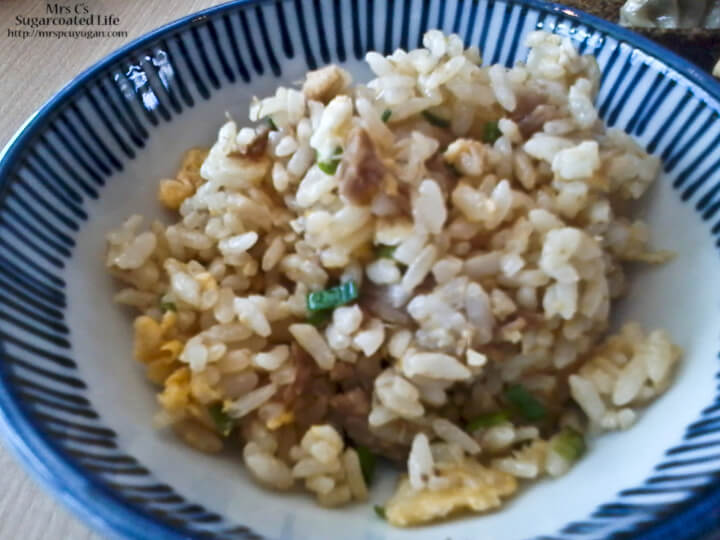 Their gyoza is also really good. As you can see from the photo, the family's chopsticks got to the plate before my camera did. Oh, and I should tell you that this was just one of six orders of gyoza we consumed that day. Yes, we are a family that can really eat a lot.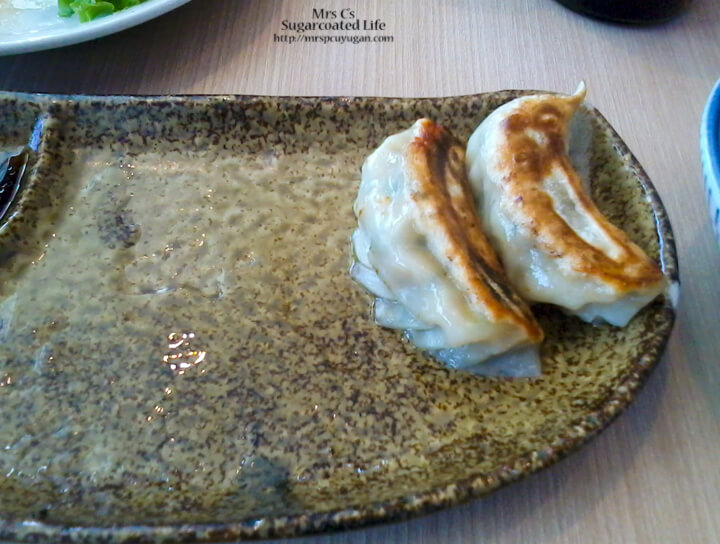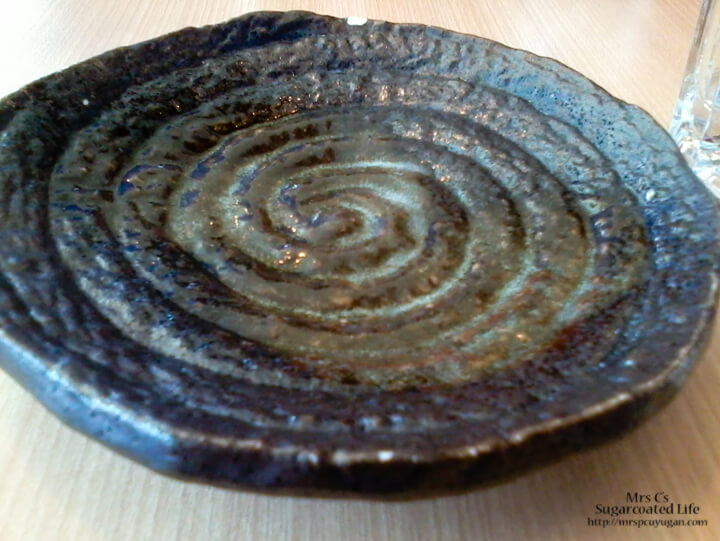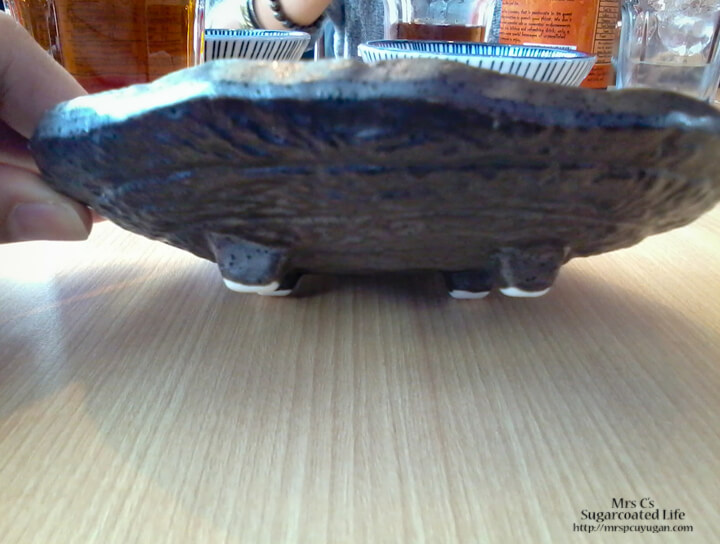 For another take on Japanese food, check out Tokyo Bubble Tea at Westgate Center.
And of course, the ramen. My dad originally wanted to order one of each kind. He loves noodles. In the end, we chose four different kinds of ramen – one each for my mom and dad, one split between my brother and his girlfriend, and one shared by me and Mr C. My sister did what she does best, eat some out of everyone else's bowls/plates.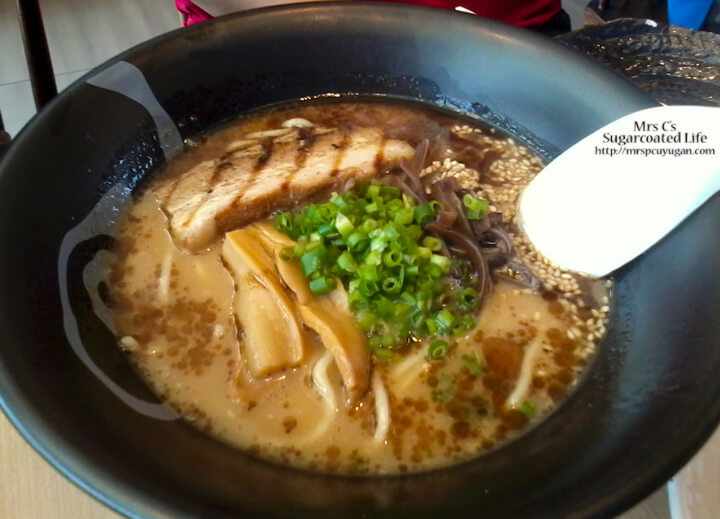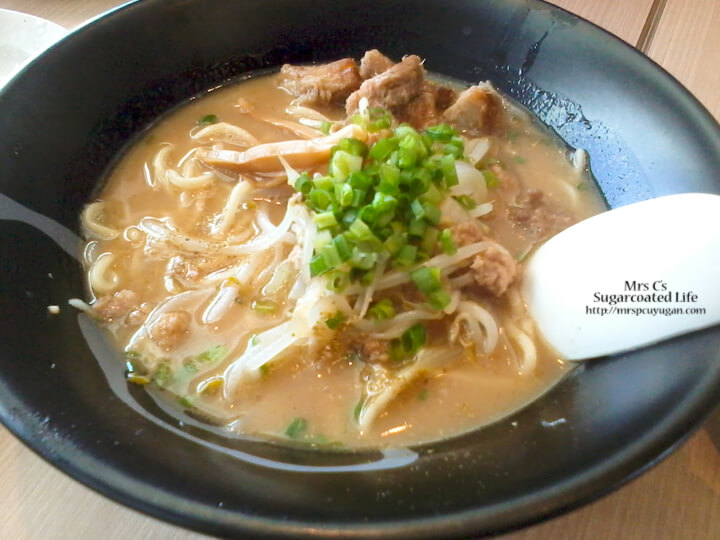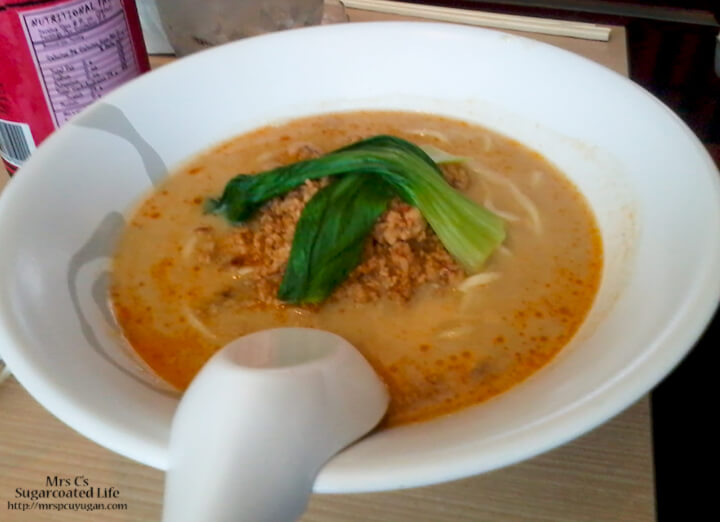 My dad had the Hiyashi Chuka Cold Ramen (Php 370.00). Too bad I wasn't able to take a photo, the plating was really pretty. The restaurant uses the same pork broth base for all the different kinds of ramen. As our server told us, "It's all about pork." They also make the noodles themselves, and you can actually taste and feel how fresh they are when you take a bite. Everything tasted great.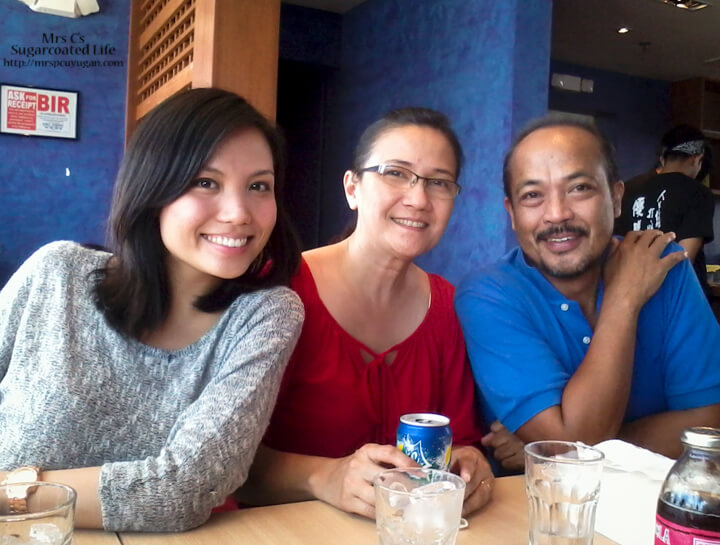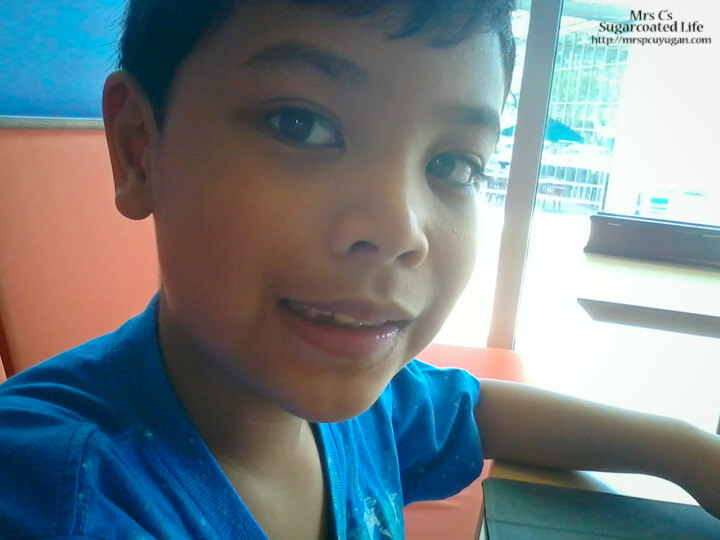 + Points:
+ Food is served right away after you order.
+ Great food.
+ Value for money.
+ The soup spoons can brilliantly be clipped to the side of your bowl so you don't need to worry about it falling in.
+ Super accommodating and friendly staff.
+ The place is comfortable and cool.
– Points:
– Glare galore if you are there for lunch.
– Mystery shellfish hides somewhere in their soup (see the story below).
– No sushi, no dessert. Not a big deal, though.
– No forks! Bring your own if you are chopstick impaired or dining with kids.
Craving for desserts? Visit Le Petit Cheri, also in Molito!
Finally, the mystery shellfish story. We asked the server before ordering if any of the ramen bowls contained seafood because my brother is highly allergic to shellfish. She said that everything was pork-based except for the Gyokai Tsukemen. The thing is, as we were finishing our meal, my brother's lip started to puff up in a very Will Smith in Hitch sort of way. We're guessing there might have been some clams in the broth base. We didn't bother asking anymore since there were a lot of people and we were in a rush to leave after lunch. But I'm making a mental note to ask about it when I go back.
Oh wait, one last thing. I've heard that the restaurant may close early in cases where they run out of broth. So if you are coming for dinner, best to make it early, like say 6pm. I don't think the lunch crowd needs to worry about this.
Yes, I do plan on going back to Ramen Yushoken, even though I'm not a ramen person. The food was really that good. I'd love to try the cold noodles and the dipping noodles. And of course, take better photos.
Have you tried the food here? What did you like best?
Ramen Yushoken
Molito Lifestyle Complex
Commerce Ave, Alabang, Muntinlupa
(Right next to Omakase)
+632 808-7424
Open Monday to Sunday, 11am-10pm
***UPDATE: The owners of Ramen Yushoken got in touch with me a few weeks after our visit. One of them saw this post and was concerned over my brother's allergic reaction. So he asked me for the full story, and I told it to him over the phone. A few days later he called again to say that the MISO RAMEN is made with several different types of miso, one of which has a shrimp component. So that's what got him. So if you have a really bad shellfish allergy, best to take note of this. I think that the owners are really great for checking on this issue. That's great service, if I do say so myself!***
Much love and happiness,