The boys and I have had a really long, super fun week. I realized this morning that we actually kind of started and ended it with Spiderman. Our first Spiderman encounter happened at Movie Stars Care where the boys and I had dinner last Sunday.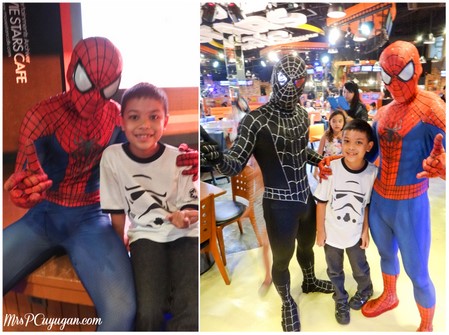 The boys already dined here before, but it was lunch time when they went and so they weren't able to catch any of the shows. It's definitely a lot more sulit to eat here at dinnertime because of the added value of great entertainment and the opportunity to have your picture taken with your favorite movie icons.
I was really impressed with how nice the costumes and memorabilia in the restaurant were. I honestly wasn't expecting it to be as nice there as it was. I think that it was a good thing that I had absolutely no expectations because it helped me enjoy the place even more. Really, I felt like a kid all over again.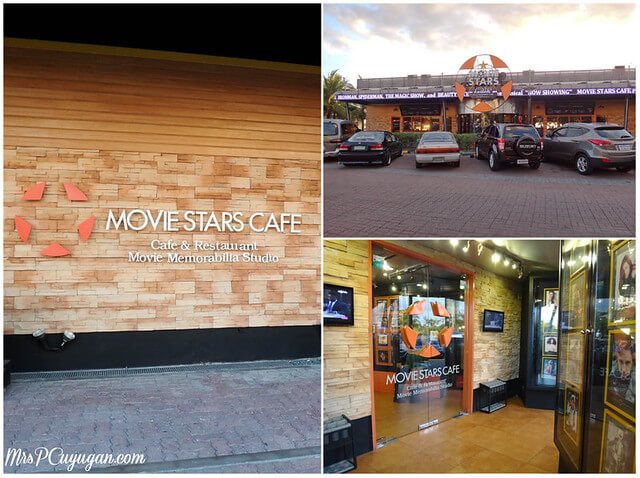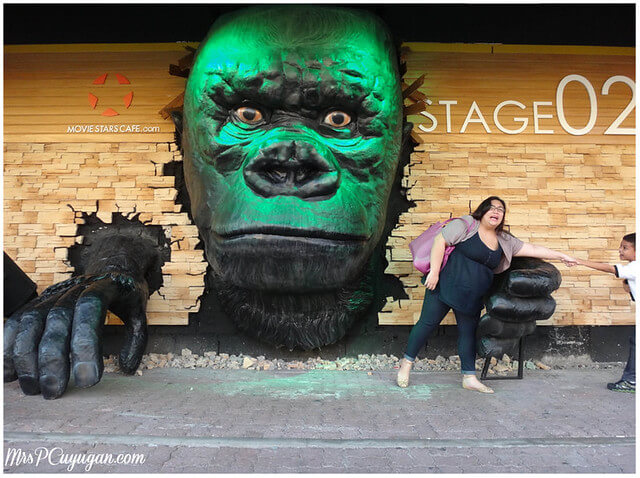 Here's a tip
If you're visiting Movie Stars Cafe for dinner, come early. The cosplayers start coming out in their costumes as early as 6pm. You have a better chance of having your photo taken while there aren't that many people at the restaurant yet. Also, I've been told that the place can get really packed especially if you're coming on a weekend. Yes, there are nights when there is a long queue to be seated, and to think the restaurant can seat 300 persons! So, either come early or make sure to call ahead to reserve a table.
We arrived right before sunset. Apart from not having to deal with icky traffic and being able to choose a table that we liked, we were also treated to an amazing view of the sun sinking into Manila Bay. Told ya, come early!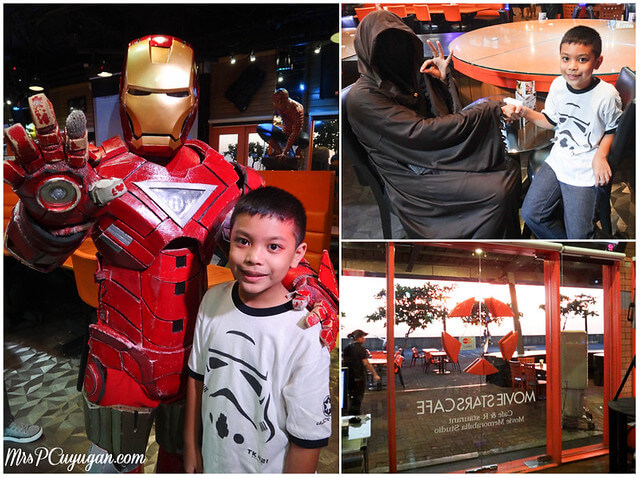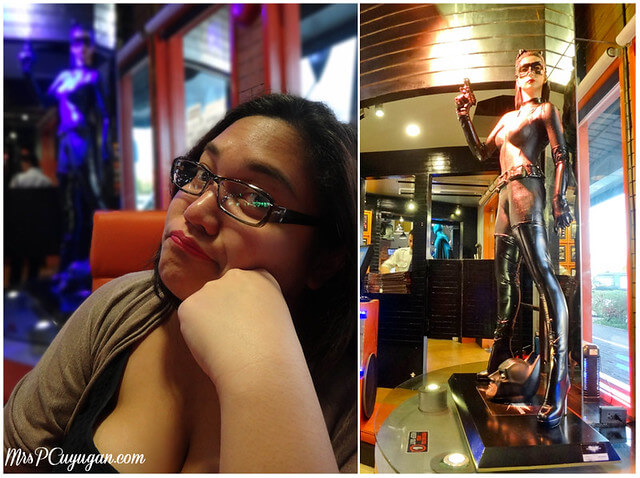 Buffet or Ala Carte?
At Movie Stars Cafe, you can choose to either order ala carte or go for the Dino Buffet. There are advantages to choosing either one, actually. With ala carte, your food is cooked fresh so everything is nice and hot, pasta is al dente, meats are soft and veggies remain firm. You can also take home the food that you aren't able to finish. As for the buffet, if you have a huge appetite, you can really eat to your heart's content, especially if you end up staying for all of the shows. There's also a good selection of items available, so you will get to try a variety of dishes.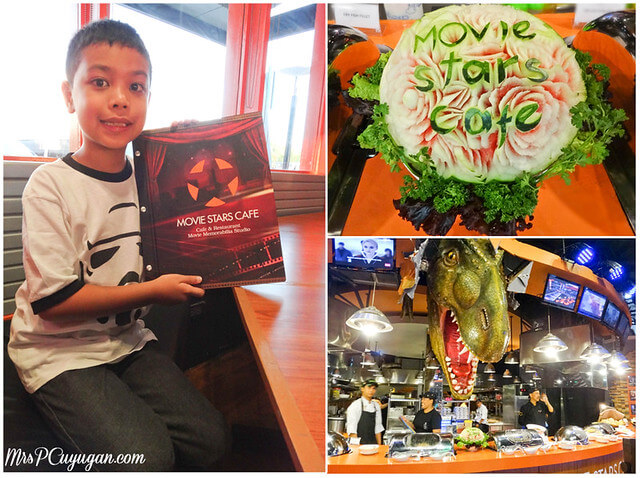 The dinner buffet is open from 6pm to 10pm. Here are the rates:
Adults – P699
Kids 6-12 years old – P499
Kids 3-5 years old – P299
Kids 0-2 years old – FREE
On Fridays, Saturdays, Sundays, holidays and days before holidays, buffet prices are more expensive by P100 per head. You can also upgrade to bottomless drinks by adding P99 to the buffet price. This drink-all-you-can option is only available to those eating at the buffet, and not for ala carte diners. Oh, one more thing. There's a no leftovers policy for the buffet.
I don't have any photos of the buffet offerings the night we were there. If you wanna see what they have, you can check out the posts of my mommy blogger friends, Janice, Levy and Millie.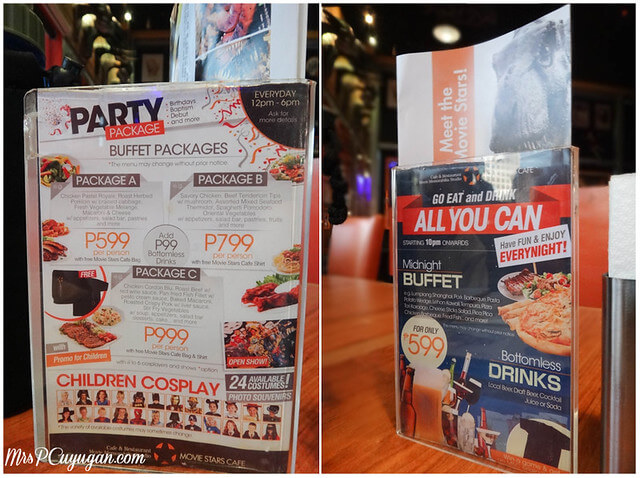 We chose to order ala carte because we knew we wouldn't be able to eat a lot at the buffet anyway. All in all, our bill was about P2,300 for the three of us, and at that rate we ordered quite a lot. The servings are really big, so with just 2 starters, a pasta dish, a dessert and a round of drinks, we were super stuffed. We were even able to take home some food for my brother to try.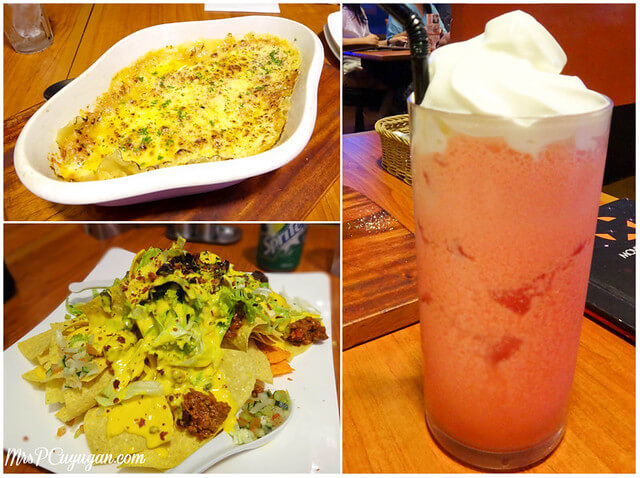 We started with an Overload (P490), which is a platter of blue, yellow and red corn chips topped with chili con carne, bacon, jalapenos, shredded lettuce, olives, cheese and salsa. This was really good.
Little MrC ordered a Four Cheese (P420), lasagna with ricotta, cream cheese, cheddar and mozzarella. I loved how the lasagna noodles were firm and perfectly cooked. Most restaurants here tend to overcook lasagna, ending up with a soggy mess. This one was just right, and piping hot too when it arrived.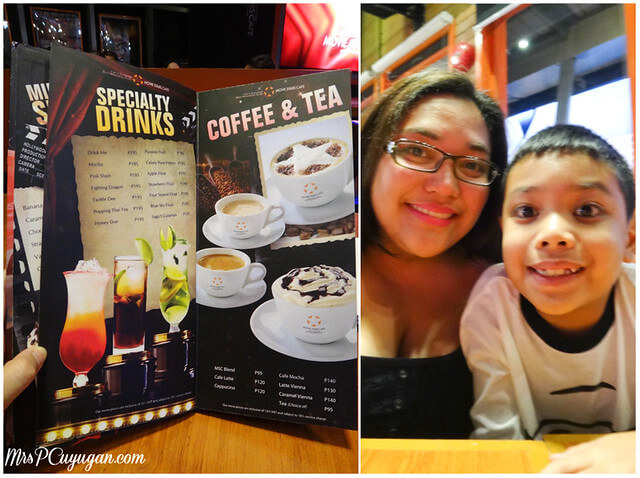 For our drinks, MrC had two rounds of canned soda, the little boy ordered a mango shake, and I chose the Strawberry Float (P195), which our server said was one of their best sellers. It was like a Sprite float and a strawberry milkshake combined. So good. So fattening!
In the middle of our meal, I saw Atom walking outside through the window. The boys immediately got up and ran out for a photo op. Little MrC also stopped to take a picture with Darth Vader.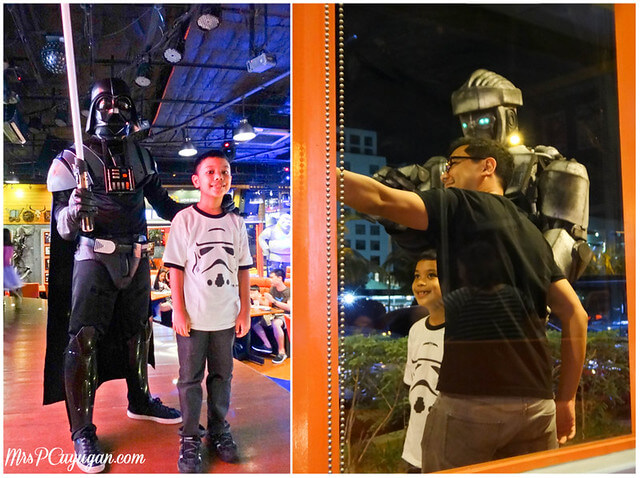 While the boys were off taking photos, I decided to order a Jackson Five (P465), which was a chicken appetizer platter. It had chicken lollipops, buffalo wings, almond chicken tenders, and chicken sate, served with honey mustard sauce, buffalo sauce, bleu cheese dip and thousand island dressing. So, so, so good. I really loved this one.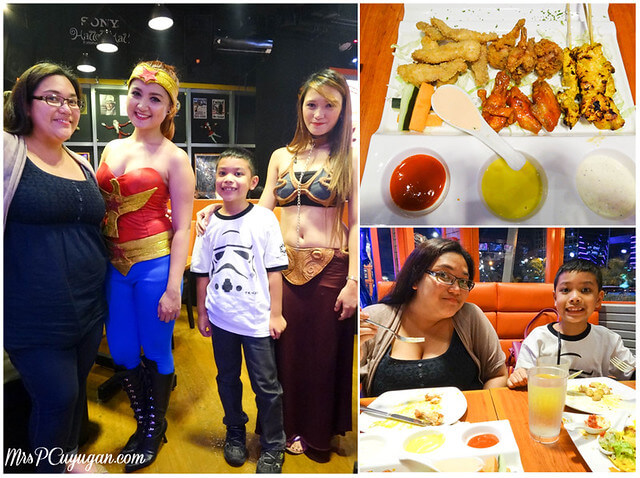 I remembered to save room for dessert this time, so we ordered some before we left. We had the Memory Lane (P240), a layered cheesecake – vanilla on top, Toblerone at the bottom – served with strawberry syrup. The menu says that it's supposed to have cream aglaise too, but ours didn't have any. Oh well, it was still really yummy. The boys and I love cheesecake. This one was crumbly but soft and fluffy, just the way I like it.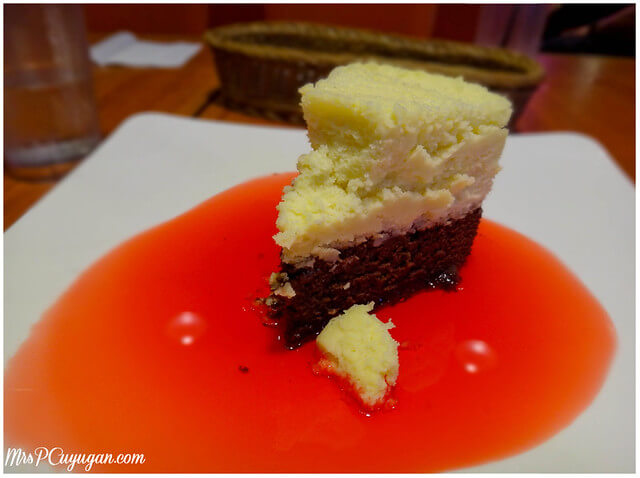 Sights, Sounds and Shows
Don't forget to charge your camera before coming to Movie Stars Cafe. Trust me. I thought that my camera was fully charged, but I WAS WRONG! It conked out before the night ended. Huhuhu. And I was really having fun taking pictures. Oh well, lesson learned.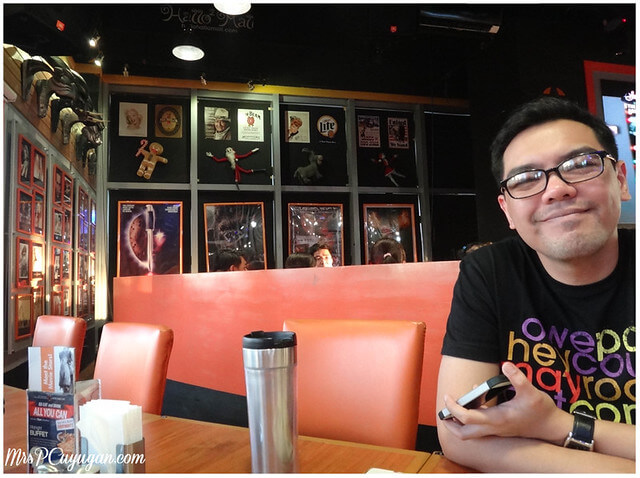 It isn't hard to go crazy taking pictures, after all there are musical performances each and every night! Shows begin at 7pm, Mondays to Saturdays. On Sundays, the first show is at 6:30. Every half hour, there's a performance, and each number lasts for about 15 minutes. Fun!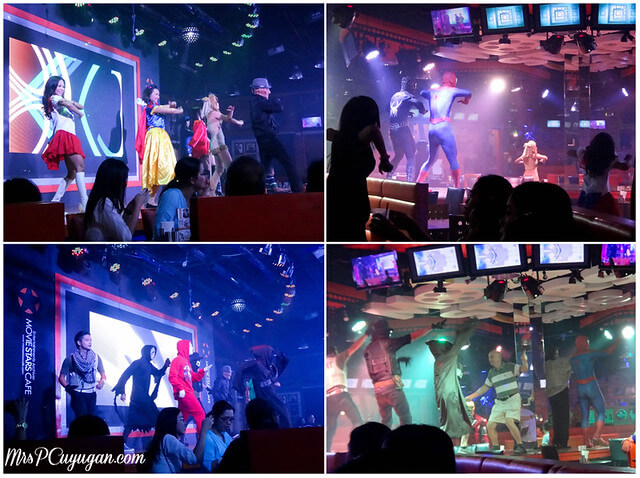 In between performances, we walked around and took more photos with the statues on display all over the restaurant. There were no dull moments for us the whole night, and it wasn't hard keeping the little boy occupied. This is really a great place for families.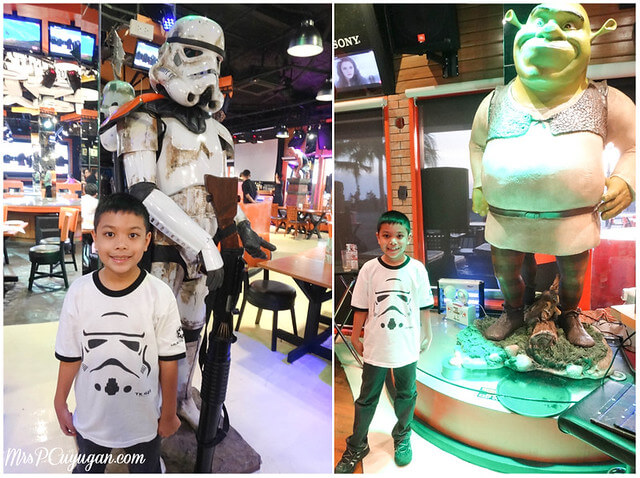 Each night, there are featured performances. When we were there, the main show was Beauty and the Beast. Other highlights were Spiderman and Iron Man. We caught the Beauty and the Beast and Spiderman shows, but by the time Spidey took the stage, my battery was already long gone. Thank goodness MrC was also taking pictures with his phone.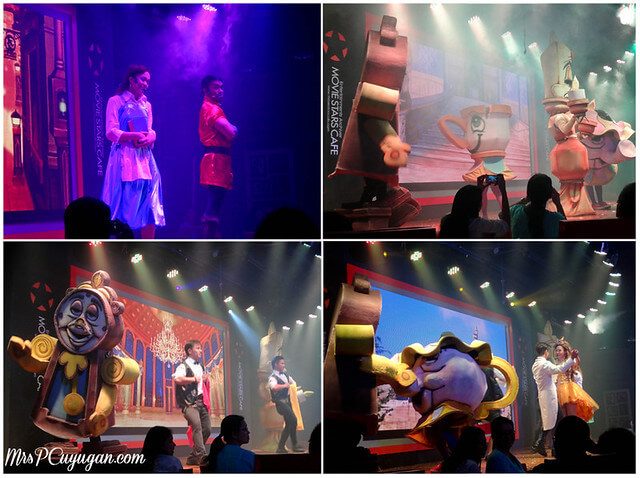 I love how they were able to compress the entire Beauty and the Beast movie into 15 minutes. This is one of my Disney faves, and back when we were in college, I remember MrC took me to see Beauty and the Beast on Ice in Araneta. That was so much fun! I was really glad that this was the featured show when we were at Movie Stars Cafe. I was so giddy that I actually went onstage for a photo with Mrs. Pots and Cogsworth after their performance.
And no, we didn't leave the little boy alone at our table while MrC and I went to take that photo onstage. We actually found the perfect guy to watch him for a few minutes.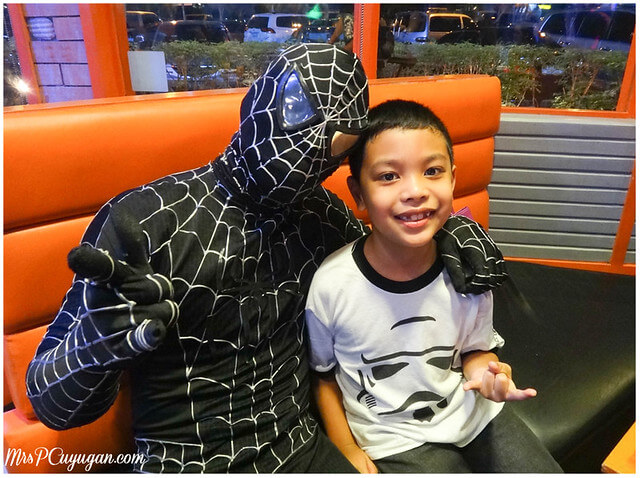 We didn't get to see the Iron Man show coz it was scheduled pretty late and there was work the next day. But we really hope to catch it the next time we come back.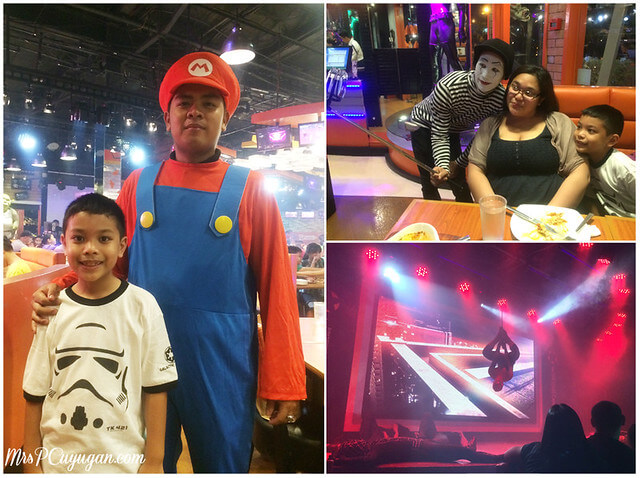 One of the highlights of the night for me was meeting the other mommy bloggers who were there, too. I rarely get to attend these events, and whenever I do, it excites me that I get to finally see these online friends in person.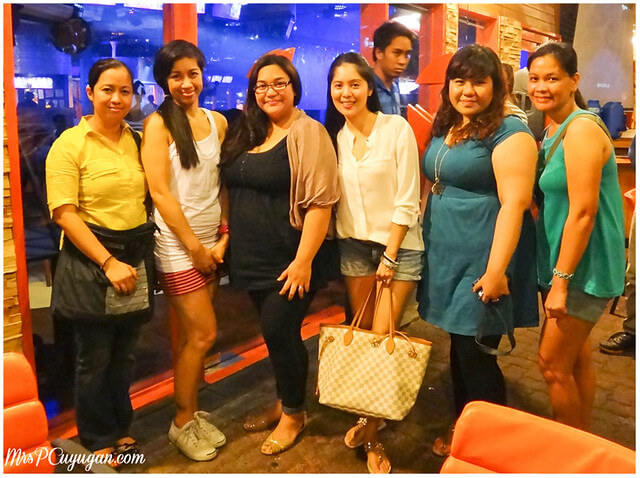 The boys and I cannot wait to go back to Movie Stars Cafe. I also hope that you guys get to experience the fun there, too. So, as a super special treat, I am giving all of you a special 10% discount whenever you dine at Movie Stars Cafe. Really, really. All you have to do is use this promo code when you ask for your bill!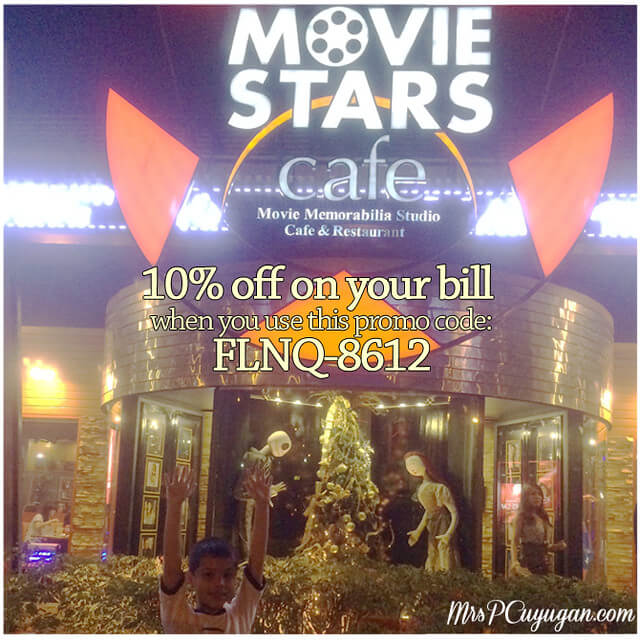 Thank you, Movie Stars Cafe and Mommy Bloggers Philippines for this amazing experience! The boys and I super appreciate it. 🙂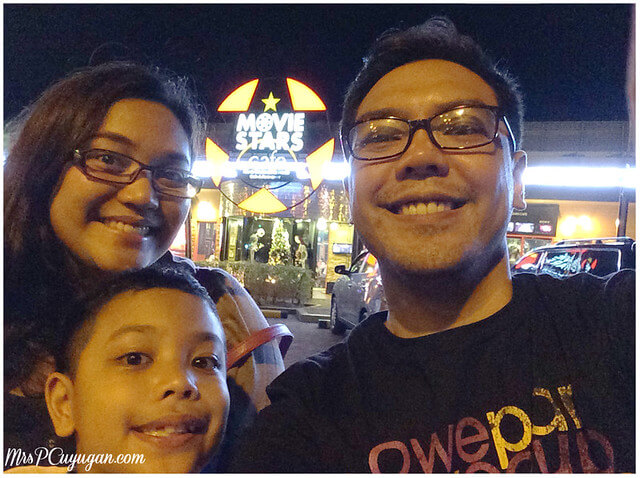 MOVIE STARS CAFE
By The Bay, Seaside Blvd.
SM Mall of Asia, Pasay City
reservation@moviestarscafe.com
+632 550 1234
#/MovieStarsCafe
#/MovieStarsCafe