It has been a very long and full week. A lot of it was spent in the kitchen cooking breakfast, baon and dinner. I really enjoy cooking for the family, even though it really tires me out. I've also been remembering to post my kitchen creations on Instagram, and that is a good thing. One of my winner dishes of the week was Sweet and Sour Pork Meatballs. These are the meatballs. The rest of the steps are on my IG page!
Another thing that kept me busy this past week was our batch garage sale. Little MrC's batch will be having their First Holy Communion this coming school year, and this was one of the fundraising projects that the Parents Association put together for it. It was fun working with the other moms, sorting and pricing the items for sale. The kiddo also enjoyed playing with the other kids who hung around while the moms worked. THe best part of all this was that I got to get rid of some of the things we no longer use at home. Yay for finally starting on my purging project! I did buy some cook books and cooking magazines, though, but those I'll be able to use for sure. And I got all of these for only 200Pesos!
I happily capped off this crazy week in the best way ever, with a girls' night out with my ABC loves and our significant others. We spent the evening at Century City Mall in Makati, which was nice and clean and spacious. It was my first time there, and I already told MrC that I want to go back and go shopping. Soon. We had dinner in what I now fondly think of as Kessaku's cousin who lives in Makati, Yumi Japanese Restaurant. I've gushed over Kessaku several times here on the blog, and you can look forward to a blog post gushing about Yumi real soon.
After dinner came drinks at 12 Monkeys Music Hall and Pub. It has been forever since MrC and I went to a gig, and so I was really happy to be at 12 Monkeys. I can't wait to catch one of my favorite bands there coz the sound in the place is really good. It's nice and comfy, too, with amazing food. Perfect for me, as I am quickly becoming tanders (aka old and boring). Blogging about this experience soon, too.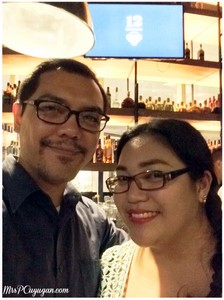 My greatest achievement this past week was posting every day and significantly cutting down my blogging backlog. Yay!!! Here's a roundup of posts that came out this week. Please read them?
And with that, this tanders is going to bed. Hope you all had a fab week, too.