I've been dealing with a lot of domestic drama lately because our helper has been very un-helpful. I won't get into details because just thinking about her makes me angry. She did something unacceptable again today, and this really made me wish that I could escape to one more staycation this weekend. But alas, we are going to be mostly home over the next couple of days, and so I will write about a past staycation instead to make myself feel better.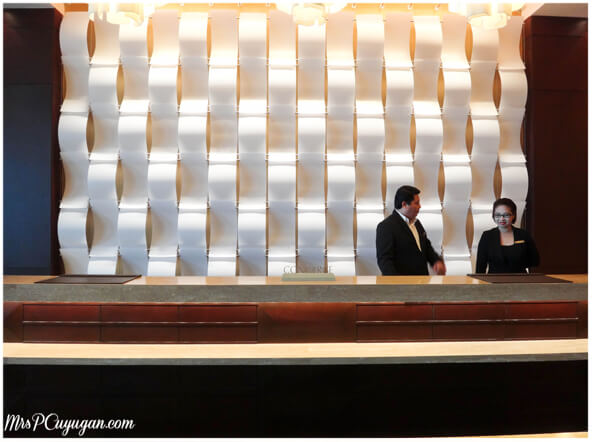 I love staying at hotels for one simple reason – I get to feel like a donya for 24 hours. I know that it sounds bratty, but it's true. I have this list of mommy luxuries that I like to indulge in, and an overnight stay at a good hotel automatically gives me at least 5 of those things. Let me explain by showing you which of these indulgences I got to enjoy during our recent staycation at Crimson Hotel in Filinvest, Alabang.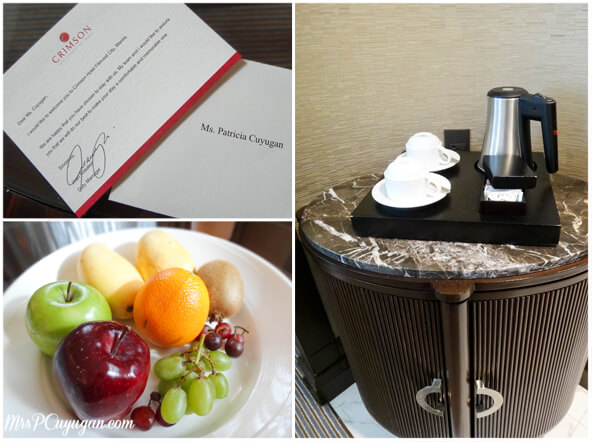 A nice, clean, spacious space all to ourselves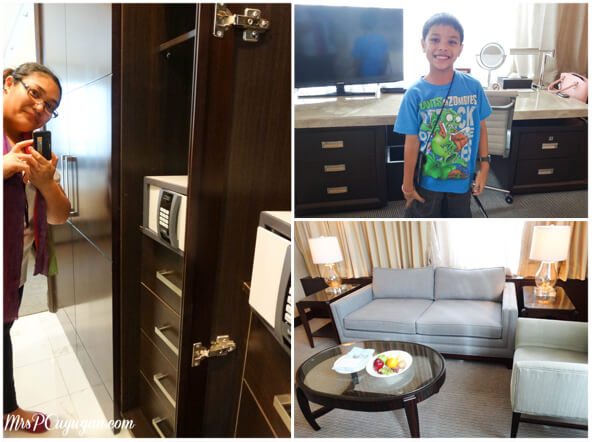 As you know, we live in a really full house. As in, full of people and full of stuff. Our room is bursting at the seams with all of our things, and we even have stuff stored in the living room and outside the house. I get to leave all that clutter behind when we stay at a hotel. I know it doesn't solve the clutter problem, but at least for a couple of days, we actually have our own space that is clean and quiet.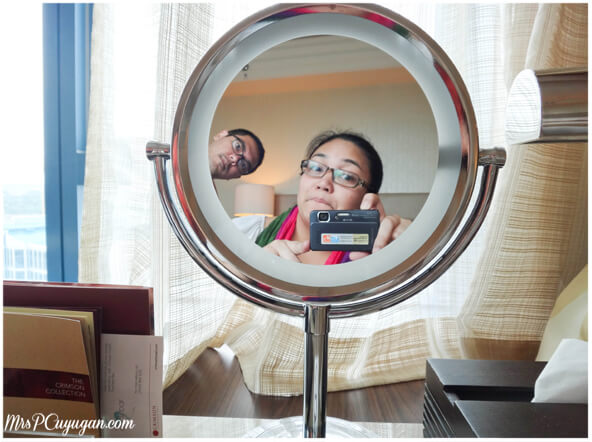 Long, uninterrupted (well, mostly) showers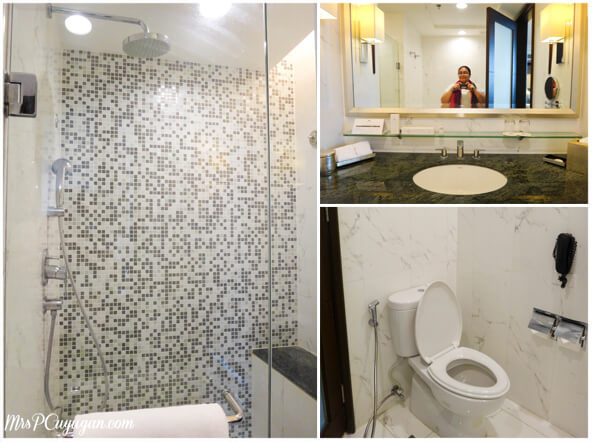 Because the boys and I share a bathroom, we have this unspoken rule that we should leave the door unlocked in case someone needs to do something in there while we're using it. Fortunately, ours is a big enough bathroom that we can all use it at the same time. One can shower while another uses the toilet, and the third person uses the sink. It works for us, especially on rushed mornings, but oh man do I miss my bathroom privacy. At Crimson, I got to indulge in a couple of long showers and other quiet moments in the super spacious bathroom. Oh what a treat!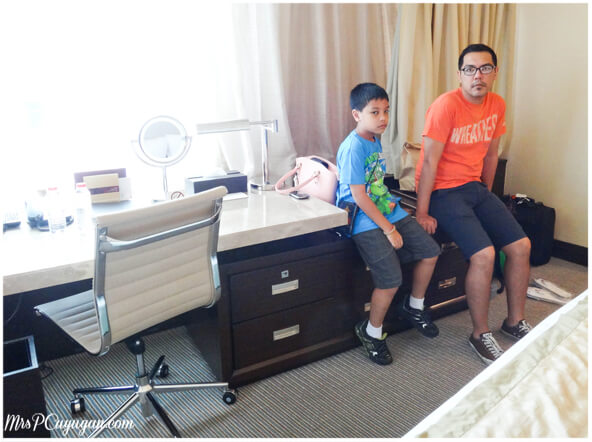 Drinks. Including alcoholic ones.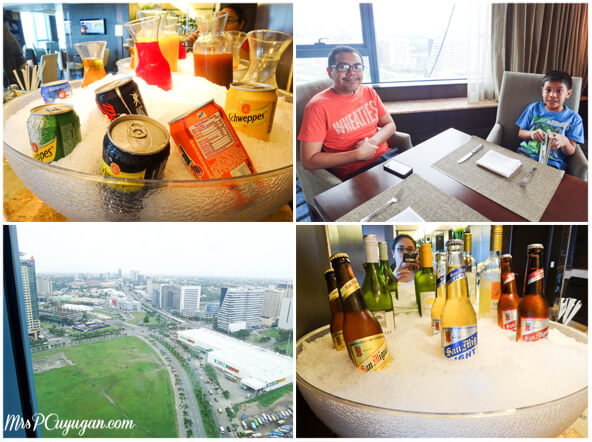 We were given access to the Executive Lounge at Crimson during our stay. There, the boys and I happily cooled off with glasses of juice and cans of soda. I was hoping to stay there all the way through happy hour, but we were told that they don't allow children to stay once they start serving alcoholic drinks. We had to forego the beer and cocktail buffet because there was no one who could watch the kiddo for us, and also because MrC and I didn't feel right about leaving him somewhere so that we could drink. Yes, it was the responsible thing to do. Lol. I had a mojito with dinner instead. And speaking of dinner…
A delicious dinner that I didn't have to prepare myself, complete with dessert!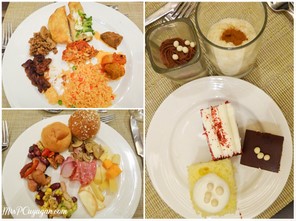 And it was a Mexican dinner, too! One of my favorite cuisines! I wrote about our Sabores de Mexico dinner experience a couple of weeks ago, and you can check it out here.
The ultimate cold air conditioning + comfy bed + fluffy pillow + thick blanket combo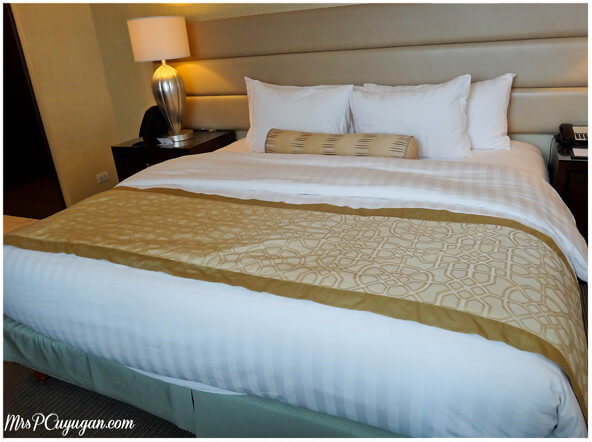 If I had my way, my bed would be as lush as a hotel bed. Maybe someday, we can invest in a fluffy bed. (Hint, hint, MrC!)
Funny story, at Crimson the boys decided to have me sleep in the middle. Between the two of them and the blankets, I was sandwiched in warmth! I would wake up every once in a while when it got too hot and wiggle myself out of the blankets. Then when I'd get cold, I'd wake up again and squeeze back in. This went on a few times til morning. I still felt pretty rested, though, thank goodness.
Breakfast and coffee waiting for me when I woke up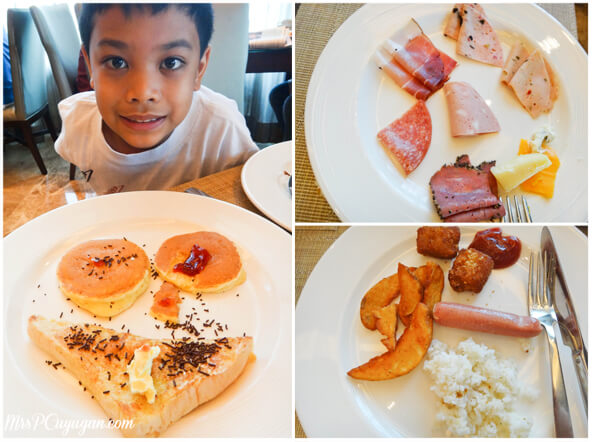 Happiness is waking up to a cup of good coffee and a yummy breakfast. On weekends, MrC sometimes takes care of this for me at home, and for that I am really grateful. That weekend at Crimson, though, was a super treat because their breakfast selections at the hotel are really, really good! I especially loved the cheeses and cold cuts that they served, and their breads too. The cheese ensaymada and the cream filled doughnut were super winners.

My first (and favorite) plate at any breakfast buffet is filled with bread, cheese and fruit. This was the first of many plates from this morning's breakfast at Cafe Eight. 7 hours later and I am still burping. The breakfast spread at @crimsonhotel_alabang is officially one of my faves in the south. #SouthEats #CrimsonHotel #FilinvestCityAlabang #BreakfastBuffet #InstaFood
But wait, there's more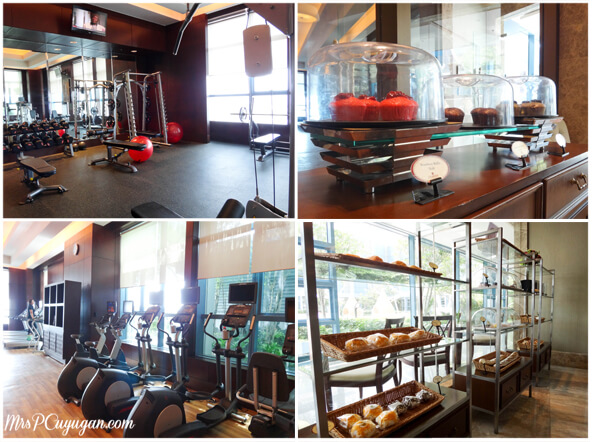 Aside from my luxury list, there's still so much more to do at Crimson. They have a really nice gym, which I probably should visit next time, especially after eating all that bread. They also have a really nice pool, which we were sadly unable to try out because it was so windy while we were there. That's something to come back for next time. That, and happy hour at the Executive Lounge lol. Ah! And I also have to remember to take home some of that ensaymada from the pastry corner next time. So good, promise!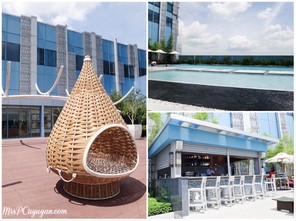 The best part about our Crimson staycation was that the boys and I were there with four of my favorite families – Michelle's, Jane's, Joei's (yes, Joei and Timmy are counted as a family in my book) and Kaye's. It's always fun for all of us when they are around, and I love how we are starting to build such fun memories together as a group. Since Little Miss QC was with us that weekend, we were officially ABC+K! Cute, diba?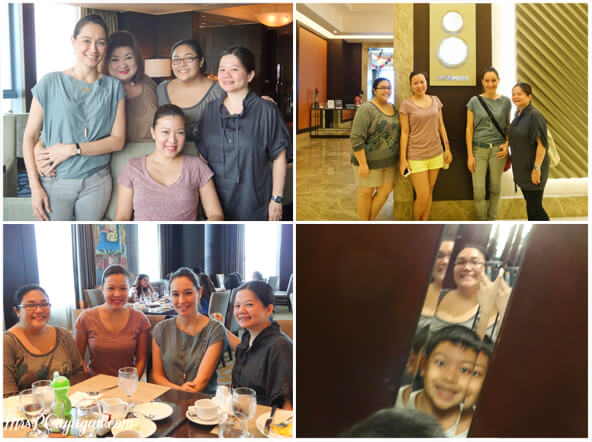 THANK YOU so very much (again) to our lovely hosts, Twinkle Lacsamana, Karina, and the wonderful staff at Crimson Hotel. The boys and I had the best time and we can't wait to come back! And super duper thank you, Jane, for arranging this for our little sisterhood. We love you!

CRIMSON HOTEL FILINVEST ALABANG
Entrata Urban Complex,
2609 Civic Drive, Filinvest City,
Alabang 1781 Muntinlupa City
Phone (02) 863 2222
Email info.alabang@crimsonhotel.com
Website http://www.crimsonhotel.com/manila/