So I took a break from my online self for a couple of months to reconnect with the real world.  But I'm back now, and I just realized that it's three days until the first anniversary of this blog. Woohoo!
On the topic of anniversaries, Mr C and I celebrated our first yesterday as husband and wife.  After being together for thirteen years, it's such a wonderful thing that we still are able to celebrate 'firsts' in our relationship.
Speaking of firsts, we went on our first official out of town trip last weekend, just the two of us, to celebrate year one of being Mr and Mrs C.  We spent our anniversary weekend on the fabulous beach of Boracay, just eating, drinking, taking long walks and enjoying our time together.  I'll be posting about our trip real soon!
In the meantime, see how we enjoy the fabulous sunset, the best way we know how – swimming in crystal clear waters, with a couple of beers waiting for us on the shore.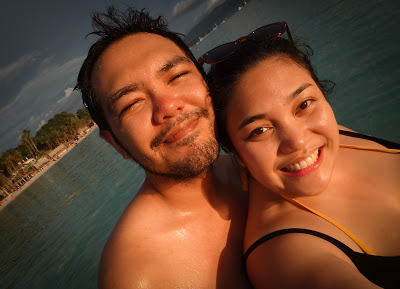 Celebrating year one with my one and only Mr C!
Boracay, September 2012