Fact: Amigurumi is a term that covers the beautiful and fun trend of crocheting and knitting stuffed animals, people or even inanimate objects. (Thank you, Craftsy, for the definition!)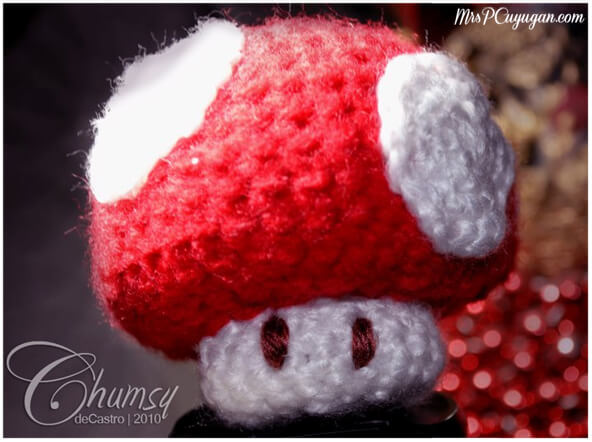 Our house is minimalist in design. We are taking it slow, as far as decorating is concerned. Our walls are still bare, and, at the moment, we only have a few photos and mementos displayed.
To make our home feel more homey, I've been doing my best to display little handmade pieces here and there. I love these little accents because (1) they aren't permanent, and (2) they give me the opportunity to experiment with colors, textures and designs around the house.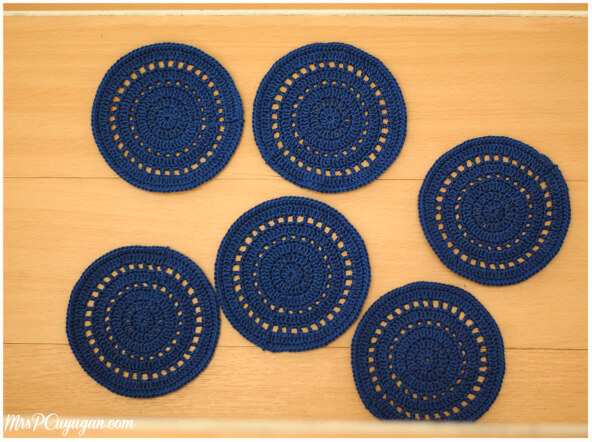 I started doing this last Christmas when I put up the cutest little reindeer ornament from Ants Pocket on our tree. I have handmade felt ornaments of my own, too, but they're still tucked away in one of my boxes. For sure, those will be up on on our tree this year along with whatever new things I can find the time to make.
I also recently placed a crocheted table runner in the dining room. Our table isn't so big so this project didn't take very long to make. It was easy, too. I saw the diagram for the motif in one of the Instagram accounts I follow, and worked on the piece using yarn I bought in Baguio years ago.
Truth: MrC is happy that some of the yarn he had to carry up Session Road has finally seen some action!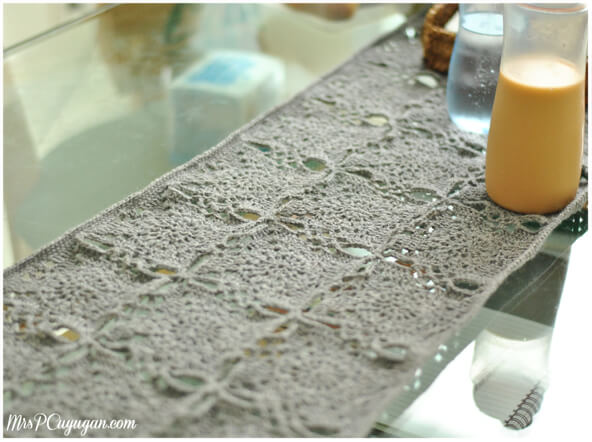 My most recent project is a super fun one, just in time for Easter. Over the last few days, I finished working on a few crocheted eggs for our home.
The plain eggs were made using scrap Caron One Pound yarn I had left over from a bag project. For the multicolored ones, I used the tiny bit of Red Heart Super Saver I had left from a beanie that a friend ordered. I love that I've found a good way to make use of the little bits of yarn I have stashed away.
In case you are interested in the pattern, I used this free one by Lion Brand Yarns.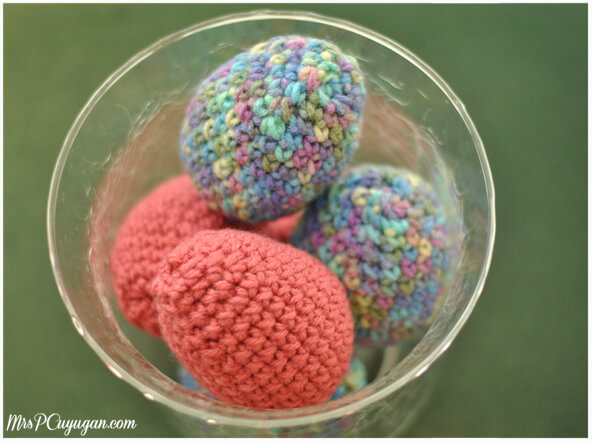 Last year, my friend Mish gave me a really pretty glass candle holder, which I have yet to use for its intended purpose. I've found that it works well as a display jar of sorts for my little ornaments, and it fits perfectly in my living room, on the end-table next to my couch. Over the holidays it was used for loose Christmas balls. It now holds my colorful, handmade Easter eggs.
I'm already thinking about what ornaments to make for summer, and also for the rest of the year. I can't wait to fill up my glass jar with all sorts of things. I love working on these small amigurumi projects, and I'm so glad that I now have a nice way to display them at home, too.
I know I'll be making more runners for our home to match the different occasions and seasons. I already have plans for a brightly colored one for summer, which I'll be making using my new cake of Sugarfree Yarn.
Shameless plug: If you have something in mind that you'd like me to make for you, send me an email! I love making stuff for friends! 🙂
How are you decorating your home this Easter?