On December 31st, in the afternoon right before she left for home, Crazy Maid greeted us happy New Year and said she would be back on January 2. That was the last we ever saw of her. Through her son (who works here, too, cleaning outside and gardening), she informed my mom that she had to take time off to take care of her young pregnant daughter.
Kfine, how do you say no to that, right? I told my mom, though, that this is a good time to adjust to life without Crazy Maid, who has become pretty inefficient, and on some days doesn't even show up at all (she goes home at the end of each work day, kasi).
So today is officially day 7 of help-lessness, and we're doing okay. My mom and I are both home-based, and I have no doubts that between the two of us, we can totally manage. Still, I look forward to the day when we finally get a new replacement helper from the province. And promise, I will take it upon myself to train her well. No more Crazy Maids for me, thankyouverymuch.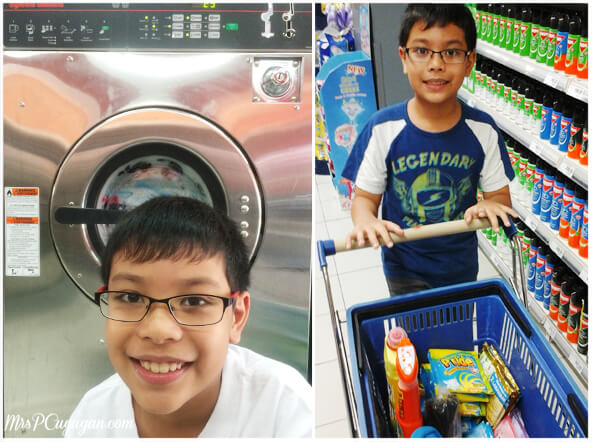 Over the last 7 days, we did and learned a lot. I think the most exciting of all was doing the laundry for the first time, ever. As in, EVER. The boys and I had been wanting to try out the Coin Laundry shop in BF, and we just went ahead and did it after lunch last Sunday.
I am now officially laundry-obsessed! That's a good thing, of course, because it's something that is gonna be part of my regular routine from now on. I'm extra excited about mixing and matching detergents and fabric conditioners til I find what works for us hahaha. Actually, I went a little nuts shopping for laundry soap at the supermarket the other day, and I now have enough to last me til next month.
I've also started experimenting with cleaning products, and am still fussing over our bathroom. I need that place to stay clean and nice-smelling all the time. I know that you guys who live with boys know how tough that can be. But so far, so good, our bathroom hasn't been yucky since the start of the year.
Washing dishes, folding and putting away clean clothes, wiping tables and counter tops, and cooking – that's basically what's been up in my 2015 world so far. Lucky for me, MrC was trained well by his mom and dad, and is pretty handy when it comes to cleaning up around the house. Oh, and I've gotten the kiddo to start doing chores, too. He is in charge of refilling our empty water bottles and putting them back in the refrigerator. I told him that this would earn him 20 minutes of gadget time for every bottle, and he now has a tally of daily refills taped to our bathroom door.
The challenge for me is how I can manage my work schedule alongside all of the new chores I have on my list. So far this week, I think I've been doing fine. It's really time for me to learn how to stick to a schedule. And to start using lotion. My hands are getting dryer by the day from all the dish washing.
Okay, off to the laundromat now!
Do you have helpers at home? Which chores do you do yourself?